Suk Moo Lee is a sensation in his native Korea: He has combined farming and camping to invent 'farmping' on his blueberry farm and, in 2013, his innovation brought in USD 200,000 in profit.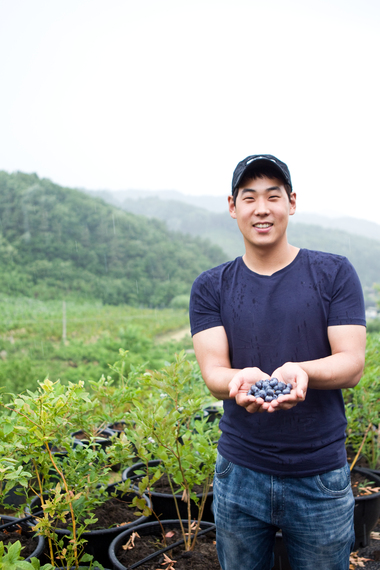 Suk Moo swapped his polished shoes for work boots in 2010, moving from Korea's capital Seoul to rural Eumseong-gun to start his own business: "As a little boy, I dreamed of becoming an entrepreneur. After examining the opportunities in various industries, I discovered that the agricultural sector had enormous potential for prosperity" says Suk Moo.
His move proved wise, particularly at the height of the global employment crisis where many young people are at a loss: In developed countries with few jobs available, they are qualified for trades that are unavailable or do not exist; and in developing countries, the absence of social protection forces many to venture into poor quality jobs where minimum labour standards are not met.
Governments are turning to further education and skills training as ways to help reverse this trend. Questions remain though -- where are the good quality jobs? Do enough of these jobs actually exist to service the needs of young people lining up outside employment centres? And is agriculture part of the answer?
The growing need for entrepreneurs in agriculture
Agriculture does not top many young people's "most wanted" wish list of careers. It represents the past and is often perceived as the antithesis of progress. But Suk Moo thinks differently. He thinks that global trends of urbanization create agricultural opportunities in rural areas: "we need to expand from cultivation and harvest to diversification of agriculture-based businesses. It is imperative to connect people in the rural and city areas" he says referring to his new product, "farmping".
Global trends also encourage agricultural jobs. From a demographic standpoint, the world population of 7 billion is expected to increase by a third and reach 9.3 billion in 2050. The implications are clear: more people will need more food and supply will have to increase substantially. As more and better farms are created, related industries in agri-business, agro-tourism, land management, mechanical and agricultural engineering will expand as well. Agricultural exports will help create jobs across the entire value chain, benefiting corporations, family farms, cooperatives and small and medium enterprises venturing into additional markets.
How governments can support agricultural entrepreneurs
Suk Moo admits it was not easy at first: "Since I am a relatively young entrepreneur and lacked relevant working experience in blueberry farming, it was difficult for me to build a solid infrastructure and establish a network for my business. The difficulty increased as I was not born in an agricultural town, and I had to learn and adopt farming techniques and technology from scratch. I prepared for six months before launching my business in 2011."
Korea is a rare example in Asia-Pacific. While agricultural degrees remain a minority in the education system, universities (including the top one, Seoul National University) offer Agricultural Economics and Rural Development programs. To partly re-orient the supply of young graduates, Government passed the 2009 "Act on Fostering and Supporting Agricultural and Fisheries Enterprises", which targets young people with an entrepreneurial spirit and a willingness to change, just like Suk Moo which it supported with low-interest loans for infrastructure, agri-business consulting services and farming skills training.
Famed investor Jim Rogers argues that agriculture has done very poorly in the past thirty years but will boom in the next thirty years, suggesting young people should think less about obtaining MBAs and more about agricultural degrees. But his message is not well heard. While there is a growing trend in industrialized economies including those of Korea or Australia towards offering agriculturally-focused education and incentives for young people to invest in rural areas, moving back to the country in developing nations remains associated to poverty, informality and archaism.
Not surprisingly, it is not supported by education systems which prefer to wait until working conditions improve to develop curriculums. But wouldn't promoting agriculture education actually boost the improvement in working conditions?
Take tertiary education enrollment. According to the UNESCO Institute for Statistics, agriculture comes in last among the most popular fields of study for tertiary graduates in science and technology. First place goes to social sciences, business and law; followed in second position by education; humanities and arts; and then by engineering, manufacturing and construction.
In Mongolia, a country where 32 per cent of employment is based in agriculture , only 2.35 per cent graduate with an agricultural degree; in Malaysia this ratio is only 0.75 per cent. Vietnam may fare the best in the region, but with only 7.99 per cent2. Meanwhile a third or more graduate with business degrees in Indonesia, Malaysia, Vietnam and Nepal; followed by degrees in education, health and engineering.
Suk Moo believes investing in agriculture could lead to huge returns for young people and for developing countries: "The agricultural sector has enormous potential for growth. It would be a great idea for the Government to adopt a more systematic approach to encourage and support new agri-entrepreneurs and farmers to succeed in running their own farms and agribusinesses."
For his message to be shared, maybe he should participate to future policy discussions at the World Economic Forum or elsewhere. Not only would it make common sense to involve a young person to talk about youth; but his views and experience embracing change and becoming a young farmer may actually help achieve some badly needed progress on the front of youth employment.
Edited by Sarah Jane Saltmarsh, Communications consultant
Popular in the Community