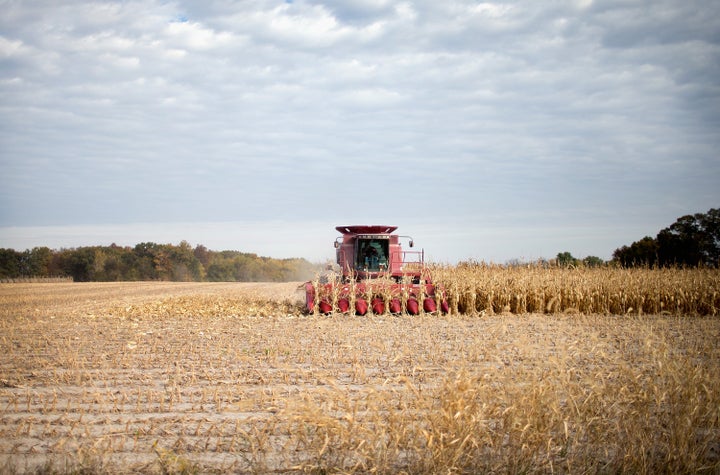 Instead, the news Pollan was referring to came from the heart of the heartland, a study from Iowa State University's Marsden Farm which found that planting crops like oats and alfalfa alongside the more traditional corn and soybeans not only improved yields, but also increased profits and reduced the use of both chemical fertilizers and herbicides. 
The long-term study -- which began in 2003 -- was partially funded by the U.S. Department of Agriculture. It provides some of the strongest evidence yet that a more sustainable approach to farming is both good for the planet and good for farmers' bottom lines.
Still, many farmers are failing to adapt their practices and agriculture still accounts for a sizable chunk of U.S. total greenhouse gas emissions and industrial farming has raised significant concerns with soil and water quality as well.
That disconnect prompted agroecologist Marcia DeLonge and her colleagues at the Union of Concerned Scientists, a Cambridge-based nonprofit advocacy group, to question why findings like those coming from the Marsden Farm project weren't being picked up on across the industry as a whole.
The problem, according to an analysis released last month by the UCS and colleagues, is that research and education focused on sustainable agriculture only represents a small percentage of the annual support doled out via competitive, external grants issued by the U.S. Department of Agriculture's National Institute of Food and Agriculture.
"We know what we're doing right now isn't working."

Marcia DeLonge, Union of Concerned Scientists agroecologist
Specifically, according to the UCS analysis, only 15 percent ($44 million) of the total amount of NIFA grants issued in 2014 ($294 million) included any elements of agroecology, defined as applying ecological concepts to creating sustainable food systems through techniques such as rotating crops and upping biodiversity on farms.
Further, the analysis notes that only 4 percent of the grants were given to projects that could be considered truly "transformative" because they addressed economic support for farmers in addition to a changed approach to growing crops.
The goal of their analysis, DeLonge told The Huffington Post, is to invite more transparency from the USDA when it comes to its funding of sustainable agriculture projects, in addition to making a case for more funding in that area. The organization has also launched a public statement with a similar aim that has thus far been signed by over 300 scientists and other experts.
"We know what we're doing right now isn't working," DeLonge said. "We know there is a huge number of problems that come from agriculture so how do we infuse a more big-picture perspective into the research? We know that when we invest in research, we see results."
For its part, the USDA says it has been funding "a very solid basis of research" in the area of sustainable agriculture and is getting a "good share" of the NIFA grants, according to Ann Bartuska, the agency's deputy undersecretary of research, education and economics.
Bartuska argued the UCS analysis did not take into account other relevant research taking place under the USDA umbrella beyond the NIFA grants, such as in-house investments in its Agricultural Research Service and Economic Research Service divisions and its National Agroforestry Center in Lincoln, Nebraska. But she did agree that continued prioritized investment in the area is needed.
"This is a really important and critical part of our overall research portfolio in addition to providing tools to the rest of USDA, however, I think the numbers are not quite adding up to the total investment and it's understating our investment," Bartuska added.
Meanwhile, DeLonge is optimistic that the message of sustainable agriculture is resonating with an increasing number of farmers -- all they need is the robust proof that doing so will help their businesses succeed, something that comes from ongoing research support.
"I think that farmers are interested in practices that will help them grow food that people will buy and to do so in the best possible way," DeLonge said."There are a lot of people out there who are really concerned with the way that they are producing their food and we can only expect them to adopt practices that work with their bottom line and keep their farm going."
Joseph Erbentraut covers promising innovations and challenges in the areas of food and water. In addition, Erbentraut explores the evolving ways Americans are identifying and defining themselves. Tips? Email joseph.erbentraut@huffingtonpost.com.
PHOTO GALLERY
How Scientists Know Climate Change Is Happening
Calling all HuffPost superfans!
Sign up for membership to become a founding member and help shape HuffPost's next chapter