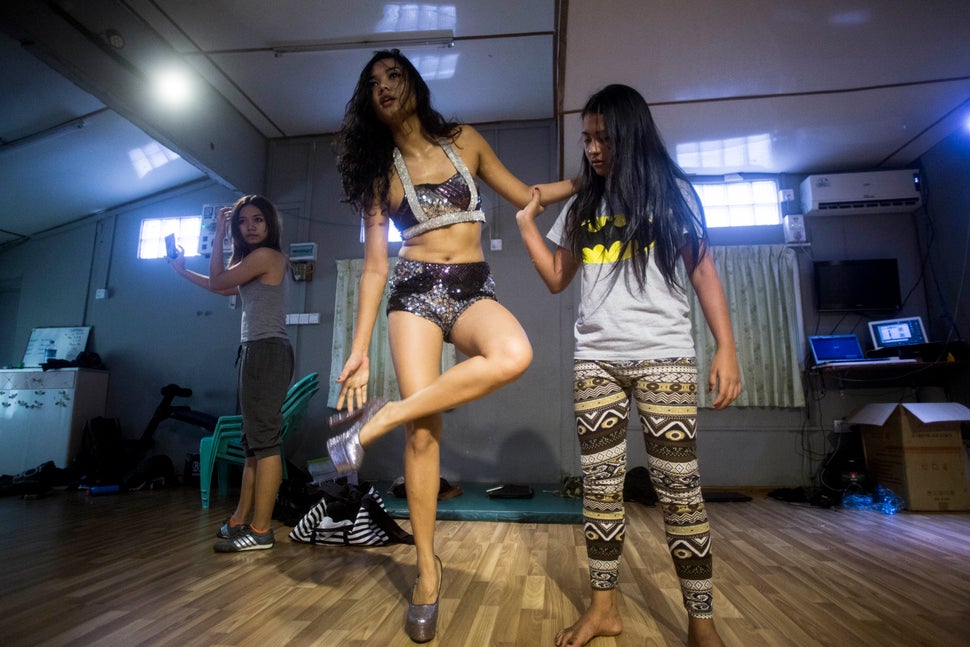 Dressed in a shimmery zebra-print bodysuit, her lips painted a signature dark plum, Ah Moon strutted and shimmied across the stage.
The young crowd cheered wildly as the 24-year-old belted out some of her most popular dance hits; their cries even more deafening than those later offered up for Sean Kingston, the Jamaican-American rapper who was headlining the show.
Her segment was cut from the televised broadcast. Myanmar's censorship board considered her performance too risqué, she explained.
"They took me out of the show because of my outfit," said the singer last month, chatting over Skype from the country's capital, Yangon, where the festival had been held. "It was deemed too sexy."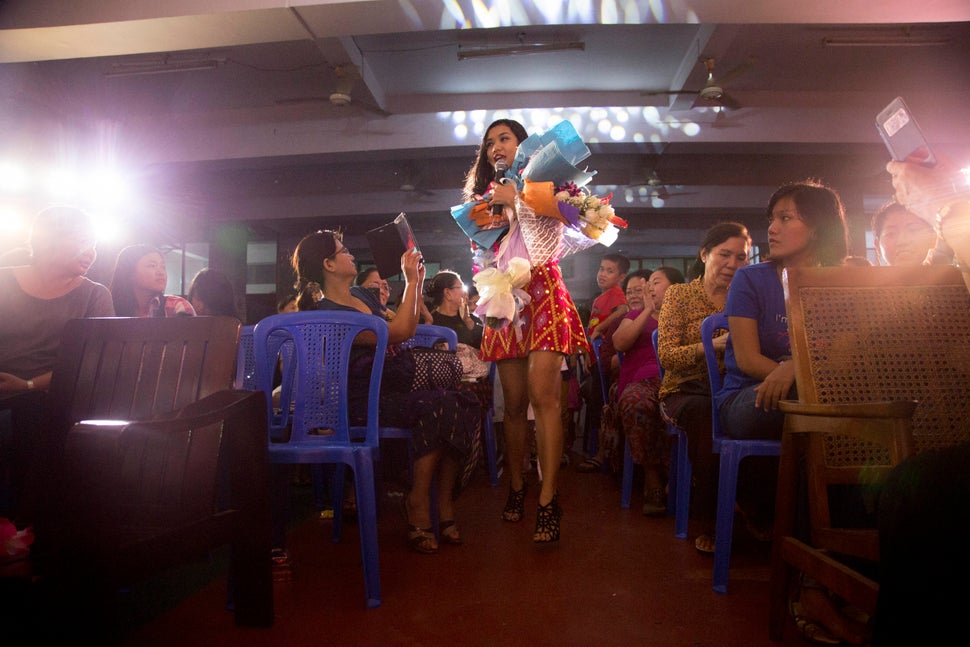 Ah Moon -- sometimes referred to as "Southeast Asia's Rihanna" -- is wildly popular in her home country. 
By most accounts, she's not a typical "Myanmar girl." She's Kachin, an ethnic minority from the embattled Kachin State; she's the Christian daughter of a pastor in an overwhelmingly Buddhist country; and she's a pop star who has a distinctly unique identity in a culture where many popular singers have found success doing one particular kind of music: cover songs -- or "copy songs," as they're known locally. 
Ann Wang, a Yangon-based photojournalist who spent many intimate days this year photographing the singer, said that it's this particular perspective -- that of an outsider with an insider's viewpoint -- that makes Ah Moon, who sings in Burmese and English, such a fitting, and fascinating, representative of today's Myanmar.
"She still has that Myanmar mentality inside of her but she's also exposed to outside cultures. Ah Moon is a Myanmar girl but she's really pushing the boundaries and creating new trends," Wang told The Huffington Post last week. "She's that perfect mix of old Myanmar and new Myanmar. She's a symbol of a Myanmar in transition."
Once a "pariah state" ruled for almost 50 years by an oppressive military junta, Myanmar, formerly known as Burma, has been in the throes of change since 2011 when political and economic reforms began sweeping through the country. 
In November, the country held its first open election in 25 years. The National League for Democracy of Nobel Peace Prize winner Aung San Suu Kyi won a landslide victory, prompting some to anticipate a potentially brighter future.
Since 2011, tourism has burgeoned in Myanmar, ties with the outside world have intensified and multinational corporations have increased their presence.
These changes have had a profound impact on local pop and youth culture, music and art.
A few years ago, "copy songs" were the "only pop songs" being made in the country, wrote The Daily Beast in 2012. These are tunes, typically sung in Burmese, that unashamedly replicate the hits of international stars like Britney Spears and Celine Dion, and 'K-Pop' idols from South Korea. Phyu Phyu Kyaw Thein, a popular "copy song" crooner, told the Sydney Morning Herald in 2012 that the decades of political isolation were akin to being "locked up in a cold, dark cave."  
Even her "copy songs" were frequently censored. "I was often told to change my lyrics," Thein told blogger Jessica Mudditt last year.
Today, however, the scene is dramatically different.
"Myanmar is a very conservative country and sometimes you feel like you're being choked."
But there has been some improvement. Censorship of lyrics has been significantly relaxed in recent years, Douglas Long, editor of the Myanmar Times, told HuffPost. More local artists are writing their own music and they're slowly being given more wiggle room to express themselves.  
Darko C, the lead singer of Side Effects, a Yangon-based rock group, described in a November interview with The Los Angeles Times how the band has been using its music to challenge social norms and express their political views -- something that could not have happened a few years ago, he said.
Ah Moon also remembers a time when censors were far stricter about what female musicians were or were not allowed to wear. "We couldn't even wear colored wigs," she recalled of her earlier days with the country's first all-girl pop band, the Tiger Girls. (The band would eventually become the first musical group to wear brightly hued hairpieces in their performances.) 
Still, Ah Moon says scrutiny remains intense, despite the country's slow transition. "Myanmar is a very conservative country and sometimes you feel like you're being choked," she explained. "Whatever you do, there's censorship. What you wear, what you say, you have to think of the censors. You can't be 'too sexy,' or 'not appropriate for the culture.'"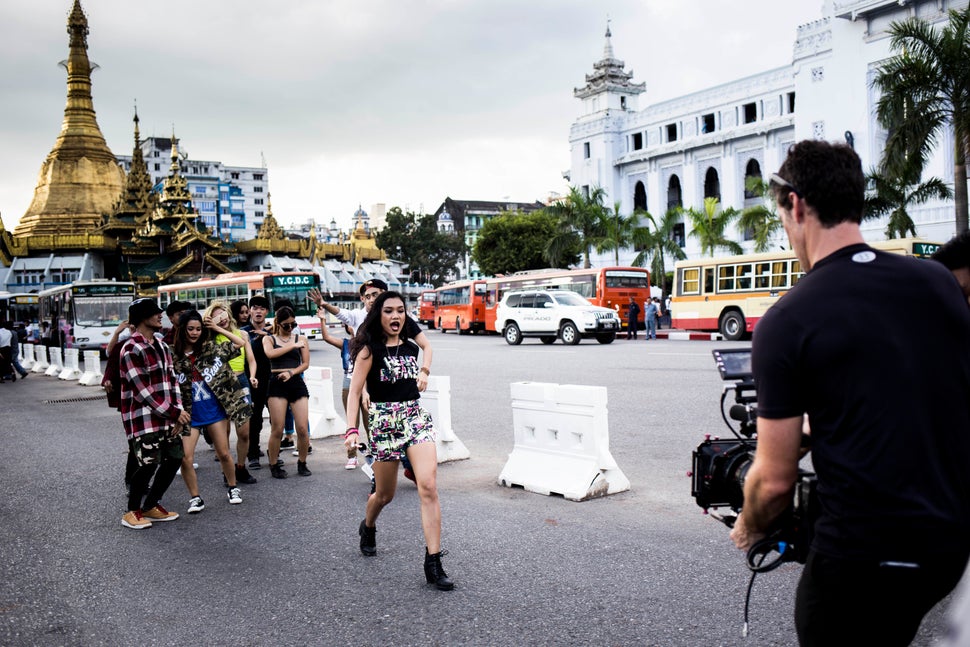 Ah Moon has been pushing the boundaries of Myanmar's music scene, and the patience of the country's censors, since 2010 when she joined the Tiger Girls (later renamed the Me N Ma Girls).
As the country's first all-girl pop group, the band was a unique, and controversial, entity in Myanmar when they first formed. Ah Moon and her bandmates "seemed keen on 'upping the game' of pop music in Myanmar," Long said. Their unusually provocative outfits and "sexy" choreography titillated a socially conservative society. The group also wrote its own music -- an unfamiliar practice in the sea of  "copy singers" -- and dared to delve into politics. Their song, "Come Back Home," for example, is about Myanmar's refugees.
"Freedom of speech starts right now," Ah Moon told The Daily Beast in 2012. "We want to show the world our traditional culture, but also prove that our country isn't so closed, so poor and backward. We want to show people that things are changing."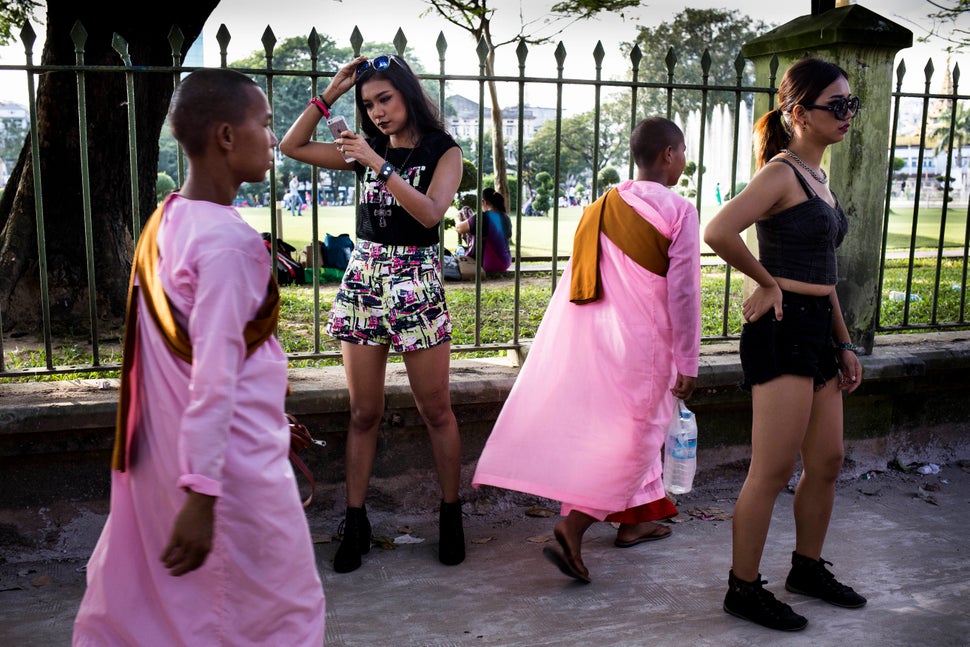 Standing out and pushing back has been simultaneously satisfying and challenging, said Ah Moon, whose solo career took off last year after the dissolution of the Me N Ma Girls.
It took effort to convince her Christian pastor father to accept the career path she'd chosen, she said. And it required stamina -- and compassion -- to endure the constant criticism from people offended by her outspoken nature and "sexy" outfits. 
"'Slut. Bitch. Get out of this country.' I used to get shocked by these mean things that people would say to me," she said. "But then I asked myself if I was actually doing anything wrong. And I realized that, no, I'm just expressing myself honestly. I love my country, I love my culture and I respect that there are different opinions; but expressing your own shouldn't be wrong. I think it's okay to express your sexuality, and to be confident; just be you."
Ah Moon told the Myanmar Times in October that she'd recently been pulled off-stage at a concert sponsored by Yangon's Grand Royal hotel "because her outfit was deemed too revealing by organizers." 
"They stopped my song and pulled me off the stage because they thought my outfit was not OK for this country," she said.
Though people in Myanmar are fans of American and European popstars such as Beyoncé, Katy Perry and Britney Spears, Ah Moon says she feels she's held against a different standard. "They say that you're a Myanmar girl and you have to behave in a certain way," she said. "So I'm the one who's doing wrong."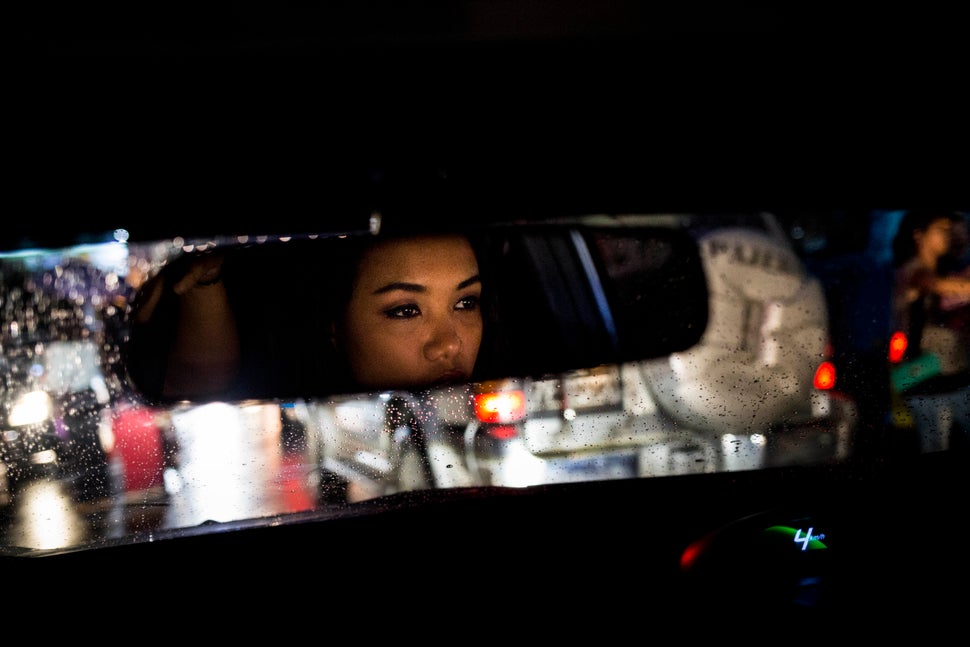 Despite positive changes, living off a music career remains extremely challenging in Myanmar. There's very little money to make and the industry lacks basic infrastructure. As Darko C put it to the LA Times last month: "Making music is more of a passion here." 
Making it work, therefore, often takes sacrifice -- and plenty of moxie. 
Ah Moon is a prime example. 
Last year, when she released her 2014 solo album, "Min Pay Tae A Chit," Ah Moon said she was forced to wear many hats -- from handling the logistics of getting the album together, to marketing and writing press releases. 
She said she makes very little money from her recorded music and she reinvests all the profits from her concerts into her career. 
Photographer Ann Wang said Ah Moon, like many young people in Myanmar right now, is the kind of person who just "wants to make it happen."
"Look at other local entertainers or skateboarders or young people in the tech community," Wang said. "They don't have access to the right mentors or institutions, but they're just making it work. They learn from YouTube, they learn from Western TV. They may not get it right but they know it's the right direction."
Ah Moon herself had no formal training. She grew up with church music and thanks to the isolation of her country from the outside world, was only exposed to Western music thanks to the few CDs and DVDs she managed to find in local stores, she recalled.
"I grew up with Michael Jackson. I would watch his dance moves and listen to his music, and that's how I learned about pop music and dancing," said Ah Moon, who learned how to speak English from watching American TV shows and movies.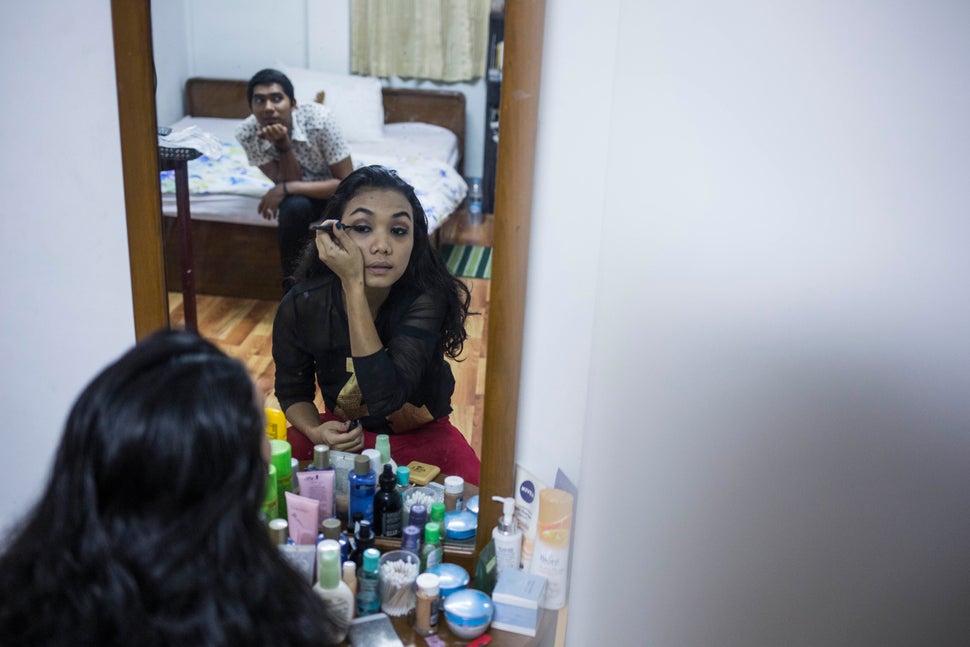 Ah Moon, who is represented by Power Music, a Los Angeles-based agency, travels outside Myanmar for work several times a year. She speaks of these trips with an air of delight and pride -- maybe even with a touch of envy. 
"Sometimes I wonder -- what would it be like if I went to live in L.A., or even Bangkok, to do my music? Wouldn't it be easier? There'd be no censorship, there'd be so much more freedom," she said, her expression wistful. 
Yet, despite the magnetic allure of other, wilder cities, Ah Moon insists that she has no plans to leave Yangon. She's happy, she said, to make a difference right where she is. 
"This country is still so closed [off] to the outside world. Right now, I have this chance to record in L.A. and travel to Norway to make music. I'm grateful for this chance and I want to bring that to my country. I can share this with my fans; I can inspire them to dream big," said Ah Moon, who released a new solo album in October. "I want my fans to know that it's okay to dream big even though you're from this country."
The singer expressed this sentiment in her hit 2014 song "Myanmar."
"I see the world is closer now, and I guess that's good … but this beautiful place that is my home should stay a home," she sings."Don't lose your way as a brighter day has come." 
"I'll just be in Myanmar and I'll try to get my music out there from here ... Eventually I just hope our country will grow, and I won't need to mention where it is on the map anymore," she said with a chuckle.
PHOTO GALLERY
Historic Elections In Myanmar
Calling all HuffPost superfans!
Sign up for membership to become a founding member and help shape HuffPost's next chapter