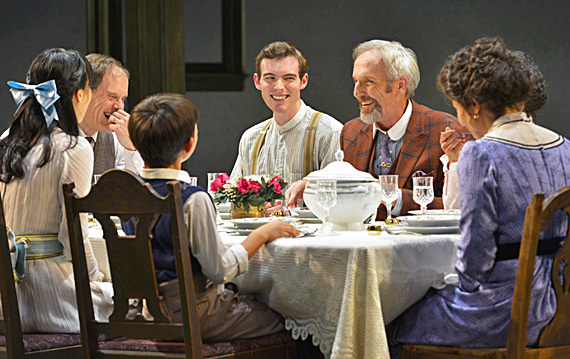 A tipsy Sid Davis (Dan Hiatt) regales the Miller family with food gags at the dinner table. Thomas Stagnitta, as Richard, is at center.
Eugene O'Neill is widely regarded as the playwright who lifted American theater out of the era of melodrama and into a realm of truthfulness and invention that was comparable with the best on the world's stages. From his early experiments with expressionism and myth to his late explorations of struggle within his own family, he viewed life through a dark lens. With one exception.
That came in 1932, when he reflected with wit and warmth on the kind of youth that had escaped him, as displayed by a family whose conflicts never led to disaster and whose love held far greater sway than any urge toward punishment for misdeeds. The play was Ah, Wilderness!, which reigns as the most performed of O'Neill's works, surpassing even the brilliant Long Day's Journey Into Night.
The latest revival opened a few nights ago in ACT's Geary Theater, in a staging that succeeds at recreating the play's time and place -- 1906 in a prosperous Connecticut household -- too well.
As might be expected of ACT, the production is visually splendid. Ralph Funicello's scenery lays a gauzy haze over much of the narrative through the adept use of scrims that serve as translucent windows into overlapping backgrounds. And Jessie Amoroso's costumes expertly recreate the lines and hues of attire in the early 20th century.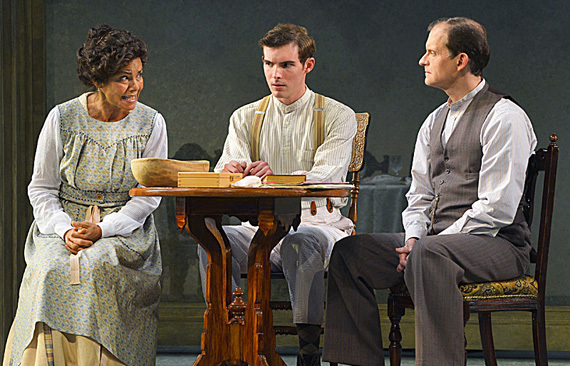 Serious words: Essie and Miller (Rachel Ticotin, Anthony Fusco) confront son Richard (Stagnitta) about his radical reading habits.
Regrettably, some key performances too often look and sound as if they were shaped for 1906 audiences. They were directed by Casey Stangl, who did admirable work in staging ACT's recent "Love and Information" and last year's "Venus in Fur." I guess you can't win them all.
The pivotal figure in this coming-of-age story in 17-year-old Richard Miller, who is usually viewed as a surrogate for the playwright. He reads voraciously, infuriates his elders by declaiming "radical" views with passion, and displays a mercurial temperament, especially over his first experience with love.
Ideally the character is both amusing and engaging, a likable portrait of the artist as a young man, but actor Thomas Stagnitta makes it difficult to view Richard with empathy. His delivery, gestures and body language are consistently wooden, turning adolescent awkwardness from a virtue to a dramatic failing.
Stagnitta is not alone in that quality but his importance to the play makes him the most conspicuous. The lesser roles of older brother Arthur and younger sister Mildred don't fare much better. Arthur, a Yale football player and pipe-smoking snob, receives cartoonish treatment from Michael McIntire; and Mildred, played by Christina Liang, shows little of the teen-ager's mischievous bent.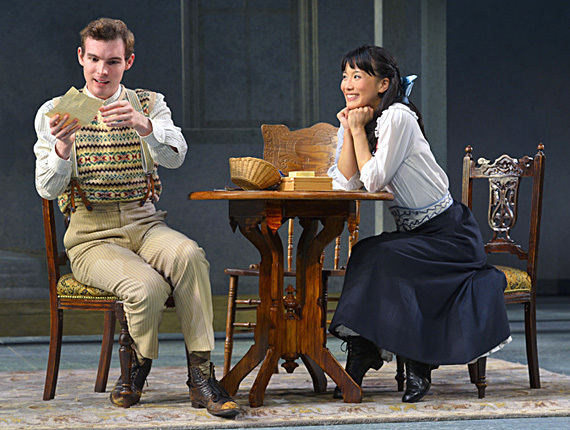 A cheering note: Richard (Stagnitta) reads a letter from his girlfriend, delivered by sister Mildred (Christina Liang).
On the positive side, the production offers strong performances by veteran actors in major roles: Anthony Fusco as Richard's gruff-but-tender father, Nat; Dan Hiatt as Nat's brother-in-law, an alcoholic with an exuberant sense of humor; Rachel Ticotin as Nat's wife, whose feelings about tolerance and punishment mirror her husband's; and Margo Hall as Nat's younger sister, Lily, who loves Sid but rebuffs his repeated proposals of marriage because of his drinking.
They're presented as imperfect but appealing people, essentially compassionate and supportive in the face of challenges, as we all might hope to be.
Bright contributions also come from Caitlan Taylor as a prostitute who fails to wrest Richard's virginity but leaves him with a monstrous hangover, and Rosa Palmieri as the love of Richard's young life, comparably petulant and innocent.
Building perhaps too obviously on the premise that the Millers comprise the close-knit family that the young O'Neill never had, ACT's has cast the play in a way that may not have existed in a single American household in 1906. The family's members are white, black and Asian. This isn't colorblind casting: it's a statement that pushes the comedy-drama into the orbit of fantasy. Whether the choice helps the production, hurts it or has no effect has to rest in the mind of the beholder.
Ah, Wilderness! runs through Nov. 8 in ACT's Geary Theater, 415 Geary St., San Francisco. Tickets cost $20-$100, from 415-749-2228 or act-sf.org
Popular in the Community