Before getting into the details of "1 Team, 1 Vision, $50,000,000" -- the new partnership between my organization, the American Heart Association, and Google Life Sciences that aims to understand, reverse and prevent coronary heart disease -- I want to tell you a story.
My colleague Andy has an early 1950s science magazine with an article featuring a futuristic vision. The story depicts people on a road trip. They're in the back seat of a vehicle playing backgammon while the car drives itself.
Decades passed and this notion remained far-fetched. Then Google got serious about making a self-driving car. Soon, the entire automobile industry followed. Now the question is no longer if we'll ever see self-driving cars, just a matter of when. We're already close, with many new cars offering self-parking and "driver assist" systems.
"Sometimes just by throwing a stake in the ground and saying, `It's time to sincerely try,' it causes an effect that a whole industry can rally around," Andy said. "When everybody joins the fight, big things happen."
Andy is actually Dr. Andrew Conrad, the CEO of Google Life Sciences. And he used the arc of progress for the self-driving cars as a worthy aim for the project he and I announced Sunday during the opening event of Scientific Sessions, the AHA's flagship annual gathering for health care professionals.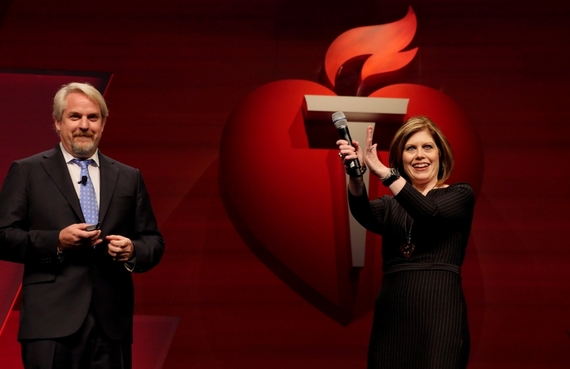 As part of "1 Team, 1 Vision," each of our organizations is investing $25 million over roughly five years to create a single team of specialists from a variety of fields to find new ways to solve the challenges posed by coronary heart disease.
Coronary heart disease is among the most devastating of all cardiovascular diseases, accounting for about 7 million deaths each year. Yet experts believe there's light at the end of the tunnel.
Having made inroads into slowing the onset of CHD, there may be ways to reverse it. That is, we could actually get rid of the buildup of plaque that can accumulate and block blood from reaching the heart, which can cause a heart attack. Better still, we could replace unhealthy blood vessels with healthy ones. After that, the next step would be preventing the disease.
For decades, those notions were as far-fetched as playing backgammon in the back seat of a self-driving car. While we're not as close to making our medical dream a reality as the self-driving car is, Sunday's announcement is another stake thrown into the ground declaring that we're sincerely going to try.
Let me back up a bit to explain how all this came together.
In June, Andy and I were discussing the state of cardiovascular disease research when he suggested shaking things up. He wanted to take a radical new approach to an old problem.
"Let's pick someone who is a maverick -- a smart maverick -- and let's give them wings and see what happens," he told me. "Why don't we do it?"
The AHA's Board of Directors loved it, too -- so much that our investment comes on top of all our other existing commitments. This is significant considering the AHA already is the largest funder of cardiovascular research in the United States outside the federal government. We've invested more than $3.9 billion in research, including upwards of $100 million annually since 1996. Still, with all the efforts we've ever undertaken, this will be the most heavily funded project in our 91-year history.
It's also among the most unique.
The traditional approach to cardiovascular research is incremental -- taking small steps that can hopefully combine to make big strides. This effort is being compared to the original attempt at putting men on the moon. Even if we don't get all the way to a cure, think of how many lives we can save and improve by getting close and solving only some of the existing problems.
"Mother Nature is tough," Andy said. "For every success, we have 100 failures. And that's OK. But if you're afraid to fail, you'll never try."
Another interesting element is how unscripted this is.
We know the project will be entrusted to a single leader, but we have no idea who that person is or what direction he/she will take it.
"It could be a teenager in Wisconsin who has a brilliant idea," Andy said. "If we knew what the best answer was, we would be doing it. But we don't. So the thing is to ask people to contribute ideas and wise people will review them and act upon them."
(Emails are already flooding in, even though the application process won't begin until January. The deadline will be Valentine's Day. Details will be announced soon.)
We expect the team to include experts from all sorts of disciplines. And while the team will have a hefty budget, they also will have whatever other resources either of our organizations can offer.
Everyone involved is incredibly excited.
We know we're on the cusp of something big, something special -- something potentially transformative.
I'm guessing this is how the people involved with the first self-driving car felt when they were gearing up.