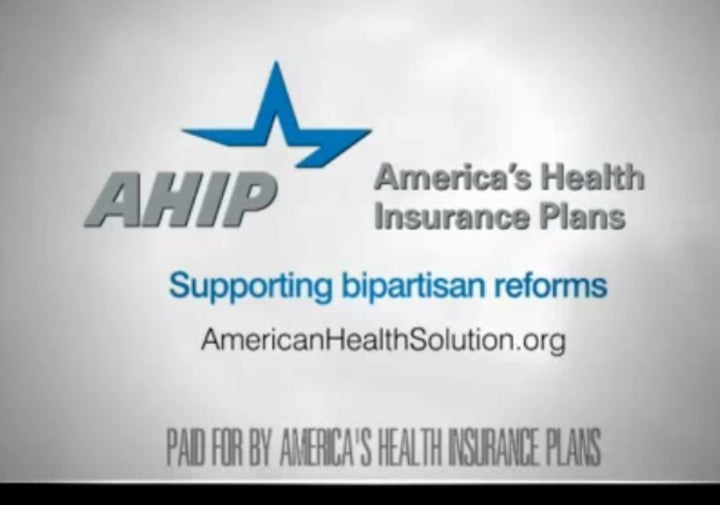 Republican pollster Bill McInturff was the keynote speaker on the final day of the America's Health Insurance Plans's state issues conference on Friday morning.
But his speech on how the health care reform debate was playing among the public was interrupted before it even began. A group of protesters began aggressively cheering McInturff for the work he has done for AHIP (he's a hired pollster for the private insurance lobby and, most infamously, was the force behind the 'Harry and Louise' ads in 1994)
McInturff, initially thinking that the cheering was legitimate, thanked the "AHIP officials" in the back of the room for giving him mental encouragement for his speech. He was not being paid for his appearance, he noted.
And then, the protesters -- dressed in business attire to fit into the crowd -- began singing. A relatively lengthy and harmonious rendition of "Tomorrow" from the musical Annie ensued, only with the chorus focused on government-run insurance. "The option, the option, we must have, the option... " went the rendition, in reference to the public plan.
The whole episode lasted a few minutes before the troupe (around 5 or 6 protesters) was escorted out by security.
McInturff, who remarked earlier that he didn't have a joke to lead off with, pointed to the exiting protesters and said "there's my joke." But while his speech had been interrupted, the pollster actually admitted to being mildly impressed.
"If you are going to have protesters at least you can hire people who sing," he said. "That was very good singing."
The musical was written and performed by Billionaires for Wealthcare, a grassroots network of health insurance CEOs, HMO lobbyists, talk-show hosts, and others profiting off of our broken health care system. A group official writes to say: "We'll do whatever it takes to ensure another decade where your pain is our gain. After all, when it comes to health insurance, if we ain't broke, why fix it?"

SINGER #1

No, thank you!
FOR KILLING THE PUBLIC OPTION
AND BLOCKING ANY HOPES OF ITS ADOPTION
THANK YOU, SIR!

SINGER #2
Sure,
BUT WHAT ABOUT COMPETITION?
IT'S AN OLD AMERICAN TRADITION
OR SO I'VE HEARD?

SINGER #1
Meh.

SINGER #3
WHEN OLYMPIA SNOWE
SAID NO,
IT CROAKED
Right?

SINGER #2
NO, THE OPTION'S NOT DEAD

SINGER #3
OR RED!

SINGER #1
EXPLAIN!
Who let these hippies in here?

SINGERS #2 AND #3, and CHORUS MEMBERS
IF WE GET A PUB-
LIC OPTION
WE CAN SNIFF OUT WASTE
JUST LIKE A DACHSUND
COSTS COME DOWN!

SINGER #1
Hey, those "costs" are my profits!

SINGERS #2 AND #3, and CHORUS MEMBERS
THE OPTION
THE OPTION
THE PUBLIC WANTS OPTIONS
WITHOUT IT,
IT'S A GIVEAWAY

SINGER #1
Exactly. To us. Am I in the right room?
THE OPTION
THE OPTION
THE PUBLIC WANTS AN OPTION

SINGERS #2 AND #3, and CHORUS MEMBERS
OR REFORM IS A CORP'RATE GIVE-A-WAY!

SINGER #1
Well, I've heard enough.
Popular in the Community