The family of the man suspected in weekend bombings in New York City and New Jersey had a history of clashes with police and had accused officers and neighbors in their New Jersey town of anti-Muslim discrimination. 
Bombing suspect Ahmad Khan Rahami's family members hold a fraught history with police and neighbors in Elizabeth, New Jersey, where they live and operate a fast-food chicken restaurant, according to court records. Rahami was arrested nearby Monday after a shootout with police.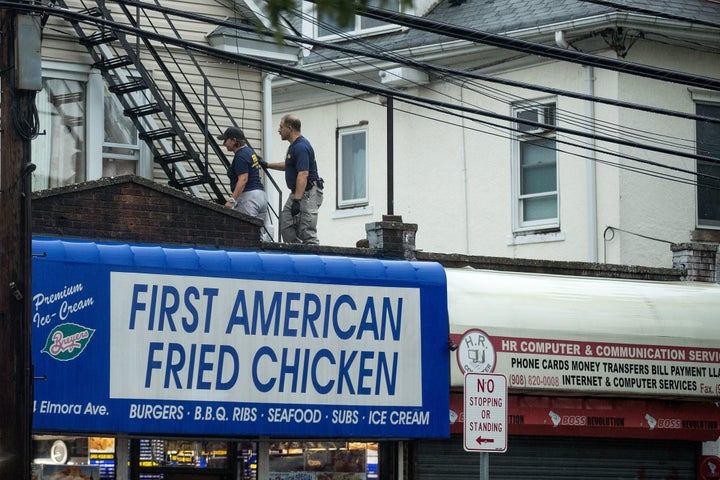 Rahami's father, Mohammad, alleged in a 2011 discrimination lawsuit against the city of Elizabeth and its police that neighbors and officers conspired to "maliciously harass, intimidate and threaten" his family based on race, religion and national origin. The alleged discrimination stemmed from ongoing disputes over how late the family's First American Fried Chicken restaurant was allowed to stay open. 
"We had some code enforcement problems and some noise complaints when they opened" in 2002, Elizabeth Mayor Chris Bollwage (D) said during a press conference following Rahami's arrest Monday. 
The mayor said that the city passed an ordinance in 2009 that forced restaurants to close at 10 p.m. Rahami's brothers and father sued, and a court ruled in the city's favor in 2012, Bollwage said. 
The chicken restaurant ― well regarded by some customers for its "friendly service" and known for attracting noisy late-night crowds ― had been the subject of complaints from neighbors, according to court records. 
A neighbor told the Rahamis that "you are Muslims" and "Muslims make too much trouble in this country."

Mohammad Rahami's 2011 anti-discrimination lawsuit
According to the federal discrimination suit, neighbor James Dean McDermott repeatedly complained to police about the restaurant. McDermott allegedly told the Rahamis that "you are Muslims" and "Muslims make too much trouble in this country." 
The lawsuit claims police validated McDermott's complaints without question. Officers told the Rahamis "there's too much crime around here" and "this area by your restaurant is a known place for criminal activity," the lawsuit says.
The complaints from McDermott and other unnamed individuals continued, as did police citations against the Rahamis. 
During a 2009 incident, Rahami's brothers reportedly clashed with officers over recording them on cell phones as police tried to close down the restaurant. Rahami's father was detained and released, while his brother was arrested and later pleaded guilty to obstruction. 
Rahami eventually took over day-to-day operation of the restaurant, Ryan McCann, a regular customer at First American Fried Chicken, told The New York Times on Monday. 
"He's always there, he's a very friendly guy," Ryan McCann told a scrum of reporters Monday. McCann described the Rahami family as "just trying to fit in." 
Rahami would often talk about cars and give him free meals, McCann said. After Rahami's most recent visits to Afghanistan, where he was born, McCann said he noticed a "change." He described Rahami as "not angry, but more distant." 
Other regular customers expressed shock that Rahami was wanted in a terror attack.
Flee Jones, who co-wrote a song about the restaurant's chicken, said the family was hospitable and would let him host rap battles at the eatery with his friends.
Rahami was arrested Monday, roughly 36 hours after an explosive device that police say he planted rocked the Manhattan neighborhood of Chelsea and injured 29 people. A second, undetonated pressure cooker explosive device was found blocks away. 
FBI Assistant Director Bill Sweeney said Rahami was "directly linked" to another small bomb that detonated along the route of a 5K race in a New Jersey beach town Saturday morning.
Prosecutors said they expect to charge Rahami with five counts of attempted murder and two gun charges in connection with Monday's shootout. Terrorism charges will likely follow once federal officials assemble a more detailed case.
REAL LIFE. REAL NEWS. REAL VOICES.
Help us tell more of the stories that matter from voices that too often remain unheard.
BEFORE YOU GO
PHOTO GALLERY
Police Seek Suspect In New York and New Jersey Bombings