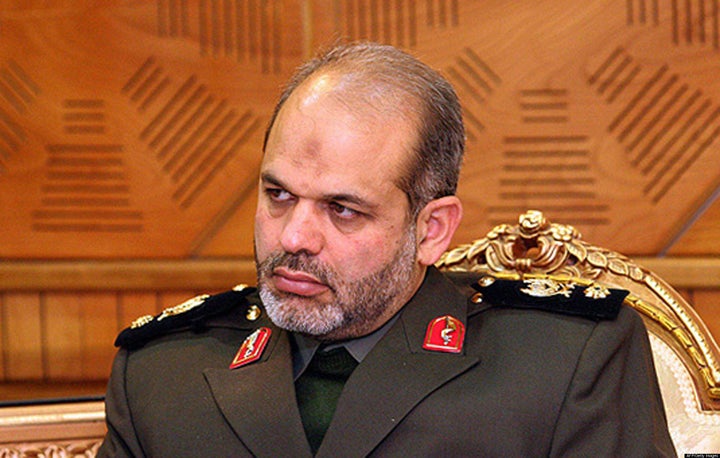 HADEEL AL-SHALCHI, Associated Press Writer
CAIRO — The man Iran's president has named to be defense minister is wanted in the 1994 bombing of a Jewish cultural center in Buenos Aires, and his nomination drew an outcry Friday from Argentina and Jewish groups.
Ahmad Vahidi, who commanded a unit of Iran's Revolutionary Guard known as the Quds Force at the time of the attack, was nominated by President Mahmoud Ahmadinejad Wednesday along with others named to fill Cabinet positions. The Quds Force is involved in operations abroad, including working with Lebanon's Hezbollah militant group, which is accused of carrying out the Buenos Aires attack.
Argentina Prosecutor Alberto Nisman told The Associated Press Friday that Vahidi is accused of "being a key participant in the planning and of having made the decision to go ahead with the attack against the Argentine-Israeli Mutual Association."
Nisman has led the investigation into the July 18, 1994, bombing – Argentina's bloodiest terrorist attack. The bomb exploded inside a van outside the Argentine-Israeli Mutual Association, killing 85 people and wounding 200.
"It has been demonstrated that Vahidi participated in and approved of the decision to attack AMIA during a meeting in Iran on Aug. 14, 1993," when he led the Quds Force, Nisman said.
He added that Vahidi was never in Argentina.
Argentine officials claim that Iran orchestrated the attack and that the Iranian-backed Hezbollah carried it out. The United States and Israel also say Iran is behind the bombing, but Iran has denied it.
Ahmadinejad submitted his 18 Cabinet nominees late Wednesday to parliament, which must approve the list. Most of the nominees were close Ahmadinejad loyalists or little-known figures, while public critics of the president from his previous Cabinet were purged. At least four nominees – for defense, interior, intelligence and oil minister – had ties with the elite Revolutionary Guard, a powerful base of support for the president.
"It's significant, this nomination, but not surprising," said Nisman about Vahidi's nomination. "Iran has always protected terrorists, giving them government posts, but I think never one as high as this one."
The president of the Jewish cultural center in Buenos Aires, Guillermo Borger, told Argentina's Jewish News Agency Friday that "we are completely surprised and outraged by the nomination of Ahmad Vahid. ... His nomination is shameless and insulting."
Interpol said in 2007 it would help Argentina seek the arrest of Vahid and four other prominent Iranians wanted in connection with the attack.
Among the others is Mohsen Rezaei, who ran against Ahmadinejad in the June 12 presidential election and is a former leader of the Revolutionary Guard.
The other wanted Iranians are former intelligence chief Ali Fallahian; Mohsen Rabbani, former cultural attache at the Iranian Embassy in Buenos Aires; and former diplomat Ahmad Reza Asghari.
Interpol had also sought Hezbollah militant Imad Mughniyeh, who was killed in a car bombing in Damascus, Syria, in February 2008.
In Washington, U.S. State Department spokesman Ian Kelly said Friday that if Vahidi was indeed the man wanted by Interpol, it would be very "disturbing" to see him confirmed in the Iranian Cabinet.
Associated Press Writer Vicente Panetta in Buenos Aires contributed to this report.
Related
Popular in the Community