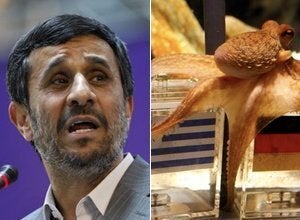 Paul the Psychic Octopus became a superstar by accurately forecasting the results of eight consecutive World Cup matches. But while the tentacled oracle may be enjoying his retirement, it seems the rest of the globe just can't get enough -- and the recent media saturation may now be spurring a backlash.
Over the weekend, Iranian President Mahmoud Ahmadinejad slammed the octopus for "spreading Western propaganda and superstition." And the cephalopod prophet has also become the subject of a Chinese comic suspense film, to be called "The Murder of Paul the Octopus," which stars a stunt octopus in the title role.
As director Xiao Jiang explains of the film, which is currently in post-production:
"We planned several topics to shoot about, like black horses, prediction results, gambling, misjudges, terrorism and football hooligans. And we chose to shoot the prediction results when the amazing prophet Paul appeared."
Presidential rants and black comedies aside, the offers seem to keep rolling in. A Russian bookmaker is offering the Sea Life Center in Oberhausen, Germany 100,000 euros ($129,800) for the octopus.
As Oleg Zhuravsky, co-owner of Liga Stavok -- "Bet League" in Russian -- told CNN:
"Seriously speaking, we want the octopus for a number of purposes: first, to see whether he can indeed effectively forecast the results of the football games. Secondly, Paul could become a good mascot, a good symbol for my bookmaking companies. And thirdly, he has an international fame like perhaps no other animal across the world does these days, and I'd love to be able to move him to Russia."
No word on the results of the Russian bid, but given that the Sea Life Center recently turned down offers from Spain to buy Paul, it's unlikely he'll be moving anytime soon.
Related
Popular in the Community