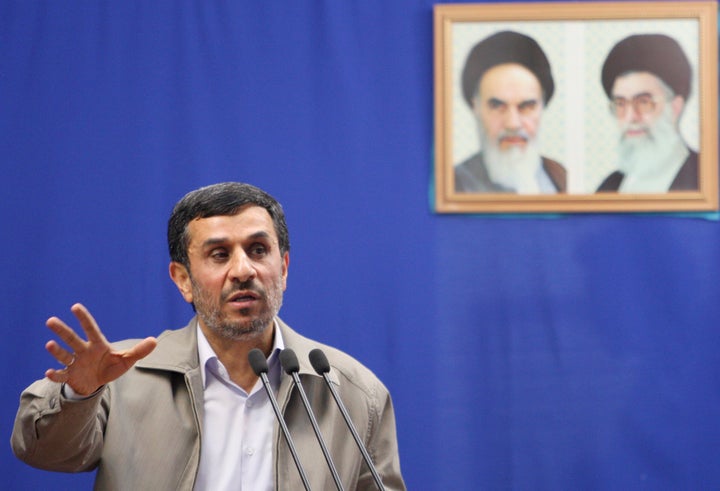 Mahmoud Ahmadinejad, who is coming to New York to attend 66th session of the UN General Assembly, loves visiting the Big Apple and relishes his time on the international stage. The media frenzy that has become a tradition since his annual visits began in 2005 is often void of meaningful scrutiny of what is the most important issue to Iranian citizens, namely the Islamic Republic's harsh repression of its people that has escalated into an unprecedented human rights crisis since the disputed reelection of Ahmadinejad in June 2009.
While the Iranian government has been utterly intolerant of criticism and peaceful demonstrations at home, Ahmadinejad has come out in support of protest movements sweeping the Middle East in the wake of the Arab Spring and has chastised regional governments for their human rights abuses. Iran's hypocrisy on this matter should not go unnoticed.
Ahmadinejad's visit should, instead, become an occasion to challenge Iran's record of abuse and to support the Iranian people's aspirations for rule of law, democratic change and respect for their fundamental rights. Ahmadinejad's presence at the UN General Assembly provides the international community, including the diplomats and journalists, an opportunity to hold him accountable for gross human rights violations committed by the Iranian regime.
Around 500 prisoners of conscience, including journalists, activists, students, and lawyers, are locked up, tortured and deprived of their most basic rights, such as access to medical treatment or legal counsel. Since 14 February 2011, Mir Hossein Mousavi and Mehdi Karroubi, prominent opposition leaders who challenged Ahmadinejad's re-election in 2009, have been held under "house arrest" for more than 210 days, largely cut off from the outside world. Ahmadinejad's visit should be accompanied by widespread calls from all corners for Mousavi's and Karroubi's release, along with the release of other prisoners of conscience.
The recent announcement that the two American hikers held captive since August 2009 will be released in time for Ahmadinejad's visit is surely a ploy to appear as concerned humanitarians and deter any criticism of the regime's human rights record. No one should be fooled by these tactics.
The imminent release of Joshua Fattal and Shane Bauer is welcome news, but Ahmadinejad should not get any credit for it. He should be held accountable for explaining why these two young men, together with Sarah Shourd, who was released earlier this year, were held on unfounded charges for so long without real due process. International actors should ask Ahmadinejad: Who is responsible for this injustice depriving the young hikers of their liberty?
Ahmadinejad certainly doesn't intend to admit these unfair detentions, because rampant impunity has become a an institutionalized component of the Iranian justice system, allowing state agents to literally get away with murder as well as torturing detainees and locking up innocent people for lengthy periods of time.
On 1 June 2011, Haleh Sahabi, a prominent women's rights activist, dissident and prisoner of conscience, died of beatings she received during her father's funeral while on a furlough to care for him. The Iranian Judiciary did not bother to launch even the most rudimentary investigation into her assault and subsequent death.
Ten days later on 10 June, another prominent prisoner of conscience, Hoda Saber, who had undertaken a hunger strike in Evin prison, died after intelligence agents inside the prison's infirmary beat him. Was anyone held accountable? Sadly, no.
This culture of impunity highlights the need for the international community to focus its attention on the ongoing human rights crisis in Iran. For starters, Ahmadinejad must know that widespread human rights crimes can only lead towards condemnation at the UN. But moreover, with no evidence that domestic remedies can address human rights abuses, the situation is becoming such that unless the Iranian government can dramatically right its course, international actors should start to look to referral to the International Criminal Court as a way to address ongoing impunity.
In the meantime, Ahmadinejad should not be let off the hook. He should not be allowed to breeze through New York unchallenged.
From dignitaries who will hold meetings with him, to journalists who will interview him, to American academics and individuals who are typically invited to meet him, everyone should emphasize the Iranian regime's horrible repression and stand in solidarity with the Iranian people.
REAL LIFE. REAL NEWS. REAL VOICES.
Help us tell more of the stories that matter from voices that too often remain unheard.