A gunman reportedly attempted to assassinate the leader of Bulgaria's Turkish ethnic party during a televised conference on Saturday.
The leader of Bulgaria's Movement for Rights and Freedoms (MRF) party, Ahmed Dogan, was assaulted by a gunman while on stage at the National Palace of Culture (NDK) in Sofia, according to the Sofia Globe. The assailant, 25-year-old Oktai Enimehmedov, climbed onstage and held a gun to Dogan's head, but the gun reportedly got stuck and was unable to shoot.
Enimehmedov was also reportedly beaten by delegates and other officials in the crowd, according to Noinite, a Sofia news agency. "He was not in a good shape, there was blood on his face," said Prosecutor Nikolay Kokinov. "He told us his version about what motivated him, but I will not discuss it at this point."
Along with the gas pistol, Enimehmedov was also armed with two knives. The Bourgas native has two prior convictions, including causing bodily harm in 2006 and drug possession in 2010, the Sofia Globe reports.
As for the 58-year-old official, he is doing fine. "Ahmed Dogan is in good health. Everything is under control," MRF official Ceyhan Ibryamov told Reuters on Saturday.
The liberal MRF party represents ethnic Turks and Muslims, who make up roughly 12 percent of Bulgaria's population, according to Reuters. Dogan is seen as one of the most influential political figures. The conference was scheduled to elect a new leader to succeed Dogan, according to the Associated Press, who is stepped down after nearly 25 years.
Lyutvi Mestan, the man expected to replace Dogan, told the AP "the true reason for the assault was the language of hatred and confrontation."
PHOTO: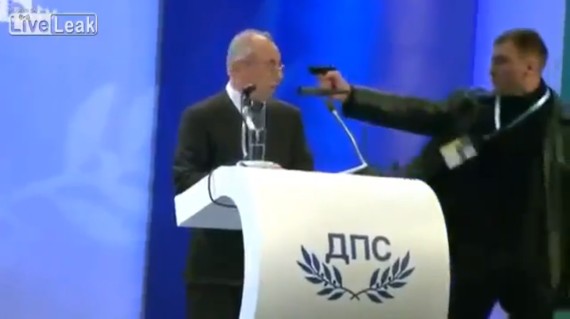 Image grab from video shows a man identified as Oktai Enimehmedov, 25, as he points a weapon at Ahmed Dogan, left, leader of the Movement for Rights and Freedoms, during his speech at his party's congress in Sofia, on Saturday Jan. 19, 2013. (AP Photo/ BTVnews)
Clarification: Language has been amended to emphasize that Dogan is a Bulgarian politician of Turkish descent.
Popular in the Community