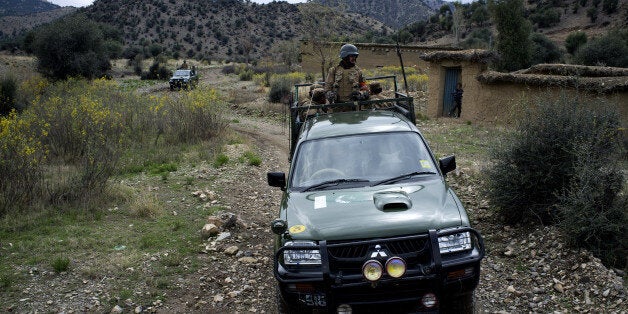 U.S. officials said Ahmed Farouq died in a U.S. counterterrorism operation in January. White House Press Secretary Josh Earnest told reporters at a briefing that Farouq was a U.S. citizen and a senior leader in the al Qaeda branch in South Asia.
Farouq was installed as the deputy leader of AQIS when the new group was announced last September. He previously served as an al Qaeda spokesman in Pakistan, the group said. It had not previously been reported that Farouq was a U.S. citizen.
An al Qaeda spokesman first announced Farouq's death earlier this month, saying he had been killed on Jan. 15. Pakistani media reported that a U.S. drone strike that day had killed several unidentified militants in the Wacha Dara area of the Pakistan tribal border region of South Waziristan. Farouq was erroneously reported killed by Pakistani media in a December 2014 drone strike.
The al Qaeda statement announcing his death said Farouq was from the Pakistani city of Islamabad and his real name was Raja Muhammad Salman.
AQIS has not responded to the U.S. announcement, SITE Intelligence Group Director Rita Katz said Thursday. A former spokesman for the Pakistani Taliban, Azam Tariq, told The Associated Press that Farouq had played "a very important role in the war against America."
Farouq's low profile is in stark contrast to that of Adam Gadahn, the other American al Qaeda operative whose death the White House announced Thursday. Gadahn appeared frequently in al Qaeda videos, and exploited his American background for propaganda purposes.
Farouq, however, only appeared in militant videos with his face obscured and no photos of him were released until after his death, senior editor of The Long War Journal Thomas Joscelyn wrote in an email to The WorldPost.
"This leads me to believe that they didn't want to advertise who he really was," he said. "So it makes sense they would not confirm his American citizenship, assuming he held it."
While The WorldPost could not independently confirm Farouq's citizenship, analysts note that other American operatives of al Qaeda have concealed their background.
"Al Qaeda uses some Americans for propaganda purposes, especially if they have a strong command of idiomatic English, but certainly not all of them," terrorism analyst J.M. Berger told The WorldPost by email.
"We've seen other examples of Americans who were kept under the radar so they could fill operational roles," he added, noting the case of al Qaeda leader Adnan Shukrijumah, whose death was reported last December.
This photo of Ahmed Farouq was circulated by al Qaeda in the Indian subcontinent.
CLARIFICATION: This article has been updated to clarify Berger's reference to Shukrijumah as an example of an American al Qaeda leader who remained largely low-profile until his death, not of an al Qaeda leader whose American citizenship wasn't widely known.
REAL LIFE. REAL NEWS. REAL VOICES.
Help us tell more of the stories that matter from voices that too often remain unheard.