An Israeli peace activist has come forward with a blockbuster claim about the assassination of Hamas leader Ahmed Jabari that, if true, would represent a major twist in the recent escalation of conflicts between Israeli and Palestinian forces.
Gershon Baskin, who has reportedly mediated between Israel and Hamas in the past, told Haaretz on Thursday that Jabari, at the time of his death, had just received a draft of a "permanent truce agreement with Israel."
Hours before Hamas strongman Ahmed Jabari was assassinated, he received the draft of a permanent truce agreement with Israel, which included mechanisms for maintaining the cease-fire in the case of a flare-up between Israel and the factions in the Gaza Strip. This, according to Israeli peace activist Gershon Baskin, who helped mediate between Israel and Hamas in the deal to release Gilad Shalit and has since then maintained a relationship with Hamas leaders.

Baskin told Haaretz on Thursday that senior officials in Israel knew about his contacts with Hamas and Egyptian intelligence aimed at formulating the permanent truce, but nevertheless approved the assassination.

"I think that they have made a strategic mistake," Baskin said, an error "which will cost the lives of quite a number of innocent people on both sides."
Jabari was killed in a surgical airstrike on Wednesday as part of a larger Israeli offensive in Gaza. "This is an operation against terror targets of different organisations in Gaza," an Israeli spokeswoman said at the time.
Called Operation "Pillar of Defence," the offensive dashed hopes of progress toward a truce between Israel and Hamas that might have ended months of roiling tensions and violence in the region.
Since Wednesday, conflicts has escalated. Palestinian militants reportedly "barraged Israel with nearly 150 rockets on Thursday," and Israeli Prime Minister Benjamin Netanyahu indicated plans for "significant widening" of military strikes.
No government would tolerate a situation where nearly a fifth of its people live under a constant barrage of rockets and missile fire, and Israel will not tolerate this situation. This is why my government has instructed the Israeli Defense Forces to conduct surgical strikes against the terrorist infrastructure in Gaza. And this is why Israel will continue to take whatever action is necessary to defend our people.
Related
Before You Go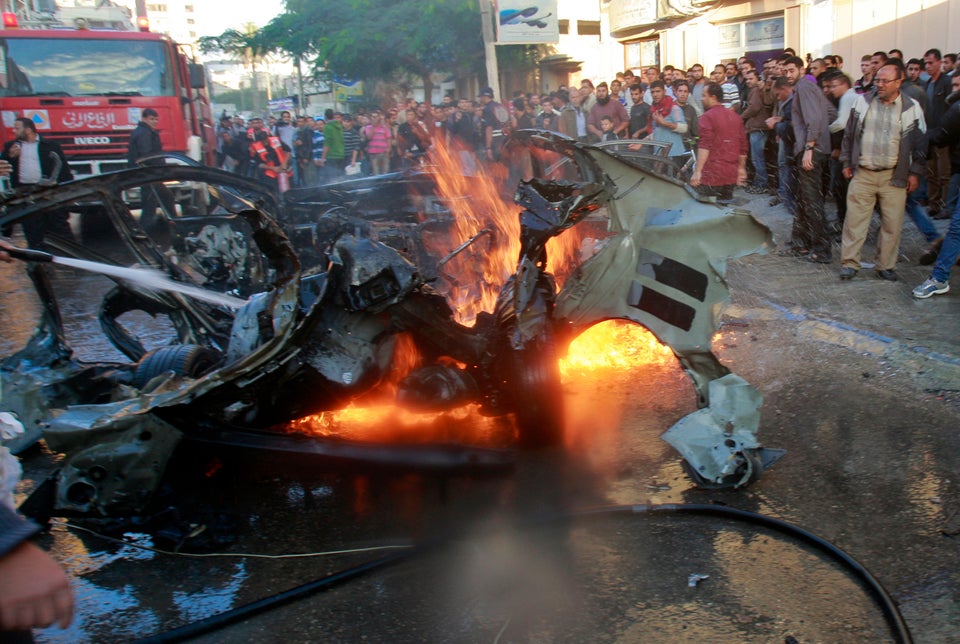 Israeli Strike Hits Gaza
Popular in the Community