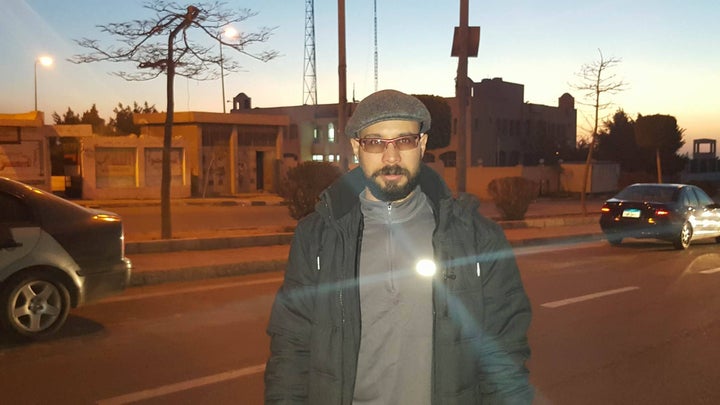 What should scare Washington about its military ally Egypt's crackdown on dissent isn't just how they arrest activists, but how incompetently they release them.
Last week prominent dissident Ahmed Maher came out from prison three years after being convicted for attending a protest in defiance of a law banning public gatherings. He's internationally known with a long record of criticizing Egypt's dictators, from President Mubarak to President Morsi to current President Sisi. On the night he was released, he was bafflingly shuttled around Cairo with no-one apparently willing to take responsibility for officially letting him go. He was pinballed from prison to Nasr City police station to Abdeen Court House to New Cairo police station before finally being allowed home.
It's not as if his release was a surprise to the authorities, his last day in prison was known far in advance and there had been countdowns on social media. But when the moment came to deal with his release, the police had no plan. This level of incompetence in Egypt's security forces must surely alarm the State Department and Egypt's other international partners. Last year U.S. Secretary of State John Kerry described Egypt as "critical to the peace and security" of the region, but the bungled release of one of the country's most famous activists raises more worrying questions about the competence of Egypt's security forces.
Last month the security forces failed to prevent another attack on the country's vulnerable Christian community, when dozens of people were killed in a bomb attack on the Coptic cathedral in Cairo. In September 2015 Egypt's security forces killed eight Mexicans tourists and four Egyptians having a picnic in the desert, mistaking them for terrorists. Instead of trying to bring order to Egypt based on the rule of law Egypt's police and military go after peaceful activists.
Maher should never have been jailed in the first place, and was targeted like so many others because of his articulate criticism of the government, and President Sisi's long-term repression of civil society appears to be intensifying. Some members of Congress are increasingly worried about the performance of Sisi's government and its attacks on activists. Last year Senator John McCain (R-AZ) said the jailing of Maher and other youth activists was "not in keeping with President al-Sisi's stated commitments, and in fact call into question the direction in which Egypt is headed".
The immediate issue about Maher now has become the absurd terms of his parole. Egyptian authorities are insisting he spends every night between 6pm and 6am for the next three years at a local police station. Yes, really.
Apparently determined to invite ridicule, Egypt's police are now claiming they're not sure where Maher's home address is and so to be on the safe side they want to watch him for 12 hours a day, every day, until 2020, effectively imposing another 18 months in jail.
Such extreme parole terms aren't unknown for common criminals, who often pay their way out of the conditions in a deal with Egypt's notoriously bribeable police, but this six to six o'clock nonsense is unheard of in a political case like Maher's. One his first night at New Cairo police station he was kept in a corridor, and not allowed a chair.
A senior American diplomat once told me in Cairo that Egypt's corrupt police force was essentially "a million-man Mafia," but organized crime is, well, generally organized. What happened this week exposes the amateurishness of a security force the Washington relies on as a key partner to combat terrorism in the middle east. It's a dangerous policy to depend on repressive allies, especially if they're inept.
Maher was convicted with activist colleague Mohamed Adel, who is due for release on January 19. Let's see if Egypt's police can do better next week.
Support HuffPost
The Stakes Have Never Been Higher
Related
Popular in the Community