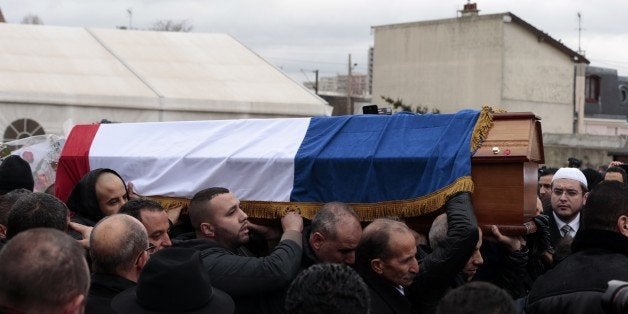 France has laid one of its heroes to rest.
Ahmed Merabet, the 40-year-old Muslim police officer who died trying to stop the Charlie Hebdo terrorists, was buried by his family Tuesday after receiving France's highest honor.
French President Francois Hollande placed a police hat and a blue Legion d'honneur badge on Merabet's casket, saying that the slain officer showed the "diversity of France's forces of law and order," The Guardian reports.
"He was very proud to represent the French republic," Hollande said during an official ceremony in Paris.
Merabet was one of two police officers killed in the Jan. 7 terrorist attack on the satirical magazine Charlie Hebdo. He had been patrolling the streets near the magazine's office for about eight years. On that fateful Wednesday, Merabet spotted suspected attackers Said and Cherif Kouachi fleeing the scene. He was taken down by gunfire and then shot point blank on the street. Officer Franck Brinsolaro had already been killed inside the magazine's office.
The next day, a third officer, Clarissa Jean-Philippe, was killed. The gunmen would not be stopped until the third day.
Over the course of those three days, a total of 17 people died at the hands of three attackers, leaving many Muslims in France fearful of a backlash. In fact, 16 Muslim places of worship around the country were reportedly attacked in the 48 hours after Wednesday's massacre, the Associated Press reports.
But Merabet has become a symbol of the sacrifices that French Muslims are willing to make for their country. His story spread quickly on social media, with thousands all over the world tweeting #JeSuisAhmed in his honor.
"Ahmed Merabet knew better than anyone that radical Islam has nothing to do with Islam and that fanaticism kills Muslims," Hollande said. "Madness has no religion. It has the face of hate, a hatred for all that France represents."
After the central Paris ceremony, Merabet's casket was released to his family in nearby Bobigny. Hundreds of mourners gathered at a mosque there for a funeral service.
"I have lost a friend, a kind, respectful, helpful friend," Yamina Zanasni told The Guardian. "He is a hero."
Before You Go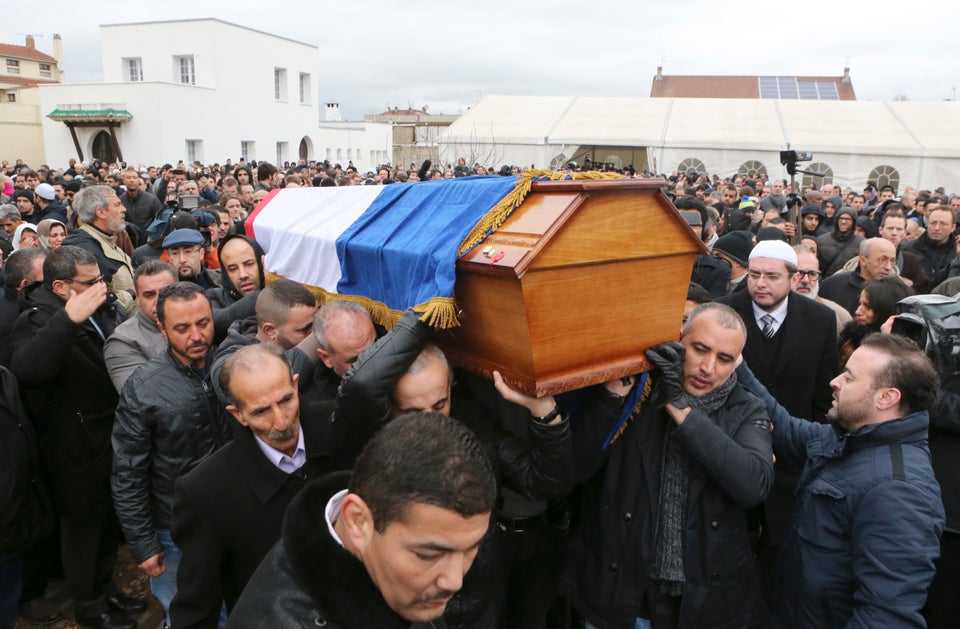 Ahmed Merabet Laid To Rest
Popular in the Community