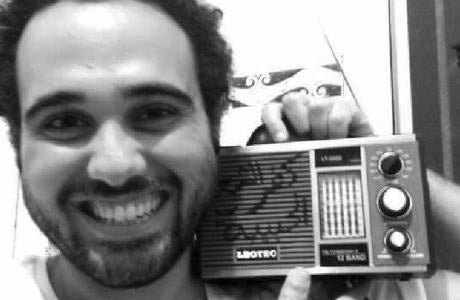 (This piece was originally posted on Medium on May 16, 2016; it has been slightly adapted)
Today marks six months since Egyptian novelist Ahmed Naji was sentenced to two years in prison on the charge of "harming public morality" for publishing an excerpt that contained explicit content from his novel Istikhdam al-Hayat (The Use of Life) in the Egyptian magazine Akhbar al-Adab. Six months of detention is six months too many.

I have never met Naji in person. He is friends with many of my dearest friends. We've exchanged a few tweets here and there. But one need only read a few lines of his writing to fall in love with his warm demeanor, his humble persona, and his brilliant talent. Reflecting on the chapter which landed him in prison, my best friend wrote to me: "That was amazing…For the first time in months, I was back in Egypt. He writes beautifully…He captures the city so well."

I couldn't agree more. I do not exaggerate when I say that Naji is one of the most unique, nuanced, and talented writers of our generation. But even if we did not like his writing, even if we did not appreciate his prose, and even if we did not find his word choice on point, Ahmed Naji — whether he is the respected novelist he is today or should he have been an unknown fiction blogger with absolutely no following — is undeniably entitled to his right to freedom of creative expression.

On February 20 of this year, the Bulaq Misdemeanour Appeals Court improperly reversed what had been a clear acquittal by the Bulaq Misdemeanour Court just one month prior in Naji's favor. It instead issued the maximum possible sentence to him under the unconstitutionally vague and legally imprecise Article 178 of the Penal Code which criminalizes harm to public morality. When the earlier court acquitted Naji, it had decided that establishing a legal standard to determine what would constitute a violation to public morality — a clearly subjective term — would be too difficult and that the Penal Code should not be applied to matters of creative self-expression. The acquitting court also stated that many of the "offending" phrases in Naji's novel had been used throughout contemporary and classical Egyptian works of literature and were not foreign to the Egyptian tradition.

By reversing the acquittal and instead sentencing Naji to the maximum punishment, the Appeals Court blatantly disregarded the constitutional and international legal guarantees to freedom of creative expression, improperly giving higher credence to the unconstitutional provisions of the Penal Code. Under Articles 67 and 71 of the Egyptian Constitution and Article 19 of the International Covenant on Civil and Political Rights, the right to freedom of expression and particularly, freedom of creative expression, is guaranteed; further, the domestic provisions assure that artists and writers will not be sentenced to jail time for publishing their work.

Reading the text of the verdict, it becomes clear that the court improperly assigned itself to serve as the moral guardian of society; the Appeals Court judgment criticizes Naji's use of "obscene phrases" that allegedly violate "the sanctity of morals" and "tempt to fornication." In a further dramatic statement, the court also accuses Naji of "intentionally exposing the sons of this society to environments replete with moral decay." How the court found evidence to show that Naji's writing achieved such a result — let alone how they could show his intent to do so — is beyond my comprehension.

(Hint: they did not).

Naji's sentence likely makes him the first-ever author in Egypt's modern history to be sentenced to jail time for explicit content in a work of fiction. His case represents an egregious over-reach by the reportedly "liberal" Egyptian authorities to police the morals of society and to silence the voices of even non-political, creative influencers. Naji's case exposes an immense failure of the Egyptian legal system: first, in its embrace of vague provisions that grant immense and improper discretion to state officials to interpret as they please and second, in its willingness to compromise universal human rights at the expense of false choices.

In addition to reiterating my solidarity with novelist Ahmed Naji — sentenced to prison on charges that violate even domestic law — I thus, reiterate my demand for an institutional fix: that provisions enabling jail time for any publication-related offenses be stricken and that Article 178 of the Penal Code be amended and brought into accordance with constitutional and international law. I add my voice to 120 best-selling international artists, 500 Egyptian authors and writers, and nearly 9,000 everyday citizens who have demanded the same.

Former Spokesman of Egypt's Constituent Assembly, Mohamed Salmawy, said it quite succinctly: ""I am not afraid to describe the ruling [against Naji] first as unfair, second as unjust, third as a violation of the constitution, and fourth [as a revelation of] certain ideologies that we thought had fallen with the fall of the Muslim Brotherhood state."

Let it sink in that in the 21st century, an author is being sentenced to jail time for the actions of his characters in a work of fiction. As Egypt's former Minister of Culture commented on the implications of the case: "So if a writer writes a novel about a killer…we can try him for murder and sentence him to death?"

Six months of detention is six months too many.
Support HuffPost
The Stakes Have Never Been Higher
Related
Popular in the Community