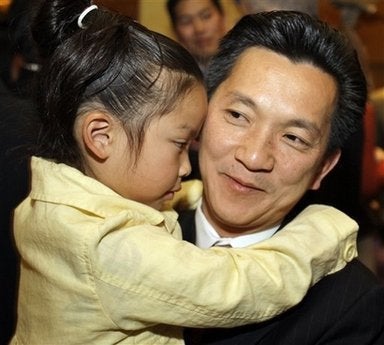 On Sunday, December 6, Republican Anh "Joseph" Cao of New Orleans ousted nine-term Democrat William Jefferson from his House seat. Although Jefferson's campaign was doomed from the start by a corruption scandal, Cao's victory still took the nation by complete surprise. Here was a complete unknown, a Vietnamese American lawyer with no prior experience in public office, taking down an African American incumbent in a majority black congressional district. Moreover, he won as a Republican -- something hasn't happened in New Orleans in over 100 years. The improbable victory gave Republicans something to gloat about in the wake of its November defeats. But it seems that the real political surprises are yet to come. House Republicans may soon learn that they're getting more than they bargained for in newcomer Cao.
Cao (pronounced "Gow") is the first Vietnamese American elected to Congress,but only the fourth Asian American to join the House as a Republican. A child of refugees, his father served as an officer in the South Vietnamese Army, fighting communism alongside American troops. It's all too easy to portray Cao as a Vietnamese American with conservative views that stem from a legacy of anti-communism. Here, the obvious comparison can be made with right-wing Cuban Americans of southern Florida. But Cao's New Orleans East -- home to the largest concentration of Vietnamese Americans of Louisiana -- is no Little Havana. And Cao is no Republican ideologue. A political independent until only recently, Cao, who once trained as a Jesuit seminarian working with the poor in Latin America, described his politics as "walking the middle line" in a recent New York Times article.
But by holding fast to the middle, Cao isn't merely playing it safe as the first House Republican to represent New Orleans since Reconstruction. The middle line is proxy for the nuanced political and racial location that Vietnamese Americans of New Orleans occupy, a location that doesn't quite conform to traditional left-to-right political ideologies. Indeed, the Vietnamese Americans of New Orleans pride themselves on self-reliance, yet they also demand government accountability, especially when confronted with injustice. They seek to advance themselves politically and economically, yet seem to do so without sacrificing solidarity with other racial groups, particularly neighboring African Americans. Nowhere were these values more clearly on display than in the aftermath of Hurricane Katrina. Less than six weeks after the storm, the Vietnamese Americans of New Orleans East returned to their homes, doing so over the objection of local and federal officials. Their leader was Father Nguyen The Vien, a political firebrand and head of Mary Queen of Vietnam church (MQVN). "Before the storm, I guess you could call us libertarians," Father Vien said. "Our attitude toward government was: 'you don't bother us, we won't bother you.' But Katrina changed all that. We had a responsibility to speak out." And so with each step of the rebuilding process, the priest and his congregation battled those who stymied their efforts: foot-dragging FEMA officials, The Waste Management Corporation that sought to dump Katrina debris in their backyard, city leaders all-too-eager to sell off New Orleans East to developers. Through it all, the priest was surrounded by a coterie of experienced community organizers, policy wonks and attorneys.
The star among them was Cao. An immigration attorney with a private practice in New Orleans East, Cao led the legal fight to have utilities turned on in the Vietnamese American neighborhood. Along with other MQVN leaders, he also worked to shut down a controversial landfill that was to hold nearly one-forth of Katrina debris in New Orleans East.
As the first anniversary of Katrina approached, MQVN became a force to be reckoned with, and it soon launched a community development corporation to further advance its rebuilding plans, as well as to expand Vietnamese American political power in New Orleans. Cao was named to the organization's board of directors, and MQVN would serve as a vital political base during his congressional campaign. Yet at the same time, MQVN's post-Katrina activism was largely associated with (and celebrated by) the liberal-to-left of the city -- those who considered the community's defense of New Orleans East a rare victory for the grassroots. Cao never downplayed his involvement in these efforts. To the contrary, his campaign highlighted such activism in order to bolster an otherwise slim political record. So too, Democratic African Americans leaders in New Orleans lauded the work of MQVN. African American councilmember Cynthia Willard-Lewis, a Democrat, referred to its efforts as "a model for other communities." Meanwhile African American organizations such as the Southern Christian Leadership Conference, the Southern Poverty Law Center and Advocates for Environmental Human Rights emerged as political allies to MQVN in the post-Katrina era.
As Cao enters his first term, these alliances may prove strong enough to hold him accountable to an agenda that prioritizes the rebuilding of New Orleans, especially within communities that have yet to receive their fair share of federal support. At the very least, his ties to the New Orleans East grassroots will keep him from marching in lock step with House Republicans on key domestic issues.
The day after the election, House minority leader John Boehner dashed off a memo to fellow Republicans with the subject line: "The Future is Cao." His sanguine message: Cao represents fresh change for the Republican Party. Boehner may soon be dismayed by just how correct he is.
Calling all HuffPost superfans!
Sign up for membership to become a founding member and help shape HuffPost's next chapter