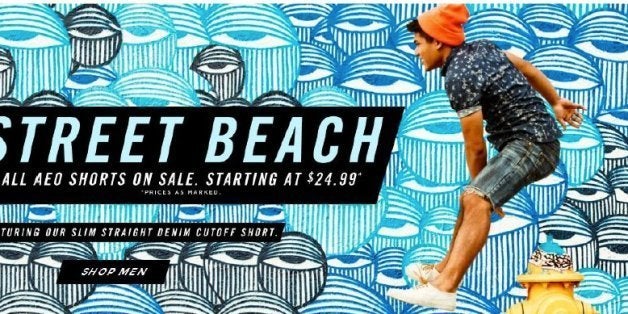 But the artist known as Ahol Sniffs Glue -- real name David Anasagasti -- says American Eagle Outfitters took his copyrighted imagery worldwide without asking permission or offering compensation.
According to a lawsuit filed last week in federal court, the teen clothier is guilty of "blatant, unlawful and pervasive infringement" for using Ahol's eyeballs motif in advertising on its website, social media pages, targeted marketing, a billboard in downtown New York City, and store displays from Tokyo to Panama.
Incredibly, the clothing chain allegedly even hired artists to recreate one of Ahol's murals for an eight foot display at a store opening in Medellín, Colombia, and put their own label on it, "essentially incorporating Mr. Anasagasti's artwork into AEO's own brand identity."
Photos from the Medellín event, some of which were included in court filings by the artist's attorneys, show party guests posing in front of what looks to be a sloppy recreation of Ahol's work: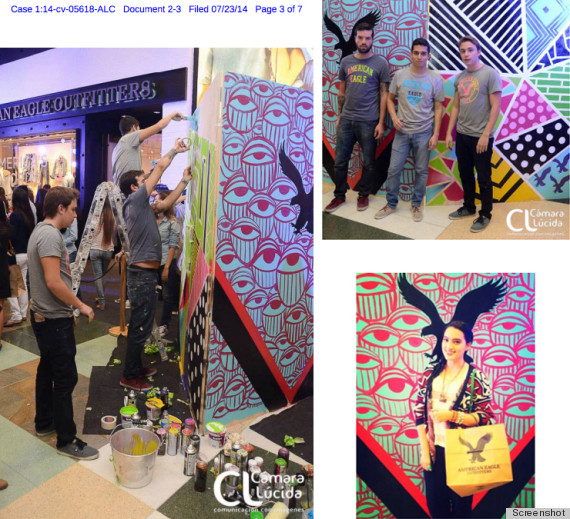 Ahol's eyeballs first made their way into American Eagle imagery when the company held a March photo shoot in Miami's Wynwood Arts District, where the walls of neighborhood buildings are covered in commissioned street art from the likes of Shephard Fairey, Ryan McGuinness, Retna, Kenny Scharf, and locals like Ahol.
The complaint claims American Eagle knew it needed to seek permission to use such "creative works" captured in the resulting advertising campaign -- namely, Ahol's blue "Ocean Glass" mural, which adorns a glass gallery and was copyrighted in April -- but never reached out for approval even though they had his contact information.
The lawsuit points out that in one image from the campaign, a "young, clean-cut and apparently-Caucasian" model is posed holding a can of spray paint, suggesting that the model is responsible for creating the Ahol mural behind him. But "in fact, Mr. Anasagasti is bearded, heavily-tattooed and Cuban-American," the complaint reads.
Check out some of the uses in question below, from screenshots of court documents:
Bischof added that "if American Eagle was truly interested in becoming authentic by affiliating its product with a street artist and tapping into a creative vein, they should have approached Ahol for permission and compensated him for his work. And if he didn't want to work with them for whatever reason, they could go fuck themselves and find someone else."
Ahol's aversion to such use of his art is noted in his complaint:
Mr. Anasagasti has never permitted his work to be used to advertise or sell commercial products... Given that he hails from the counter-culture world of underground street artists, Mr. Anasagasti's reputation as an artist has been founded, in part, on a public perception that Mr. Anasagasti doesn't 'sell out' to large corporate interests. Yet ironically, in today's fashion marketplace, affiliation with artists bearing such 'street credibility' is highly sought-after by retail brands for the cultural cachet and access to the profitable youth demographic that it offers.
Ahol's attorneys say they contacted American Eagle about the use of his work in early May, but the brand was still using the eyeball imagery as recently as the middle of July. The suit seeks not only monetary damages but a permanent injunction that would stop American Eagle from using photos containing his work.
"American Eagle cannot comment on current or pending litigation," a public relations representative for the company told HuffPost.
Support HuffPost
The Stakes Have Never Been Higher
Related
Before You Go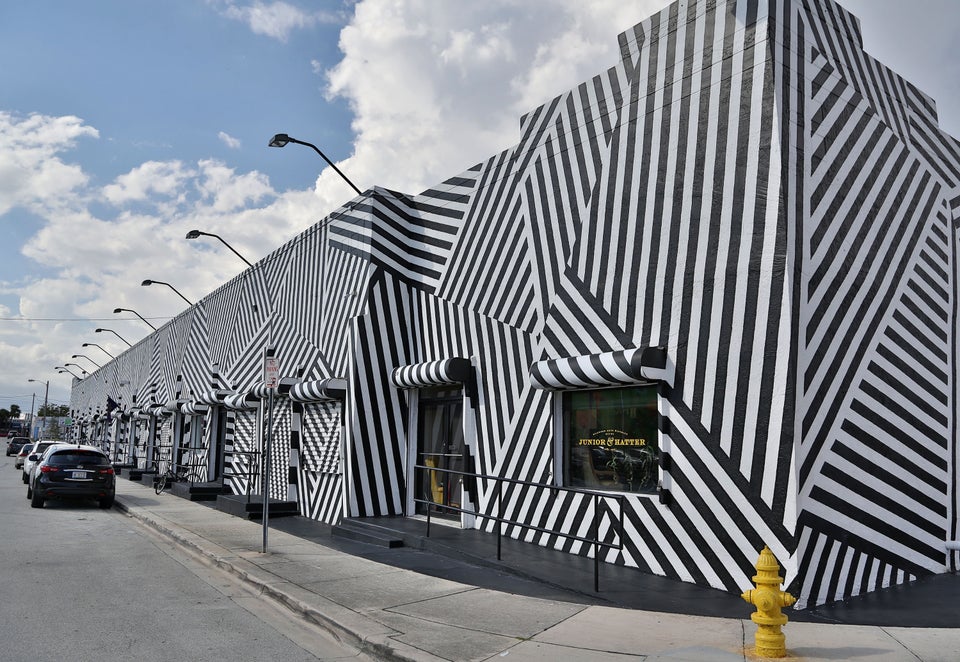 Miami's Wynwood Neighborhood
Popular in the Community