The power of Artificial Intelligence (AI) is the ability to gain more knowledge from data, and to augment sales, services and marketing intelligence to help accelerate and scale a company's ability to improve stakeholder (employees, partners and customers) performance and experience. We are at the beginning of the AI revolution. That said, the speed of AI innovation and adoption is at unprecedented levels. Some technology pioneers, entrepreneurs and venture capitalists believe that the impact of artificial intelligence (AI) on businesses today, across all industries, will be bigger than all of the emerging technologies of the past two decades. CEOs must view AI as a business imperative, recognizing that developing an enterprise AI business strategy is vital for their future existence and too important to be left to the technologists alone. The AI interest and uses cases in business is not hype. According to Venture Scanner, there are currently 2040 AI startups that have raised $27.1 billion in funding in 13 technology categories.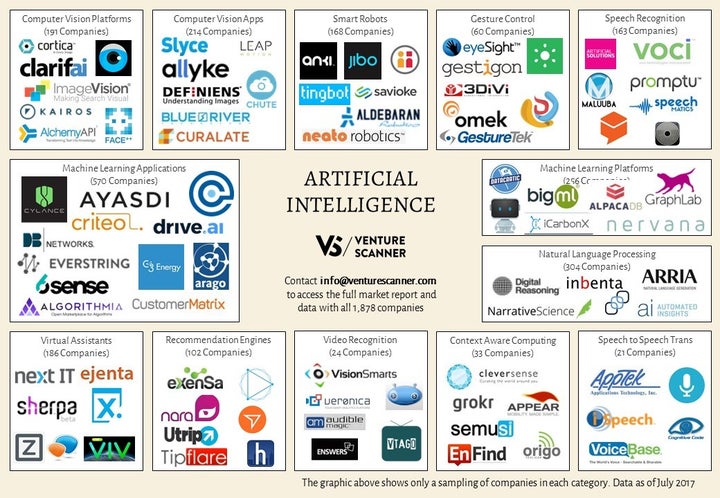 To learn more about AI investment trends based on the work of publicly traded companies, and industry disruption opportunities, Ray Wang - CEO and founder of Constellation Research - and I invited the vice president of research from Global X Funds to our weekly show DisrupTV. GlobalX was founded in 2008, distinguishing itself by smart core, income, alpha, risk management and access suites of ETFs (exchange traded funds), with more than 50 funds available across U.S. and foreign exchanges. GlobalX has $7.3 billion assets under management.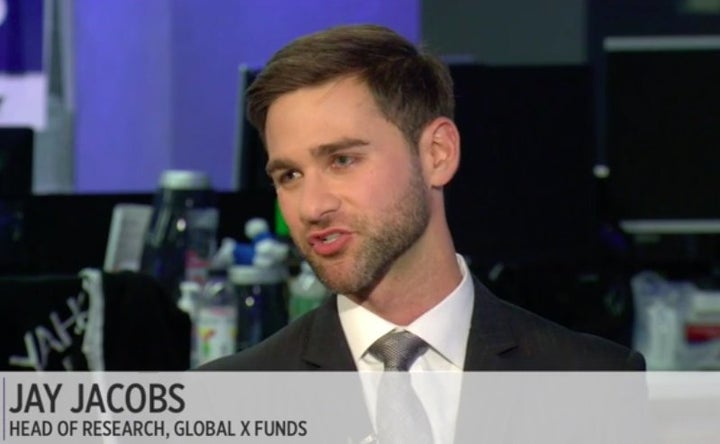 Jay Jacobs, CFA is a Vice President at Global X Management Company, and has been its Lead Research Analyst since May 2013. Mr. Jacobs focuses on emerging markets, commodity producers, and income strategies at the firm. Jacobs is responsible for developing insights and educating clients on a broad range of ETFs including multi-factor, thematic, MLP, ESG, and alternative strategies. Jacobs assists clients with understanding the structure, investment thesis, and outlook for a broad range of ETF strategies. He is also the author of Global X's research blog, which includes original insights, market commentary, reports, webinars, and videos.
Here are our takeaways from our conversation with Jay Jacobs regarding AI ETFs and industry future trends:
Four Investment Categories: Smart Robotics and Automation, Unmanned Vehicles and Drones and AI
ETF (exchange traded funds) are the most disruptive technology that's happened to the finance space in the last century, per Jacobs. ETFs are now over $3 trillion in assets in the US with more than 2,000 ETFs. It is a technology about democratization, bringing any ordinary investor the ability to invest in asset class like US stocks and international countries and commodities. Global X is investing in themes, looking at disruptive technologies and finding ETFs that pinpoint disruptive themes so investors can benefits from their value.
Industrial Robotics and Automation - According to Jacobs, "while many believe robotics has only recently become a viable technology, some firms have been involved in the space for decades. Industrial automation sector includes robotics companies in the Asia Pacific."
Non-Industrial Robotics - " We view robotics & AI as a transformational theme because its disruptive force is not limited to industrial manufacturing. Health care is one non-industrial segment that is rapidly adopting robotics technology," said Jacobs.
Unmanned Vehicles and Drones - "Although militaries remain the predominant users of drone technology, commercial usage is accelerating as firms incorporate drones into parcel delivery, agriculture, inspections, and emergency response. According to the FAA, commercial drone usage is expected to grow 10-fold from 2016 to 2021," said Jacobs.
Artificial Intelligence - "Artificial intelligence (AI) is an essential component to the advancement of robotics technology. AI allows robots to not just execute on human or pre-planned inputs, but also to operate in an unstructured environment and make decisions. In order to carry out these tasks, an essential component of AI is 'robotic vision' or the ability for machines to image and process their surroundings," said Jacobs.
Jacobs also discussed investments around lithium battery technologies based on the explosive growth of smartphones and mobile devices. In 2017, the next big consumer of lithium will be electric vehicles (EVs). An EV like Tesla uses 10,000 times more lithium versus a cellphones. There are about 10 billion cellphones in the world, and if you assume that EVs use 10K times more lithium, then we only need 1 million electric vehicles to use all of the lithium used in the entire history of cellphones. The Tesla Model 3 alone will reach more than 500,000 EVs. The one million EV number will be passed in the near future, so the real questions is when will we reach 10M or 100M EVs which will massively drive the lithium battery consumption.
Every Sector is Subject to Disruption
Every sector will be subject to technology innovation. According to Jacobs, the rapid advancements in technology and the changing demographics and consumer preferences has led us to the early stages of a period of disruption. The old industry and business paradigms will lead to new paradigms based on sector disruptors that vary by each industry. Jacobs highlights falling computing costs, the rise of AI, and greater connectivity (what I have referred to as the age of the connected customer) will change company operating models and how businesses deliver products and services.
"As a result of these emerging themes, the sector bellwethers of today look increasingly at risk of being replaced by companies positioning for the next paradigm. Within each sector, change is unending. As powerful structural themes emerge, one era gives way to the next, and former sector bellwethers are often left behind. The desktop computer giants of the 1990's, like Dell and Compaq, were ultimately replaced by the mobile device makers and social media companies of the 2010's, like Apple and Facebook." — Jay Jacobs
Jacobs talked about the financial sector and how the financial technology (FinTech) innovation is massively disrupting this sector with use of predictive analytics and AI to reduce costs, improve decisions making and risk controls, remove middlemen, and enhance customer experiences.
Regarding Internet of Things, Jacobs and his research team looks at the entire ecosystem around IoT technologies, including makers of chips, sensor manufacturers, network service providers, and the downstream producers like wearable technologies, autonomous vehicles and smart home device and appliance manufacturers.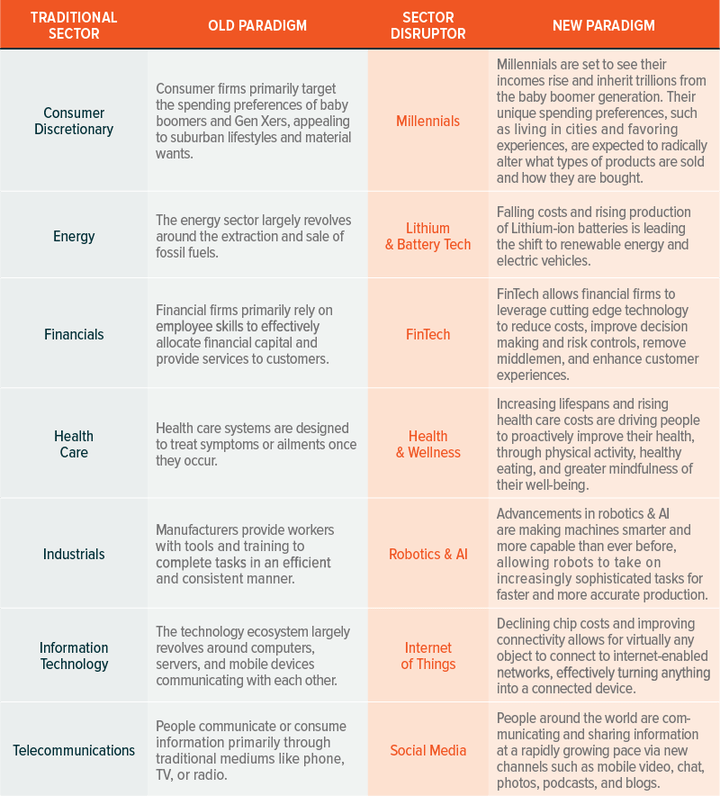 "While turnover at the sector level occurs naturally over time, we believe we are in the early stages of a major period of sector-level disruption, given rapid advancements in technology and changing consumer preferences. Falling computing costs, the rise of artificial intelligence, and greater connectivity are dramatically changing how companies operate, and the products that they sell. Similarly powerful themes are stemming from changing consumer habits, as a new generation of spenders reach peak earning years, yet spend their money differently than generations before them. As a result of these emerging themes, the sector bellwethers of today look increasingly at risk of being replaced by companies positioning for the next paradigm." — Jay Jacobs
Jacobs spoke to us about how his research team looks at tangible benefits of emerging technologies by deeply engaging with clients, technology companies, industry analysts, technology analysts and futurists. Jacobs talked to us about the investing vetting process and how the research team finally narrows down their investment categories - you can listen to the podcast here. Please watch our video conversation with Jay Jacobs about how Global X Fund develops their research thesis, the importance of Robotics, AI and emerging technologies and their impact on various sectors.
Popular in the Community