Artificial Intelligence (AI) could double annual economic growth rates by 2035. – Accenture
According to Accenture, In five years, more than half of your customers will select your services based on your AI instead of your traditional brand. Artificial Intelligence is the definitive technology of the 21st century. All businesses of every size, in every industry will be impacted by AI. Forrester is predicting a 300% increase in AI investments in 2017 compared to 2016 and IDC believes AI will be a $47 billion market by 2020.
To better understand the AI revolution in business, Salesforce Research compiled insights from previous studies, capturing input from 10,800 respondents from sales, services and marketing leaders and 7,000 consumers and business buyers around the globe. The report highlights existing and future demand and use cases of AI in business.
Here are 20 key findings from the AI report. For more insights please find the the report in its entirety here: The AI Revolution.
AI steps into the business strategy spotlight: while a minority of businesses currently use AI, interest in the technology (machine learning, deep learning, natural language processing, smart data discovery, etc) is pervasive and planned adoption is strong.
1. 37% of US businesses are using AI, and 22% are piloting solutions.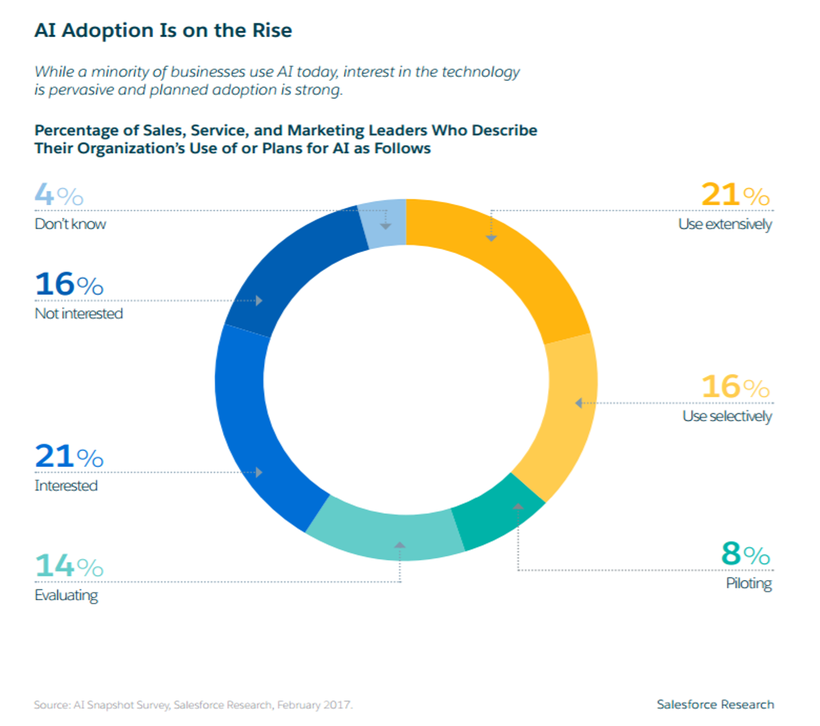 AI's rise mirrors customer's elevated expectations: consumer and business buyers expect companies to anticipate and deliver on needs proactively.
2. 58% of consumers and 75% of business buyers say technology has significantly changed their expectations of how companies should interact with them.
3. 55% of consumers and 75% of business buyers expect personalized offers.
4. By 2020, 51% of consumers and 75% of business buyers expect companies to anticipate their needs and make relevant suggestions.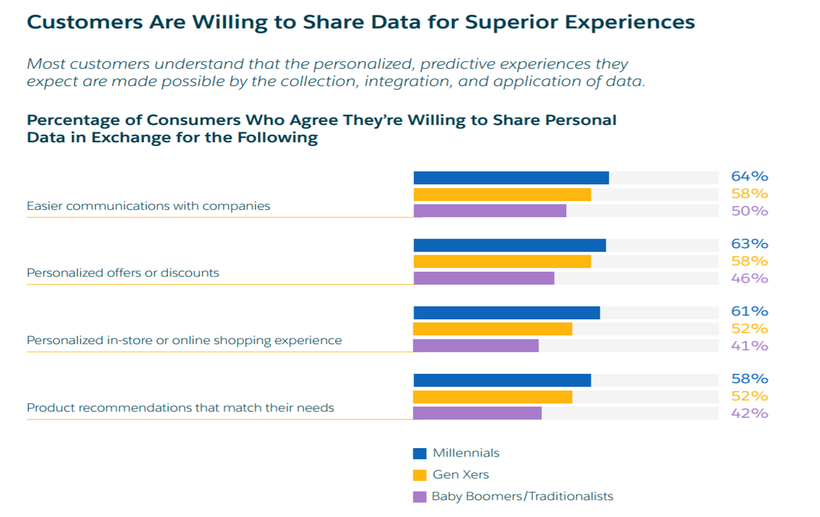 Customers' new view of data rises stakes for companies: data is the only path for mass personalization of services and customer engagement at scale.
5. Only 12% of customer service teams and 18% of sales teams rate their ability to gather insights across the entire customer life-cycle as either excellent or outstanding.
6. 58% of consumers are willing to share personal data in exchange for a personalized in-store or online shopping experience.
Loyalty trends hasten the AI revolution: a key component of the age of the customer is choice. The battle ground is not based service quality and customer experience.
7. Half of consumers will switch from brands that do not anticipate their needs.
8. 72% of business buyers will switch from a brand that treats them like a number.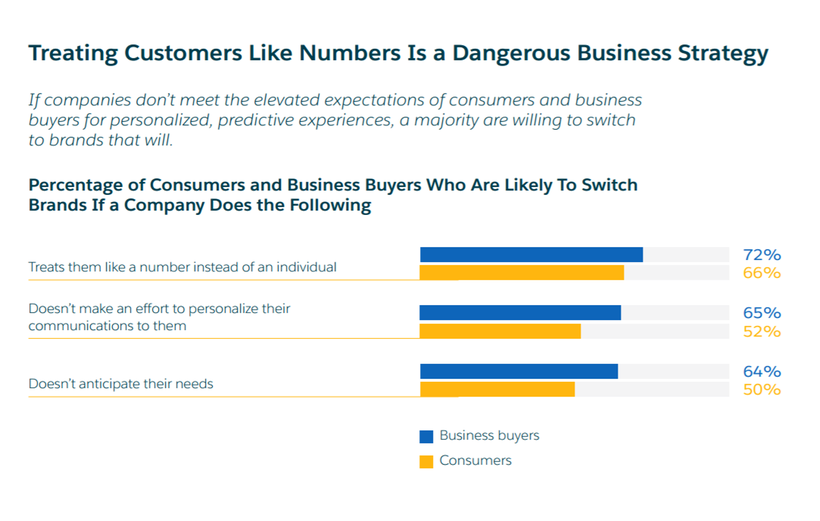 AI use cases span sales, service, and marketing: AI has the potential to become as ubiquitous as electricity or cloud computing. All lines of business are starting to view AI as technology that can improve customer engagement, improve employee productivity and ultimately accelerate digital transformation and business growth (revenue).
9. Top 3 use cases for AI in business is: sales and marketing lead scoring, sales forecasting and customer service workflow optimizations.
Do you make or buy? 82% of IT teams say they're experiencing a skills gap in data science, or anticipate such a skills gap within two years.* Many companies have identified a challenging skills gap when implementing AI in their business. Others plan on partnering to sidestep the challenge of hiring a full team of data scientists. There's a major decision for companies to make — balancing the imperative to own their differentiator and the necessity of entering into a battle for data science competency. — Salesforce Research
10. High performing sales teams are 3.1X more likely than under-performing teams to currently use AI or plan to do so in the next 12 months.
11. 75% of sales teams are focusing developing and/or delivering personalized, prescriptive, and even anticipatory sales processes.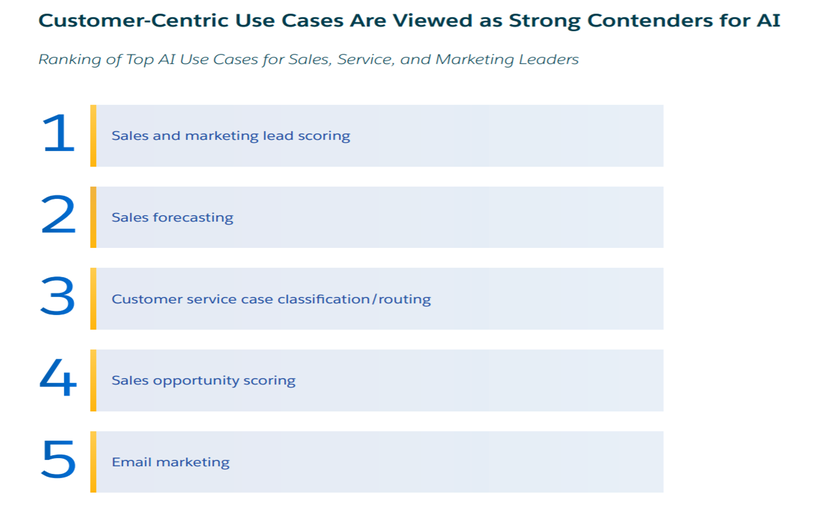 12. 80% of sales teams using intelligent selling say there has been a major or moderate positive impact on their productivity.
13. 75% of sales teams using intelligent selling report a boost in sales velocity.
14. 83% of sales teams using intelligent selling report a major increase in customer retention.
How can you drive by in for AI? Only 23% of business users with interest in AI say they have complete confidence in the capacity/ bandwidth of their employees to execute on an AI business strategy.† Business users must be assured that AI adds value and helps them drive deeper engagement with customers, rather than adding a technology-based hurdle to their daily duties. To help drive adoption across the company, evangelists must show business users how AI adds value and drives meaningfully deeper engagement. — Salesforce Research
15. 65% of customer service teams are focused on personalized service interactions.
16. 62% of customer service teams are developing proactive customer service.
17. High performance service teams are 2X more likely to say AI will have a transformational or substantial impact on their practices by 2020.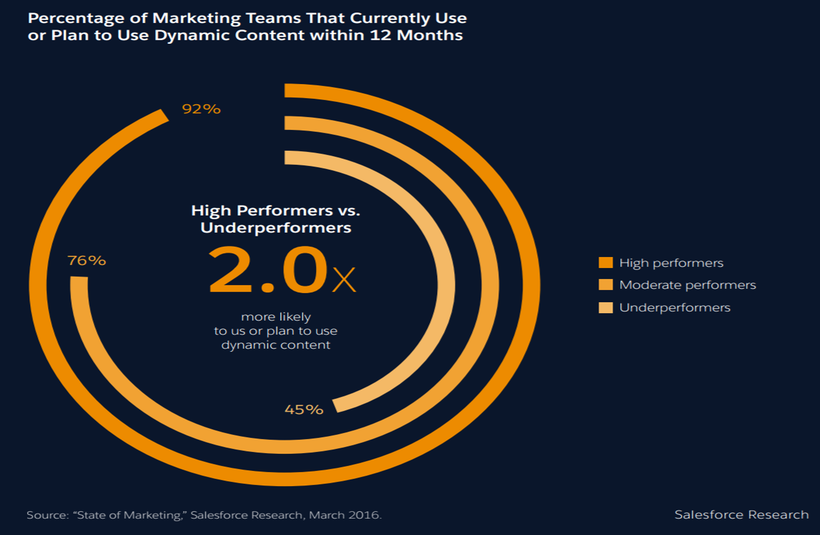 18. 92% of high performance marketing teams use dynamic content or plan to do so within 12 months.
19. Only 16% of sales, service, and marketing execs say they've completely defined their processes for embedding the outcomes of AI analysis into their business practices.
Where should you apply AI? AI can certainly play a role for companies looking to deliver on elevated customer expectations. But recognizing AI's potential isn't enough. To derive real value, companies must carefully examine how the technology will fit into their specific business processes. — Salesforce Research
20. Only 23% of business users with interest in AI say they have complete confidence in the capacity/ bandwidth of their employees to execute on an AI business strategy.
The power of AI is the ability to gain more knowledge from data, and to augment sales, service and marketing intelligence to help accelerate and bolster a company's ability to improve stakeholder (employees, partners and customers) performance and experience. We are at the beginning of the AI revolution. That said, the speed of AI innovation and adoption is at unprecedented levels. Companies that build AI powered products and services will have a significant competitive advantage. In the near future, all businesses will be AI-powered businesses.
Calling all HuffPost superfans!
Sign up for membership to become a founding member and help shape HuffPost's next chapter
This post was published on the now-closed HuffPost Contributor platform. Contributors control their own work and posted freely to our site. If you need to flag this entry as abusive,
send us an email
.