It wasn't that long ago--okay, it was a long time ago--but I still remember it like it was yesterday. I was a quota-carrying sales rep, selling technology into the legal vertical, managing my entire 'rolodex' and calendar with a combination of paper and a single-user version of ACT! Customer & Contact Manager and WordPerfect. Technologically, it was a simpler time, but simpler in my case meant more work for me.
A normal day would entail hours of buying lists or getting marketing leads from trade shows and manually entering them in my hacked-together system. Email wasn't the standard communication channel - there were lots of phone calls and voicemails and face to face visits. I spent endless hours managing my contacts, filing business cards, entering data, trying to book meetings and creating reminders when to follow up. Despite all of its administrative burdens, the worst part of my "human-based system" would surface when I was sitting down with customers without having all the information I needed in front of me.
I am describing my experience in 1998, but it could just as easily be 2017 for many salespeople--who still spend 64% of their time in 'non-selling' activities. Fortunately, the combination of CRM and AI has the potential to eliminate time-consuming drudgery and flying half-blind into sales meetings.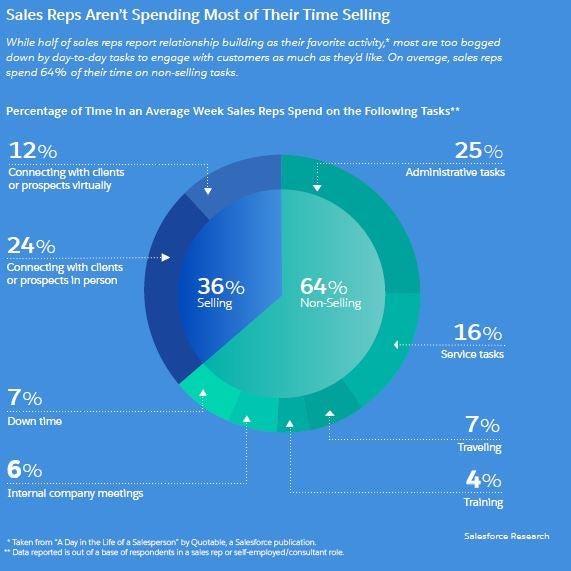 We've all been told that the introduction of AI is going change the nature of work. One study predicts that nearly 50% of jobs today are at risk due to automation in the next 20 years. However, if you are in sales, I urge you not to fear AI or automation, but rather embrace it and take the time to understand where and how it can work in your favor.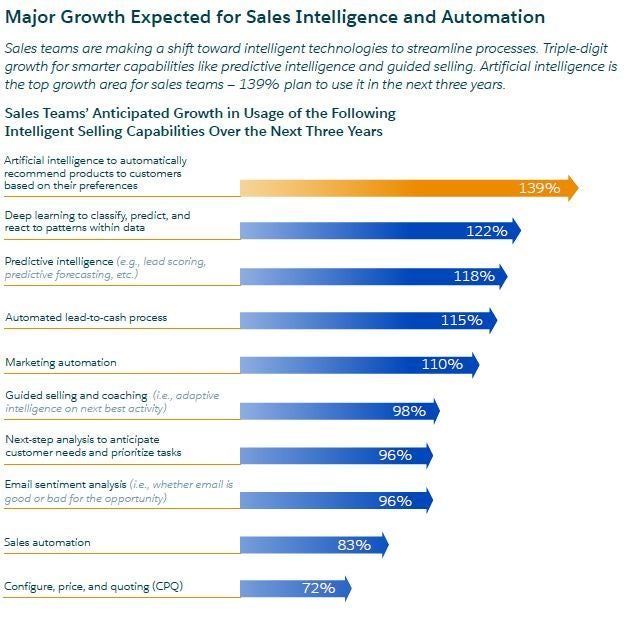 If you are a sales manager or an individual seller, you want to spend more time selling. But how? Modern-day sales isn't about cold calling or data entry, it's about empowering individual sellers with tools to sell smarter by predicting customers' needs, automatically capturing activities, recommending which prospects to contact, providing real-time notifications, prioritizing leads and accessing relevant customer data wherever they may be. Forward-thinking teams are already planning how to use technologies like AI as a competitive weapon and rebalance their time between sales and non-sales related activities. Although current adoption is nascent, AI-driven technology is on everybody's roadmap. In the next 1 to 3 years, sales teams will embrace an entirely new, smarter sales process powered by automation and intelligence.
No longer will salespeople just be competing with other brands on the merits of their products and services. Sales reps will now be competing against a more informed, intelligent and empowered sales person who sits next to them, across the country or around the world.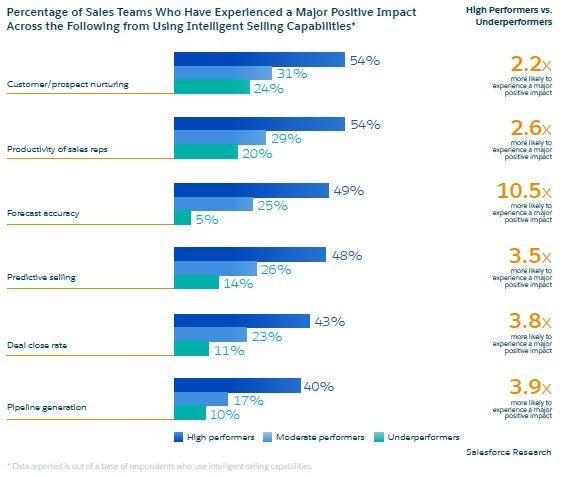 While I no longer carry a quota, or manage a sales organization, I can tell you this--with the recent introduction of AI, I've had a brief moment (or two) where I just wanted to jump back in the sales game. If I could hit my quota with my incredibly inefficient 'human-based system', imagine what I could do with the power of 'intelligence-based system'?
Popular in the Community