When the good news came last week that Chinese artist/activist Ai Weiwei had been released after months in prison in Beijing, all of us at the Paley Center felt a special sense of relief. Almost a year ago, we hosted Ai and young American filmmaker Alison Klaymen at the Paley Center in New York for one of the most memorable programs we've ever had in our Bennack Theater.
As Mediastes know for sure, Ai has been one of the most prolific and well known artist-activists using social media to affect change. He used his Twitter account to keep his followers informed about government actions he deemed repressive, and to allow them to track his own travels and ideas as he moved around the world, displaying his significant art and speaking out courageously against the current Chinese regime. Not surprising, he had requested that we invite someone from Twitter to join him on stage that night at the Paley Center to discuss the influence Twitter and social media is having in China, particularly for activists like himself.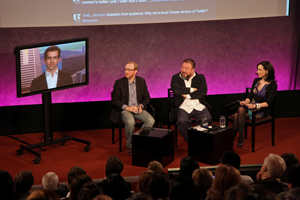 Jack Dorsey joined the program via Skype and he and Ai had a very animated conversation as the Chinese artist challenged Dorsey to defy China's ban on Twitter and push to operate fully there. Dorsey seemed surprised to learn that there were more than 50,000 tweeters in China now, people who had figured out how to get around the government firewall and access a Twitter feed. During the program, we had a Twitter feed on the large screen behind the panel, and as Ai and Dorsey talked, tweets from China lit up the screen, affirming Ai's claims. Paley tweeps and Ai tweeps began a spirited back and forth, right there, live and uncensored!
It was truly an interactive, Twitter-enabled discussion, and illustrated the promise of Twitter, as well as the dangers of repression. Clearly, it was Ai's use of Twitter and other social platforms to communicate his own individual ideas and actions that prompted, at least in part, his arrest. He had already been beaten by national security police and warned months before that Paley evening, and his four month detention was more than a warning. It has shut down his voice...for now. He has asked the press to leave him in peace, and there have been no tweets or communications so far.
Ai is always welcome back to the Paley Center, of course, and we are supporting Klaymen's efforts to get the widest possible audience to see the documentary, Ai Weiwei: Never Sorry. It is a moral tale for our time -- both a testimonial to the power of an individual voice and an affirmation of the necessity of free communications through which these voices can be amplified. Is it possible to keep a society closed off from the ever growing web of the world wide web? Is it possible to keep the internet free of censorship and political manipulation?
Ai was fighting for both.
(Speaking of the twitterverse, I've recommitted to tweeting more frequently. Follow me: @patpaley.)
Calling all HuffPost superfans!
Sign up for membership to become a founding member and help shape HuffPost's next chapter