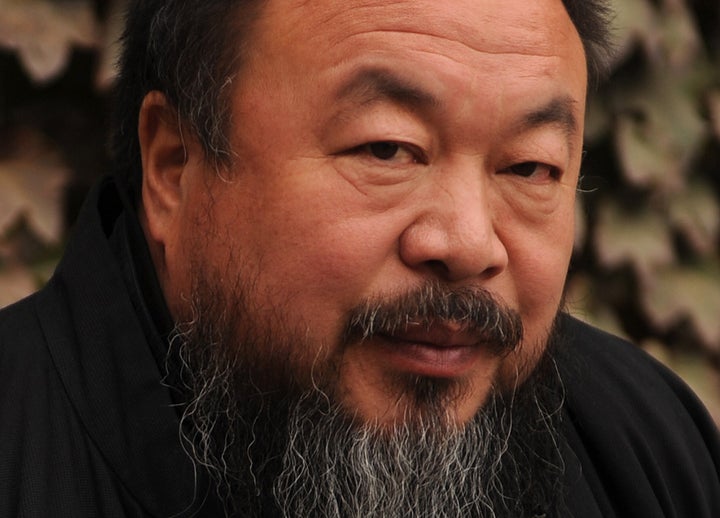 "Anyone who spent time with the Chinese artist Ai Weiwei in the past couple of years has noticed the woman with the camera, " the New Yorker's Evan Osnos wrote in his blog last week. I'm that woman with the camera. I have been filming Ai Weiwei for the last two years for a feature documentary film that will come out this year.
I also reported a segment that ran on PBS Frontline on March 29, which introduced Ai Weiwei to a broader American audience. The story presented him as China's first global art star, with a robust online following and a knack for playing cat-and-mouse games with the government. After Frontline aired, the oft-repeated quote on Twitter was Weiwei's own statement, "If you don't act, the danger becomes stronger."
I didn't expect it would catch up with him so quickly. On April 3, Ai was detained as he was going through customs at the Beijing Airport, on his way to Hong Kong. No one has heard from him since. That day a coordinated sweep also took place at his home-studio compound in northeastern Beijing, where tens of Chinese and foreign employees work and live alongside Weiwei and his wife Lu Qing. First the power was cut to the studio, then 15-20 police surrounded the entrances. They confiscated hundreds of items, leaving not a single computer or hard drive in place.
At least eight assistants were brought to the station for questioning. They were asked about their visa status (if they were foreign), salaries, how many people worked at the studio, what their jobs were, etc. The police had a complete list of people they expected to find, since they visited the studio three separate times in the week leading up to April 3, taking a detailed accounting of all employees and foreigners registered as living there. You can see photos of the visits on Ai Weiwei's Moby photo feed.
As of late Sunday night in Beijing, everyone was released except Weiwei and his friend Wen Tao. Now, 48 hours later, the police have not provided Weiwei's family with any information. Officers remain stationed outside his studio during the daytime, though Lu Qing says she is not under house arrest.
Even though I am in New York, I ended up in the middle of this. I was on the phone with his assistants and began translating Chinese tweets about what was happening. Hours after his detention, Beijing-based reporters were directing their followers to my Twitter feed. They could not get much better information on the ground. The Guardian's Jonathan Watts drove by Weiwei's studio that day and had his cell phone pictures deleted by police. Because I already had relationships with people in Weiwei's studio, I was able to be an outside connection and a voice of reassurance to them.
While following the Twitter conversation in Chinese about Ai Weiwei's detention, I had to sift through a lot of false information. Several recently-opened accounts were blasting out the same Chinese messages on repeat, and tagging various supporters of Ai Weiwei to get their attention. One message said the whole situation was a "performance art piece," while another said Weiwei had suffered a heart attack in police custody and died. In my mind there is no question that these were examples of China's "50-cent party," or 五毛党. These are the Internet commentators hired by the Chinese government to post to social media in an effort to shape public opinion. The messages from these Twitter accounts were not forwarded by anyone. I think it was commonly understood by savvy Chinese Twitter users that they were false, and since the messages were never translated, no one else heard the reports. All of those "50-cent" accounts were disabled within a few hours.
The speed and efficiency of the information network that came together around Ai Weiwei's detention and studio raid is a testament to how Ai and his followers have created an online space for free speech in their society. Transparency is a deeply personal value for Weiwei, and he and his staff have meticulously recorded the past several years of his life on film, in audio files, and on his Twitter feed (@aiww). The record is there for anyone who is interested.
Ai Weiwei is not a criminal. He is an outspoken proponent of free speech, human rights, and transparency in China's government and judicial system. Ai has violated no law. On the contrary, he has been scrupulous about working through and in accord with the Chinese legal system. His detention, then, seems to be without cause -- a violation of Weiwei's human rights and the rights guaranteed him by the Constitution of the People's Republic of China, especially Articles 35 and 37.
This highly coordinated crackdown on Ai Weiwei is just one in a rash of dissident detentions in the wake of the "jasmine revolution." Nicholas Bequelin, China researcher for Human Rights Watch, recently told the Washington Post: "This is not a crackdown in the classic cycle of tightening and loosening. This is an effort by the government to redraw the lines of permissible expression in China, to restrict the most outspoken advocates of global values."
Over the last two years I had an exceptional degree of access to Weiwei's life and work. He is one of the most forthright and honest people I have ever met. His ability to voice his opinions and criticisms for the past several years was a sign of hope for China, an indication that reforms were creating a freer, more open society. His detainment now is all the more disconcerting and poses some major questions to the international community. We need to know where he is and what is happening to him. We need to know he is safe.
Note: Follow my Twitter feed @aliklay and my film's Twitter feed @awwneversorry for the latest information on Ai Weiwei's situation.
Popular in the Community