Of everything discussed in an 80-minute interview at Ai Weiwei's studio on the outskirts of Beijing—including his 81-day detention in April last year, the government's iron hold on his passport and the tax case that would never end–nothing roused the dissident artist so much as his fellow Chinese artists who stayed silent during his disappearance, while the Western art world cried, "Where is Ai Weiwei?"
"Zhang Xiaogang, Yue Minjun, Zeng Fanzhi, Xu Bing, Liu Xiaodong," Ai lists off casually, as if he were taking attendance instead of denouncing China's power art players.
Seated in a yoke-back chair traditionally used by China's elite, Ai leans forward to say this, the most animated physical gesture he made that morning. His words are more dynamic. For years, China's most controversial artist has flung unabated criticism at the government for its posture on democracy and human rights. Last April, authorities put him into jail for nearly three months, offering no immediate explanation why, interrogating him on his political activities and later accusing him of tax evasion. "It was inhumane, dark, and so hopeless," he says, in heavily accented English.
Ai, 55, can come off grumpy: unsmiling and wary-eyed. But he quickly relents to his gentler attributes — a waggish sense of humor, calm speech patterns and a fondness for lost animals. At any given point over the past 12 years, somewhere between 20 and 60 stray cats and dogs have made his studio their home. "We started to say, 'Oh we can have them!' Ai laughs with his eyes, as if his decision bemuses him.
This day, a soft white cat named Lai Lai ("come, come" in Chinese) wanders into the room and onto the table for a nap. "He's never missed one interview. I think he likes the human voice while he sleeps. 'Lai Lai, Lai Lai,'" Ai calls, whistling softly. Dressed in a white t-shirt and jeans, Ai's defining features dominate his appearance — a globular belly and stringy beard that hangs low.
"You're not asking what I did, you're just asking where I am. Right?" Ai continues, wondering aloud why no one spoke up. "If your cat is lost you ask, where is this cat?"
Ai's lost cat analogy makes sense only if the Chinese art community accepted him as readily as he does cats. Or if there were a Chinese art community to speak of (Ai insists there's not). But his relationship with China's leading artists is as complicated by politics as his art.
"The other artists have never liked Weiwei, and I believe it is mutual," Joan Lebold Cohen, a Chinese art historian and associate of the Fairbank Center for Chinese Studies at Harvard, told Huffington. "They all do very different things and see the world, especially the propaganda branch [of the government], differently. They don't understand him well and realize he is a troublemaker with wide support in the art world outside of China."
Cohen, who is also a friend of Ai's, puts it this way: "They are jealous and resentful." In articles and interviews, his detractors, of course, think otherwise: Ai is a clown, an opportunist using politics to build up his career, and worse, one who's misrepresenting China's subtleties along the way. ("It's amazing that that kind of notion is there," Ai says.)
Ai — who was named the most powerful person in the art world in an annual poll by industry magazine ArtReview — is well aware his success in the West is one source of the tension. Next month, the Hirshhorn Museum in Washington, D.C., will host a retrospective of his work, "According to What?" (named after his favorite Jasper Johns painting). It has the distinction of being Ai's first major show in the U.S., and the launch of a touring exhibition that will hit four venues in North America. Nearly half of the exhibit will be new works. The rest traverses his wide range of styles — from the vocal (saying "Fuck You, Motherland" on film) to the tactile (etching Coca-Cola labels on antiques) — which unite around their common aim: China.
"Because I'm living in such an awkward situation, I only show my art in the West. Which is very awkward, you know?" he says.
Ai will not be present at the Hirshhorn opening on Oct. 7 — the government is still holding on to his passport with no word on when they'll return it. "They said they want to give it to me but have no clear time schedule for that," Ai told the New York Times this week. But it's the accusation of tax fraud (a baseless one, say Ai and his supporters) that hangs most ominously over the artist. Last year, approximately 30,000 people sent Ai $1.37 million in donations directly (deposited into his account) and creatively (yuan notes folded into paper planes, thrown over the wall of his studio home), enough to challenge a $2.4 million fine against him. On Thursday, Ai appealed, and lost, for the second and final time. He still refuses to pay.
"We're not going to pay the fine because we don't recognize the charge," Ai told the Wall Street Journal, "and I think they're probably too embarrassed to come and ask for it." Embarrassed or not, Ai's dogged resistance could be the start of round two with the government. Round one began with his one-two punch in 2008:
First, he led a citizens' investigation into student deaths in the 2008 Sichuan earthquake, when the government wouldn't release the numbers. Ai then catalogued the 5,385 deaths they discovered on his blog. The number highlighted poorly built state schools, which Ai faults for the collapse of the buildings ("that got me into this so-called political trouble," he says). An installation inspired by the deaths came later.
Then came his condemnation of the 2008 Beijing Olympics (after co-designing the Bird's Nest stadium), when all eyes were on China.
If nothing else before it did, Ai's detention inextricably fused his political and artistic personas, placing him in a sharply high-risk, high-reward corner of the market: with every dig he makes, his brand rises among the Western art elite, and sinks among the Chinese.
Sometime in May, Ai received a call from the Central Academy of Fine Art, China's leading (and like many institutions, state-run) art school. His name had appeared on the guestlist for a lecture revisiting the art scene in Beijing from 1979-1989 — led by Chinese art historian Joan Cohen — prompting a double-take from the event organizers.
"Can you not come," Ai imitates the voice on the other end, "because that will be a big problem for us."
Had CAFA not made the call, it's likely he would not have even bothered to show up that morning. "Normally I don't go to this kind of event, but that made me curious to go," Ai says.
When he arrived, Ai was surprised by what he didn't see — a panel of name plaques resting in front of many an empty seat. "Xu Bing [vice-president of CAFA], all those people, just decided not to go, and they had a big list of who was going to be there," Ai said. "They all didn't come."
Of the guests who did show were Liu Xiadong and his wife, Yu Hong, both famous Chinese artists, the latter of whom went to high school with Ai's wife Lu Qing, he emphasized. "When his wife saw me, they just turned away," Ai said incredulously. "I was kind of shocked, like, hm, this is very strange."
Liu's reaction couldn't have been that strange, though. At a panel for the U.S.-China Forum on Arts and Culture in November 2011, Liu, a faculty member at CAFA, called Ai a "naughty boy," in a moment the Wall Street Journal described as "uncomfortable." "I'm not kidding," Liu continued. "When I first knew him he had nothing and I had more than him."
Liu is what Asia Society moderator at the event, Melissa Chiu, calls a "market darling." His "Three Gorges" painting (a subtle portrayal of China's displaced) sold for a record $2.7 million at the time in 2007, at the Beijing Poly International Auction. Liu, Zeng Fanzhi and Zhang Xiaogang, among the artists Ai named, ranked in the top 15 contemporary artists in the world in auction revenue on Artprice's 2010/2011 report, with Zeng and Zhang both in the top five. Zeng broke the record for most expensive living Chinese artist in 2008 when his "Mask Series 1996 No. 6" went for $9.7 million at Christie's Hong Kong. Zhang topped him when his triptych, "Forever Lasting Love," fetched $10 million at Sotheby's Hong Kong in 2011.
Ai has also made a profit off his "political provocations," Lisa Fischman, director of the Davis Museum at Wellesley College, told the Telegraph when Ai broke his own record earlier this year with his porcelain "Sunflower Seeds," bringing in $782,500.
According to Cohen, all that Ai said about her lecture is true. "Xu Bing didn't come because he wanted to be appointed head of CAFA, which he achieved," she said. "Because Weiwei was going to be there, there may have been some kind of demonstration." Those who attended say the no-shows made for an awkward situation. Cohen specified: Xu was scheduled to introduce her, and in his absence a friend jumped in to fill the time, resulting in an "embarrassingly long intro" that felt "endless and pointless."
Ai and Xu were once friends when they lived and worked as artists in New York. Over the years, they've headed down opposing paths, and Ai's detention appears to have affected Xu's willingness to acknowledge him. Two years ago, he expressed his disagreement with Ai's black-and-white representation of China to the New Yorker, but also allowed, "certain ideals, like democracy and freedom... made a deep impression on [Ai]" and that "if China doesn't permit a man like Ai Weiwei, well, then it has a problem." When Ai was detained last year, Xu told the Financial Times abruptly: "I really don't know about Ai Weiwei's situation and I'm not really interested in politics."
Ai would disagree. Artists such as Xu are very political, he says. Just on the side of the government.
"They tolerate every wrong act the government makes," Ai says. "They know in China no museum can be called a museum, but they enjoy that the government will build another 2,000 museums in the next few years, and they will make a lot of money."
Any attempt to explain the Chinese art market will simplify it. But Cohen clarifies that it's become a fully capitalist one, and it's commonly held that money has warped priorities.
Ai thinks his detention would have been decried more had it happened in the 70s, when he first entered the Chinese contemporary art scene. "We were a small group, maybe two dozen or three dozen artists," Ai remembers. "We were very close, and we made a lot of noise."
And here is where Ai makes a controversial thesis, one he's bandied about before, andrecently resuscitated: you cannot be a true contemporary Chinese artist without criticizing contemporary China. He expanded on this in a Guardian op-ed earlier this month, announcing that there is "no Chinese art world," taking aim at a new show in London, "Art of Change: New Directions From China":
"It is like a restaurant in Chinatown that sells all the standard dishes, such as kung pao chicken and sweet and sour pork. People will eat it and say it is Chinese, but it is simply a consumerist offering, providing little in the way of a genuine experience of life in China today," Ai wrote. "Any show curated without respect for the people's struggle, without concern for an artist's need for honest self-expression, will inevitably lead to the wrong conclusion."
To many of the article's commenters, Ai is naive in his assumption that every artist will see life through a political lense, and wrong to hold other artists to the same standard to which he holds himself. To Ai, artists have a responsibility to react to their environments, and aren't fulfilling their responsibilities if they don't.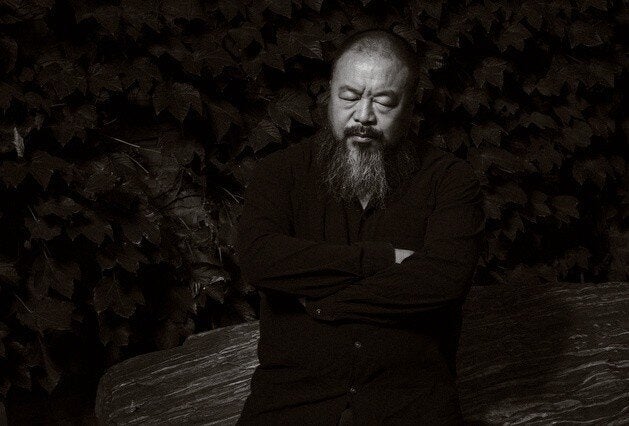 Ai may not sit well with other Chinese artists, but he has his place in China's fragmented art scene. He single-handedly set off an artistic exodus to Beijing's Caochangdi village in 2000, when he designed and built his studio there. (His reasons were practical: its location by the airport meant taxi drivers conveniently lived in the village. "I don't drive, so I could call a taxi and go home to visit my mom," Ai explains.) Many gallery owners followed for less practical reasons, asking him to design their studios, too.
Jump ahead 12 years, and the now-established art district, a 30-minute drive from the center of the capital, orbits around him. His high-walled, brick studio home appears unwelcoming from the outside, but is widely known to open its doors to visitors. After this interview, in fact, a few young organizers from Beijing's Independent Film Festival stop by to hand-deliver an invitation to the award show, along with an offer to send a car for him. (Ai politely hedges.)
"I'm a very open person. I accept anybody as a friend," he says. "But people who never give out their opinions — not like my case, my case is just one example — but to what extent can we be friends? I don't really care. I have seen too much."
As for sentiment in China more generally, the verdict on Ai is harder to gauge. According to Wang Zhongxia, who works at Ai's studio and has an active presence on Twitter, the reason is because his name is banned from TV, internet and newspapers, and citizens don't have the opportunity to discuss him freely. Chinese journalist and netizen Michael Anti classifies public opinion on Ai more simply: "Before loving Ai Weiwei, you need to be a freedom lover," he wrote over email. "That's why not everyone loves him."
Wang and Anti both agree: In the company of China's young Twitter community (members sidestep the censors to access the social network), he is adored.
Their adoration is tied more to his politically frank tweets than his artistic work. "I think I've never been very creative, really. I'm not just saying that, I really feel so — I think the most successful part of my life is my communication," Ai declares. "I often forget I'm an artist. I feel sorry about it, but if only certain kinds of my activities can be called art, then I'm not an artist," implying that more activities should really be allowed to be called art.
These activities invite a slew of labels (artist, architect, journalist, documentarian, activist, blogger, photographer), a few sub-labels (celebrity artist, dissident artist, cultural critic) and some of the criticisms weighed against him. He cannot truly be any one of those things, detractors in China's art world argue. The Telegraph's Alastair Smart questioned whether his art can stand alone, or if it's overwhelmed by his celebrity. "Weiwei's life has become a work of art in its own right... certainly, his constant swipes at the government felt, at times, like a prolonged performance piece."
His artistic supporters counter, while his politics may have given the public a larger awareness of him, he remains an artist, first and foremost. "Ai Weiwei has reached a level of world attention for reasons he did not seek, but he has used this attention both nimbly and powerfully to communicate his ideas," Greg Hilty, curatorial director of Lisson Gallery, which displays Ai's work, told Huffington. "I do not believe his words would be as potent, or his gestures as full of impact, if they were not part of his unique voice as an artist." Uli Sigg, the top collector of contemporary Chinese art, and an early collector of Ai's work, goes further, calling him a "genius."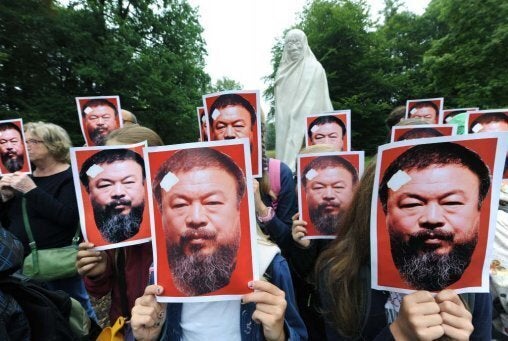 True or false: If Ai had been born elsewhere, he may not have been an artist.
"Definitely," Ai nods in agreement. "The place and time we live in the world has everything to do with how we define ourselves."
He may not have been political, either.
"The cops ask me very sincerely why I'm such a political person, why I need to criticize society — they're genuinely confused about this," Ai says, speaking this time in Chinese through a translator to fully convey his meaning. He apologizes for giving such a lengthy answer, explaining that he keeps getting asked this question and wants to be as clear as possible. The reasons he gives involve a number of entirely environmental factors, including his childhood years spent exiled in Dongbei and Xinjiang, both remote areas of China. (His father, Ai Qing, was an esteemed poet who was persecuted by the government and sent to a labor camp where he cleaned public toilets.)
"But it's not enough to understand what unfair treatment is or a disrespect of rights are," Ai stresses. Experiencing freedom and respect for individualism while living in the States — combined with his adolescence in China and his career as an artist — made him a political person.
"I thank God, or thank the communists or thank evil or whatever — it gives me the opportunity to exercise an individual's potential in such circumstances, and I think that's a miracle." Ai continues on darkly, turning to metaphors as he often does. "And of course all miracles in life are ephemeral. It's just light, and it turns to shadow."
More and more, Ai is assuming the role of amused philosophizer, one more interested in twisting words around themselves to make a moral argument, quite often in 140 characters or less.
"He was regarded as 'God Ai' in the Twitter community, because he represented the funniest way to be political," journalist Michael Anti said.
The internet (which "makes me very happy," Ai adds) may not give him the tactile product his more traditional art does, but leaving a permanent mark has never been a priority for Ai. "Nothing is forever," he says. "Our idea of forever is an illusion, and maybe the illusion is forever."
It's the right attitude for someone who's broken Han Dynasty urns for his craft, and whose architectural projects get razed by the government. His studio in Shanghai, which took two years to design and build, was demolished in 2011, along with a neighboring studio he'd designed for a friend.
"How many buildings can have the opportunity to be destroyed the moment they're built? This is a rare situation," Ai says facetiously. "I'm very privileged to see all those things happen to me. I can bear it." Thanks to his environmental obstacles, Ai's creative process is often like a game of call-and-response, with his work and political roadblocks fueling one another. The razing fits into Ai's broader artistic commentary, making one more notch in his argument: Chinese society is dysfunctional. The only snag is that the more his argument feels true, the more it feels like talking to a wall.
"I like to make a few arguments, but nobody ever argues, they just want to secretly do some kind of dirty tricks," he sighs.
"That makes my life become more and more frustrated."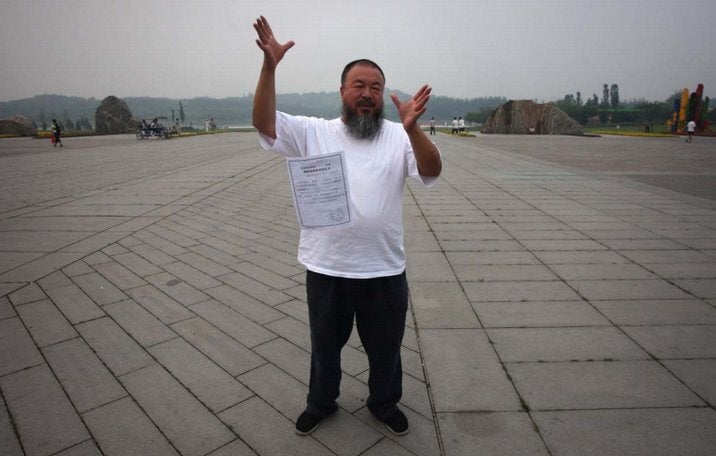 This is what comes with the territory of making a few arguments: 81 days in jail, travel restrictions, around the clock police monitoring, surveillance cameras, phone tapping, censorship, no Twitter use or interviews for a year, and accusations of pornography and tax fraud.
One year and four months later, Ai is fully back in the Twitter and interview-giving business. The police aren't always around and surveillance in general is "much less." His phone is still tapped, 15 cameras keep watch on him, his artwork faces some censorship and those porn accusations are lurking out there, waiting to be levied.
"If getting back half of my freedom means I'm free, then I'm a free person," Ai told Reuters in June.
Ai doesn't hold anything against the police, many of whom he has good relationships with. "That's their job, I perfectly understand. If they tell me sincerely, 'Weiwei, this will bring me big trouble,' I will say, 'OK, I will consider it.'" He's even offered them jobs off the books. "I try to invite them to work in my office, and if they allow me to travel, I will tell people, 'these are my assistants,'" Ai says, pleased with the idea. "They'll see who I meet and what we talk about. They believe me, but they say, 'our structure will never allow this to happen.'"
As for his art these days, Ai is cautious about how he describes it. The Hirshhorn exhibit features new works that continue to take from his most public headbutts with the government. One massive installation is constructed from steel reinforcement bars he collected from the rubble of school collapses in the 2008 Sichuan earthquake. Another, a collection of porcelain river crabs, nodding to a public feast he hosted at his Shanghai studio in honor of its imminent destruction. In Chinese, river crab also means harmony, which is a word the government uses as a euphemism for censorship.
"It's very hard to even say if this was a complete way to express myself because I was detained and all my work was under some kind of censorship," Ai says. "So if I have to talk about it, the only thing I can say is I made my best effort."
Thinking wishfully, Ai had planned to spend four-to-six weeks in the U.S. around the Hirshhorn opening, and accepted a position as a visiting professor at the Berlin University of the Arts, he told the New York Times. If he could get his passport back, Ai said he'd go anywhere. Even North Korea ("I'm crazy to see [it]," he says). But when it comes to the long haul, Ai would always choose China. "I like to live in China because I have so many emotions [tied to it]," he says. "It's something beyond my understanding because I happen to be Chinese." Dream city? "I hate every city in China," Ai responds with a weak laugh. "The problem is you see so much injustice. And the people, they don't care [to change it]."
For all his grim tidings, Ai gives off a childish air, a quality that's easy to imagine when you see the animated zombie stickers his three-year-old son, from an extramarital relationship, planted on the back of his iPhone. ("You know the game, 'Plants and Zombies,'" he explains. "My son he doesn't like zombies, so he just keeps the plants and gives the zombies to me.") Like a child, he's obstinate, quizzical, and sometimes, finds reality is best ignored. Like an artist, he ignores it by musing on strange metaphors: China's government as a tree long gone, and himself the dinosaur that bit it dead.
"I hope my son's vocabulary doesn't include words like political or activist — they'll be extinct. Maybe I'm one of the last dinosaurs. I'll leave behind a big tooth they'll find is still very pointy and sharp," Ai says, laughing heartily now. "But what kind of tree does it have to bite. Just imagine, that tooth has to be so strong. But there's no such tree anymore, they'll say!"
CORRECTION: A previous version of this article spelled Ai Weiwei's cat's name as Lei Lei. The correct spelling is Lai Lai.
Related
Popular in the Community