Chinese artist Ai Weiwei (born 1957) is one of the world's most famous artists. The Martin-Gropius-Bau in Berlin is now staging his largest solo exhibition to date. On 3,000 square meters in 18 rooms and in the spectacular Lichthof the retrospective features works and installations that were either designed specifically for the building or have not yet been shown in Germany. Ai Weiwei wasn't allowed to travel to Berlin, so he designed the show in his studio in Beijing. The retrospective is titled Evidence and is seen as a political exhibition with works that comment on social and political issues in China. This video takes you on a walk through the exhibition. Gereon Sievernich (Curator and Director of the Martin-Gropius-Bau) provides us with an introduction to the show. The beginning and the end of this report features an inserted video message which was pre-recorded by Ai Weiwei in China. The show runs until July 7, 2014.
Ai was the artistic consultant for design, collaborating with the Swiss architects Herzog & de Meuron, for the Beijing National Stadium for the 2008 Summer Olympics, also known as the "Bird's Nest." Solo exhibitions include the Brooklyn Museum of Art (2014); The Museum of Contemporary Art Oslo (2014); MUSEION -- Museum für moderne und zeitgenössische Kunst, Bolzano (2014); Galleria Continua -- Le Moulin, Boissy-le-Châtel (2014); PinchukArtCentre, Kiev (2014); The Metropolitan Museum of Art, New York City (2014); Perez Art Museum Miami -- PAMM, Miami (2013); Crow Collection of Asian Art, Dallas (2013); The Cleveland Museum of Art (2013); Indianapolis Museum of Art (2013); Galeria Pilar, São Paulo (2013); etc.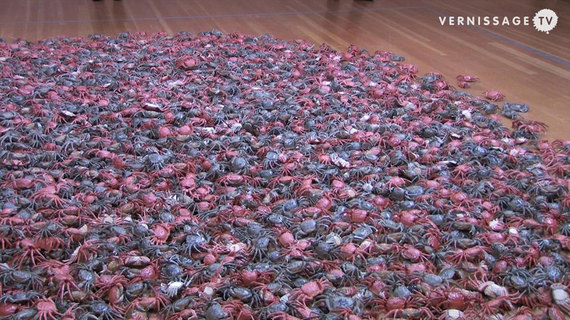 Ai Weiwei's work was included in the 55th Venice Biennale of Art (2013); Curitiba Biennial (2013); Kochi-Muziris Biennale (2012); The Busan Biennale (2012); Ukrainian Biennale of Contemporary Art, Kiev (2012); Moscow Biennale of contemporary art (2011); Venice Architecture Biennale (2010); Sao Paulo Biennial (2010); Liverpool Biennial of Contemporary Art (2008); Documenta 12 in Germany (2007); The 5th Asia-Pacific Triennial of Contemporary Art in Australia (2006); Busan Biennial in Korea (2006); The 2nd Guangzhou Triennial (2005); 1st Monpellier Biennial of Chinese Contemporary Art in France (2005); 1st Guangzhou Triennale in China (2002) and 48th Venice Biennale of Art (1999).
For more videos covering contemporary art and architecture go to VernissageTV.
Popular in the Community