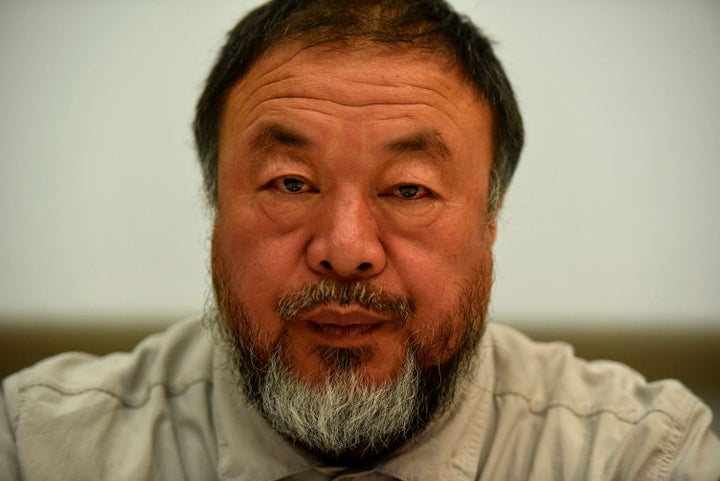 One of the world's most famous living artists is headed to New York City this fall, and he's bringing a massive public art project with him.
Ai Weiwei, the prolific Chinese artist and activist famously profiled in the documentary "Never Sorry," is behind the ambitious "Good Fences Make Good Neighbors" project set to take over NYC this October. Commissioned by the Public Art Fund, the five-borough exhibition will involve over 300 locations and hundreds of individual artworks, turning the sprawling city into an unconventional canvas for his collage-like experiment.
According to a statement announcing the project's specific locations on Tuesday, Ai's upcoming intervention was inspired by the "international migration crisis and current global geopolitical landscape." The exhibition will use the concept of a security fence, something long touted by President Donald Trump, as its central visual element.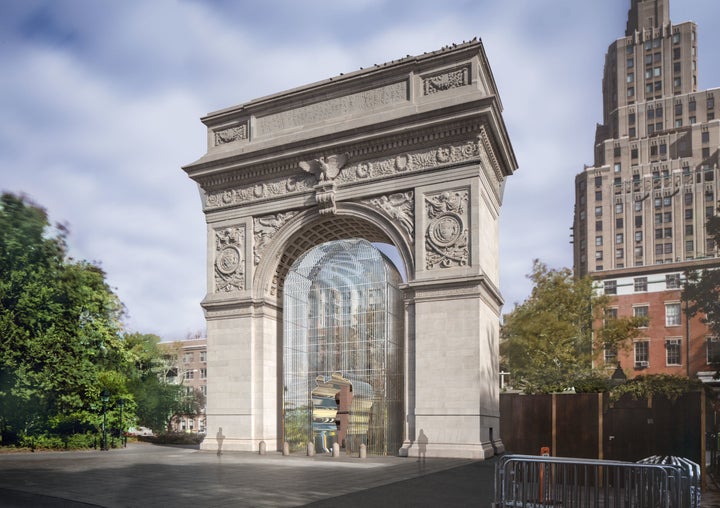 "Ai Weiwei's work is extraordinarily timely, but it's not reducible to a single political gesture," Nicholas Baume, the director and chief curator of Public Art Fund, told HuffPost. "The exhibition grows out of his own life and work, including his childhood experience of displacement during the Cultural Revolution, his formative years as an immigrant and student in NYC in the 1980s, and his more recent persecution as an artist-activist in China. It reflects his profound empathy with other displaced people, particularly migrants, refugees and victims of war."
The exhibition has been in development for several years, he added, so the election of President Trump has only added to its relevance.
In an earlier interview with The New York Times, Ai explained more directly that the work is a reaction to "a retreat from the essential attitude of openness" in American politics, though he did not explicitly mention Trump's desire to erect a wall on the border between Mexico and the U.S.
"The fence has always been a tool in the vocabulary of political landscaping and evokes associations with words like 'border,' 'security,' and 'neighbor,'" Ai said in a statement on Tuesday. "But what's important to remember is that while barriers have been used to divide us, as humans we are all the same. Some are more privileged than others, but with that privilege comes a responsibility to do more."
The name "Good Fences Make Good Neighbors" comes from a Robert Frost poem called "Mending Wall," which Baume sent to Ai early in the project's development. The poem includes the ambiguous phrase Ai used as his title, as well as the line, "Before I built a wall I'd ask to know / What I was walling in or walling out / And to whom I was like to give offence."
"He loved the clarity and directness of Frost's writing, and the subtle irony of this famous refrain," Baume added.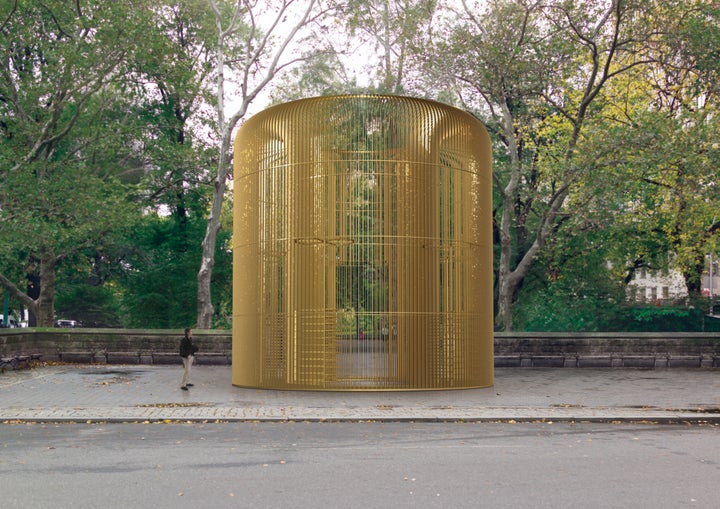 Physically, the exhibition will involve "large-scale, site-specific, freestanding works," some described as "sculptural interventions" that will be installed in public spaces like Central Park, Washington Square Park and Flushing Meadows-Corona Park, as well as on private walls and buildings. Beyond the sculptures, Ai will display a series of 200 two-dimensional works on lamppost banners and 100 documentary images on bus shelters and newsstands. The photos were taken during the artist's travels to research the international refugee crisis, and they will be coupled with text about displaced people around the world.
"This is clearly not an exhibition of conventional, off-the-shelf fences," Baume said. "[Ai] has taken the familiar and utilitarian material of metal fencing, which has many forms, as a basic motif. He has created multiple variations on that theme, exploring the potential of the material as a sculptural element, adapted to different locations in very site-responsive ways. Some installations are more straightforward, some more complex, but they all share this basic DNA."
"Good Fences" will open to the public on Oct. 12 and will run until Feb. 11, marking the Public Art Fund's 40th anniversary. Since its inception, the organization's mission has revolved around providing public access to contemporary art, a goal Baume said is more relevant than ever. In the past, the Fund has organized projects like Anish Kapoor's "Sky Mirror" (2006) at the Rockefeller Center and Tatzu Nishi's "Discovering Columbus" (2012) at Columbus Circle.
See a detailed list of the locations for "Good Fences" by downloading the available press release on Public Art Fund's website. "Ai Weiwei: Good Fences Make Good Neighbors" will be on view from Oct. 12, 2017, to Feb. 11, 2018.
Support HuffPost
The Stakes Have Never Been Higher
Related
Popular in the Community