 Artist and activist Ai Weiwei has severely criticized the exhibition "Art of Change: New Directions from China," which opened last week at the Hayward Gallery. "I don't think it's worth discussing new directions in the context of Chinese art - there were no old directions, either," he wrote in a Guardian article published last night. "Chinese art has never had any clear orientation."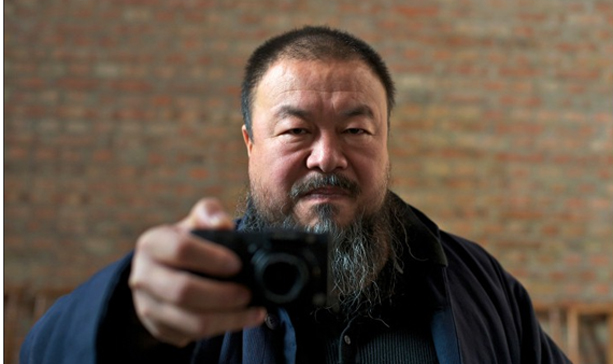 Ai Weiwei Here / Image: Film still from Ai Weiwei: Never Sorry / Photo by Ted Alcorn

The exhibition, curated by the Hayward Gallery's senior curator Stephanie Rosenthal, focuses on installation and performance art, media little discussed in the West in relation to Chinese art. It gathers nine artists -- Chen Zhen, Yingmei Duan, Gu Dexin, MadeIn Company, Liang Shaoji, Sun Yuan & Peng Yu, Wang Jianwei and Xu Zhen -- and presents pieces produced between the 1980s and the present, together with new commissions.
"All of the artists avoid the classical notion of a work of art and allow the artistic process to take centre stage," said curator Rosenthal. "We see things in this show that redefine what we can expect from an artwork - offering us something very unconventional from a Western perspective."
But Ai Weiwei isn't impressed, and he compared the exhibition to a "restaurant in Chinatown." "It is simply a consumerist offering," he wrote, "providing little in the way of a genuine experience of life in China today." "How can you have a show of 'contemporary Chinese art' that doesn't address a single one of the country's most pressing contemporary issues?"
"There is no reason to expect a show of Chinese art created in the west to critique the system effectively," the artist concluded. "But any show curated without respect for the people's struggle, without concern for an artist's need for honest self-expression, will inevitably lead to the wrong conclusion."
To read Ai Weiwei's full article on the Guardian website, click here.
"Art of Change: New Directions from China," September 7 - December 9, 2012, Hayward Gallery, Southbank Centre, London
More of Today's News from BLOUIN ARTINFO:
Popular in the Community