Since June the new Ai Weiwei installation "Aus der Aufklärung" -- or "Out of Enlightenment -- featuring 1,000 two-person tents has dotted the shores of the Emscher River in Germany as part of the sprawling Emscherkunst.2013 exhibition. Would-be art campers are invited to sign up to stay in one for €12 per night at one of the exhibition's three visitor centers. The tents, which are adorned with images of Ai's works, are distributed at 10 campsites between Gelsenkirchen and Dinslaken, and are intended as a commentary on the former manufacturing region's relationship to its natural environment.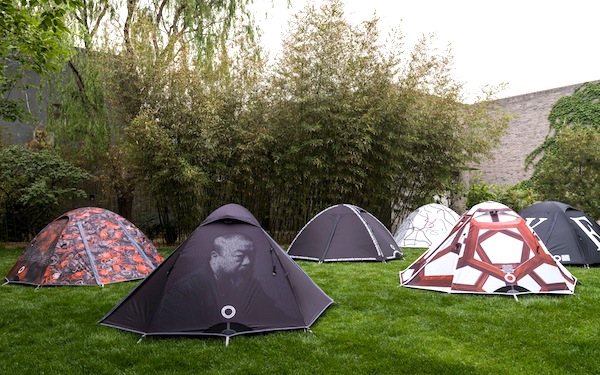 "The motifs and patterns on the tents convey a particular message," Ai explains on the project's website. "They are meant to evoke entirely different feelings than those associated with the former industry- and capitalism-oriented history of the region, which have also left a permanent mark on the ecology of the Ruhr region. It was important to create a colourful and carefree ambiance, and most importantly: not to leave a permanent mark on the land. This project is all about communication and interaction, not production."
The artwork's title is a reference to "Art of the Enlightenment," an exhibition of German art in Beijing in 2011 that overlapped with Ai's 81-day detainment by the Chinese authorities. In accordance with the artist's wishes, the tents will be given away to residents of the region through a raffle or similar type of lottery after the exhibition closes on October 6.
"The aim of 'Out of Enlightenment' is to give people an opportunity and inspiration to spend time with the air, the wind, and the seasons," Ai explains. "The project can offer a sensual as well as sensitizing connection with the ecology of its surroundings and its participants."
REAL LIFE. REAL NEWS. REAL VOICES.
Help us tell more of the stories that matter from voices that too often remain unheard.
BEFORE YOU GO