Ai Weiwei's retrospective at London's Royal Academy of Art came to a close in December. In it, the Chinese artist showed a range of works that addressed creative freedom, censorship and human rights. Bicycles, Qing dynasty tables, porcelain crabs, bronze-casted bones and fragments of the artist's own demolished studio were configured into a powerful statement of his activism.
While Ai Weiwei's works speak to a global community, they often represent a direct challenge to China's ruling Communist Party. The premise of this challenge is one of openness, a refusal to support what Ai Weiwei sees as the Chinese authority's lack of transparency, democracy and freedoms. But how has it come about that an artist stands at the forefront of this confrontation?
Taiwan, China's neighbour in the South China Sea, was recently awarded first place in the The Global Open Data Index 2015. Open data is data that anyone can access, use and share. The index measures and benchmarks the openness of data around the world, providing a significant indication of each nation's commitment towards transparency. Forbes has described how Taiwan rose through the rankings to be named the world's most open government, pointing to Taiwan's democratic societal roots and underpinning by free mass media and civil society organisations. Ross Feingold, senior adviser with DC International Advisory, said to Forbes that
"Taiwan's large number of non-government and civil society organisations, print, online and television media and political parties ensure ongoing domestic pressure on the central and local governments to improve transparency."
In China, the Chinese Communist Party has ruled the country since 1949 and its media environment remains restrictive. Without the domestic pressures exerted by other populations - such as Taiwan's - Ai Weiwei's work takes on huge significance in the demand for transparency. His marble surveillance camera (Surveillance Camera, 2011), jade handcuffs (Handcuffs, 2011) and wall of coloured backpacks (Remembering, 2009) provide their own evaluation of China's opaqueness; Ai Weiwei's art has put enormous international pressure on its leadership since the early 2000s. Unlike many of China's other activists whose profiles remain diminished through censorship, his voice continues to reverberate around the world through his artwork.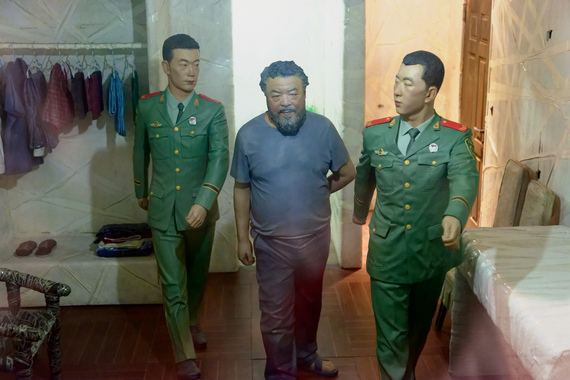 S.A.C.R.E.D., 2011-2013 - cisc1970 - CC BY-NC 2.0
The role of Ai Weiwei's art in shaping international opinion and pushing China's government towards transparency is best demonstrated by the aftermath of the earthquake that hit the southwestern Sichuan province in 2008.
In what was thought to be a direct response to their efforts, the Chinese government then announced that 5,335 students had died. Researcher Katherine Grube reported that "the release of the number, without any names attached, was a major concession to activists whose escalating calls for official statistics fueled an international media frenzy."
Beyond the act of gathering the data itself, Ai Weiwei put further pressure on the government with a number of evocative artworks. He printed and displayed the dataset across large walls and, with the help of thousands of supporters, produced Remembrance (2010), a sound installation composed of the students' names being recited more than 12,000 times. His studio straightened the mangled metal tendrils from the schools collapsed by the earthquake to build Straight (2008-2012), a 150-tonne carpet of steel that has been shown around the world.
By producing the list of children who had lost their lives in the 2008 disaster and subsequently sharing it with the world, Ai Weiwei had himself fulfilled the role usually taken by governments in making important information available. While the data itself was extremely personal, macabre and shocking, he had brought transparency to a national disaster that until then had taken place in the dark.
Having been arrested by the Chinese government on 3 April 2011, Ai Weiwei was held for 81 days without any official charges being filed. Against that backdrop, reflecting on Ai Weiwei's body of work at his Royal Academy show provided a stark reminder of the power of art in the push for transparency and openness.
REAL LIFE. REAL NEWS. REAL VOICES.
Help us tell more of the stories that matter from voices that too often remain unheard.