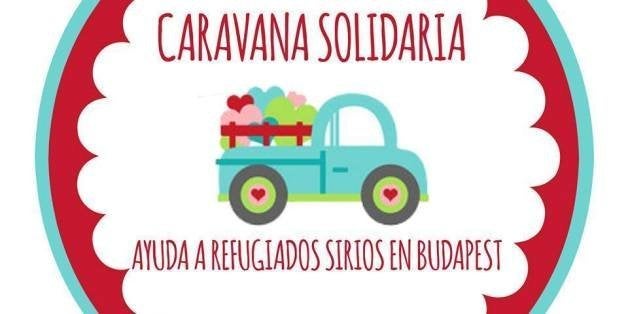 "It's simple: I own a station wagon, and I'm tired of looking at sad images." That's how Natalia Álvarez explains the initiative she started last week on Facebook to help refugees in Budapest.
Her voice reveals deep exhaustion; she has been packing boxes in a small warehouse on Federico Gutiérrez Street in Madrid since 9 a.m.
During the last two weeks of September, Álvarez will take all these boxes to Budapest, traveling with her daughter, her two best friends and others who have decided to join them on this adventure. Her plan is to take basic necessities to refugees who "are lost in the European bureaucracy," she explains.
On Sept. 3, Álvarez shared a message on the Facebook page she set up to carry out her campaign, which she's named the "Caravan of Solidarity." Portions of that and other messages, originally written in Spanish, have been translated into English below:
Hello all!

I've decided to organize what I hope will soon become a caravan of solidarity to help the refugees crammed into the Keleti station in Budapest, Hungary.
Álvarez is amazed by the incredible wave of support she has received for her idea, and by the attention it has garnered on social media over the past few days. "I wrote my idea down, and I shared it with the 180 friends I have on Facebook. I don't know what happened next, but messages started coming in from everywhere," she tells HuffPost Spain.
She and her team set up in the warehouse, thrilled with the extra help from volunteers. Pilar and Marilinda, her two best friends, are taking care of the logistics and picking up packages from people who are eager to make donations but can't travel to the warehouse themselves.
They've received packages from Barcelona, Mallorca, and other cities in Spain, Álvarez says. This weekend, an overwhelming number of people came to drop off suitcases stuffed with clothes, diapers, canned food, other foods, toys and more, she adds.
"Thank you all for your solidarity. Not even in my wildest dreams did I think the idea would get such strong reception," she wrote to her supporters, a day and a half after launching the Facebook page:
It's only been 32 hours since I started to put together this insane project, and there are already two people from different parts of Spain who are trying to organize similar projects, so that they could go on this adventure with me. I know it's very complicated, to leave everything behind on such short notice, and take a car across Europe. From where I'm standing, I encourage you to try it.
"We've already contacted an NGO in Budapest that will distribute the packages," says Álvarez, who still gets excited when people knock on the warehouse door, dragging suitcases behind them. She and her team have shared photos of the donations on Facebook, thanking those who have contributed by name.
Thanks to everyone who is filling our loft!!! Nuria, Babi, Silvia, Isabel and the magnificent Ada!!!
Hello all!!

First, I want to thank you all for the help and interest. Second, I thank my friends for the help they are providing throughout this adventure. Without them, my telephone would have exploded hours ago.
Thanks, María Sotillo, for filling our little car with your solidarity!!
Hello again, all. We are repeating the information about where we are located and about our schedule below. You can bring basic aid products immediately!

*coats for babies and children *diapers + basic hygiene products for children and adults in small containers so that they would be easy to distribute *raincoats *floor mats *sleeping bags *packing boxes
In less than five days, more than 2,000 people have followed Álvarez's campaign on Facebook, and many have asked how they can contribute.
But it's not the only initiative to provide aid and support to refugees in Europe over the past few weeks. Don't just sit there if, like Álvarez and others, you are also tired of looking at sad images.
This article first appeared on HuffPost Spain and was translated into English.
REAL LIFE. REAL NEWS. REAL VOICES.
Help us tell more of the stories that matter from voices that too often remain unheard.