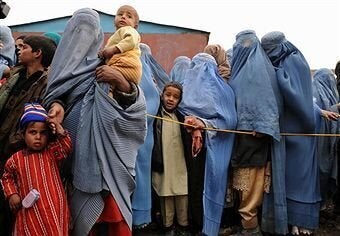 In interviews with The Huffington Post, several officials of U.S.-based non-governmental organizations (NGOs) working in Afghanistan said the withdrawal of 10,000 troops this year would not affect them directly because they already operate independently from the military .
Some expressed concern that the 100,000 members of the Afghan security forces the Obama administration expects to take over from departing American troops aren't up to the task of protecting Afghan citizens, let alone NGO workers. Others worried that U.S. eagerness to get out of Afghanistan will lead to political compromises with the Taliban that could turn back the clock on women's rights.
"Apathy" -- that's the word one official who recently returned from two years working for a major American NGO in Afghanistan used to describe his reaction to Obama's announcement. "It won't make a massive difference in the way we work because we do our very best to stay out of their way," he said, referring to military troops.
Peter O'Farrell, Sr., a program officer at Mercy Corps, a humanitarian and development group that has worked in Afghanistan for more than 25 years, echoed that attitude.
"For us, the gradual phasing out of military presence means very little in terms of how we operate," he said. "Our work is independent of military operations -- our access and security is based on community acceptance."
Unlike government contractors who work with the U.S. Agency for International Development (USAID) and provincial reconstruction teams, most traditional aid groups strive to remain impartial to avoid reprisals from either side in a conflict. Most of the international aid workers who have been killed in Afghanistan were government contractors working for NATO countries.
The official for the major U.S. NGO, who did not want his organization identified out of concern for the safety of employees in Afghanistan, said his group works equally well in districts controlled by the Afghan government as those controlled by the Taliban. It only faces untenable conditions in the southern part of the country and other regions where Western military forces regularly clash with militants.
"A lot of the NGOs I've talked to in Afghanistan don't particularly like the idea of the military being around anyway; many of them will actually welcome the draw down," said Dov Zakheim, a former George W. Bush Pentagon official whose recently published "A Vulcan's Tale," which recounts the Bush administration's failure to rebuild Afghanistan. "They have argued that when the troops show up, no matter what good they're doing, the villagers don't always react positively. And that works against them."
Most NGOs operate in the northern region of Afghanistan, which had seen less military activity. Recently, however, security has deteriorated as Taliban fighters under pressure in the south have migrated to new redoubts. The northern regional NATO command is controlled by Germany, which said Thursday it would reduce the number of its troops there at the end of 2011.
The Atlanta-based group CARE has 10 offices with 1,000 employees in the north, central and eastern regions of Afghanistan and works with local partners in Helmand and other provinces that have seen the heaviest fighting. Jennifer Rowell, a CARE coordinator in Kabul, emailed that even in areas with no U.S. military presence, the impact of the troop pullout will be felt.
"The assumption that only the south will be impacted because that's where the majority of troops are is a false one," Rowell said. "Conflict -- especially conflict as protracted as Afghanistan's -- affects people across the country, not just where the troops are."
At a time when all aid workers have hunkered down for safety, the gradual departure of NATO and U.S. troops and the empowerment of Afghan security forces has some worried.
Sarah Holewinski of Campaign for Innocent Victims in Conflict (CIVIC) said she is "very concerned" that Afghan security forces are "not ready to take on securing their own people."
While she acknowledged positive trends in training and professionalism, she said, "The problem I see is in actually being able to protect civilians in combat, abide by international laws, be held accountable for missteps or wrong-doing, and then properly manage the fallout when they cause civilian casualties."
Thomas Ruttig, who co-directs the Afghanistan Analysts Network, a think tank in Kabul, agrees that the number of Afghan security troops may be growing "but quality lags behind."
He emailed that NGO officials in the capital worry that as donor nations push the Afghan government to take over a greater share of security, efforts to improve health care, education and other social services will suffer. There is also a concern that if U.S. troops are withdrawn too soon, international attention and aid may drop proportionally.
"The historical tendency of the international community to adjust aid and development portfolios according to the shifting military plan," Rowell said. "This has proven to be disastrous in the past. The likelihood that it will happen again now is high."
Several of those interviewed expressed trepidation that the reconciliation talks that are key to drawing down American troop levels include the Taliban. That inclusion, they said, will lead to what Ruttig called "a sell-out of constitutional rights and freedoms" hard-won over the last decade since the U.S. invasion toppled the old regime.
U.S. officials must "not let slip the wonderful progress" that has been made on women's rights, Rowell said.
"Security is not the absence of violence, it is the presence of justice," she said. "A worst-case scenario would be that the military draw down kicks off a narrowing of the U.S. footprint in Afghanistan to one in which 'security' just means fighting an anti-government force."
REAL LIFE. REAL NEWS. REAL VOICES.
Help us tell more of the stories that matter from voices that too often remain unheard.