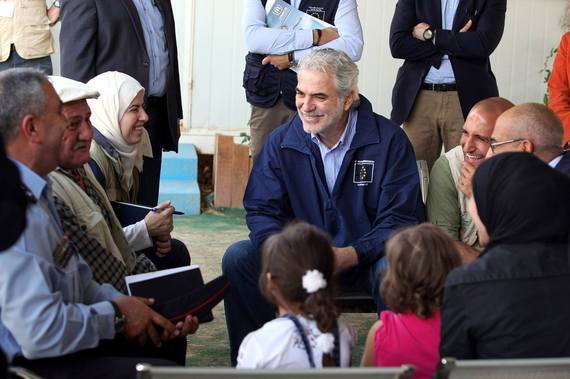 In conflicts and crisis zones around the world, attacks on civilians, doctors and medical facilities as well as on humanitarian aid workers have become all too frequent.
In Syria, not even hospitals or refugee camps are safe from violence as we have sadly seen over recent weeks. The main hospital in Aleppo had to stop its activities, leaving innocent civilians without desperately needed live-saving medical treatment. Sadly, these incidents are not the exception: civilians are effectively being held hostage by violence in many conflicts - in South Sudan, in Yemen, in Afghanistan - to name only a few.
Isn't there a law that should protect people in these situations?
There is. It's called international humanitarian law (IHL).
This is essentially a set of rules to limit the effects of armed conflict on civilians, laid out in the Geneva Conventions and Additional Protocols.
In practice, States and non-State armed groups are far too often unwilling to observe these legal obligations.
We owe it to the victims to make the case for change, at the highest levels.
Around the world, at this moment more than 60 million people are uprooted and forced from their homes, half of them children. Not since the end of the second World War have so many people been displaced, often escaping violence and suffering. Some of their stories make the headlines, many more suffer in silence away from the attention of the international community.
When the international community meets on the 23-24 May at the World Humanitarian Summit, they have a rare opportunity not only to make aid better and more efficient - but also to help protect the people delivering aid in the front line.
Protecting civilians and aid workers needs to be at the top of the agenda for decision-makers. And the entire international community needs to speak out and systematically condemn violations of International Humanitarian Law. In Syria and elsewhere. And we must ensure that people in need receive rapid and unimpeded humanitarian assistance.
On May 3 the UN Security Council set the tone and unanimously adopted a resolution to strengthen the protection of health care workers, the sick and wounded and medical facilities in war zones. This is a hugely positive step. But it now needs to be implemented on the ground, in the Middle East and beyond.
Keeping respect for International Humanitarian Law in the public eye is key in this context. As the EU, we are funding training in IHL for both military personnel and humanitarian workers, while also promoting campaigns to raise awareness of IHL with the wider public.
We can all make a difference by keeping International Humanitarian Law at the top of the international agenda. And making sure it gets top billing at the World Humanitarian Summit (WHS). Join the conversation #HandsUpforIHL - or #WHS4IHL
Calling all HuffPost superfans!
Sign up for membership to become a founding member and help shape HuffPost's next chapter