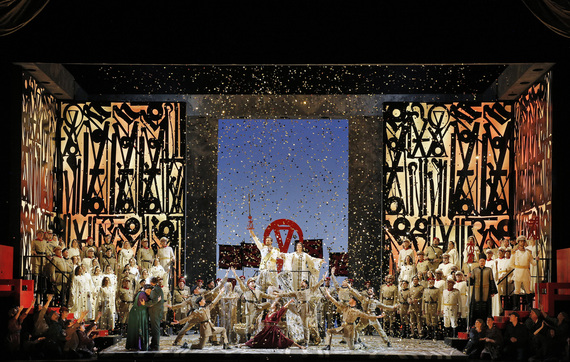 Even people who aren't familiar with Verdi's masterwork Aida have a vague sense of this opera, something to do with grand-scale, exotic spectacle and masses of colorfully clad people, maybe a few animals. That's because of the opera's justly famed "Triumphal Scene" and its stirring music, as Pharaoh's soldiers jubilantly return to Cairo on defeating the invading enemy. From the beginning, the opera's presenters strove to match the scene's music with overwhelming visual splendor. At the premiere, in Cairo in 1871, Radames, the heroic young military leader who loves the slave Aida, carried weapons made of solid silver. Amneris, Pharaoh's daughter, who's in love with Radames, wore a coronet of real gold.
Four years later, the Chicago production used 2,000 supernumeraries: a word defined as "exceeding the usual number" but more often used to indicate opera's nonsinging, crowd-filling extras. (Opera's supernumeraries are sometimes called spear carriers, and you can guess why.) The supers included 500 members of the Illinois state militia, divided into companies of 12.
So it's understandable that viewers might expect any production of Aida to be a splashy affair. San Francisco Opera's new production (with Washington National Opera, Seattle Opera, and Minnesota Opera) is in many ways terrific, but it is in no way splashy. Indeed, in an effort to focus on what's important in this opera--the battles fought between and within individuals--director Francesca Zambello has selected a mashup of costumes and mostly low-key, dark-toned sets that are, frankly, disappointing. It's not because they are not opulent or over the top; it's because they don't seem coherent or to make much sense. But the singing, and the emotion conveyed by the principals, is splendid.
The real excitement in this production comes from the performances of tenor Brian Jagde as Radames, mezzo-soprano Ekaterina Semenchuk as Amneris, and especially Leah Crocetto, in her debut as Aida. Last year, when she opened the SFO season in the leading role of Luisa Miller, I wrote, "Crocetto has a strong, agile, magnificent voice, full of the emotion she can't yet convey dramatically." She's still far from a great actress, but she's come a long way, and the dramatic task at hand is much more difficult than in Luisa Miller, or even as Mimi in La Bohème, which she also sang in San Francisco recently.
Aida is a princess enslaved in Egypt since a previous battle but somehow left free to meet and fall in love with Radames; so she spends the entire opera torn in half by conflicting feelings. When Radames is named leader for the coming conflict and the Pharaoh (a very young Anthony Reed) exhorts him to "return victorious," she is caught up in the moment. "Return the conqueror!" she too sings, out of her love for this man; and then, as the army marches off to attack her father and her compatriots, she realizes what she's said. Crocetto moves beautifully from powerful self-loathing ("And from my own lips came that impious word!") to the subdued anguish of a bitter dilemma ("Gods have pity on my suffering").
A better actress would have pulverized you with her inescapable despair; but Crocetto conveyed those feelings well enough. And her singing! It seems to become ever stronger, purer, and more assured, whether whispery soft or soaring over the orchestra. It helped that she had such chemistry with Jagde, in his own strong role debut as Radames.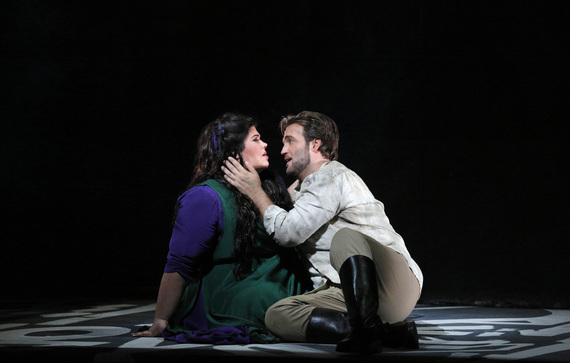 Less impressive until toward the end, distraught over sending Radames to the vindictive priests and pleading with him to explain himself, is Semenchuk.
In fact, for long stretches the endeavor felt somehow underenergized, as if the passion displayed in individual moments, arias, and duets could not be mustered overall. But once the Ethiopians are defeated and Aida's father (baritone George Gagnidze) is taken prisoner and freed; plans to attack once more; and persuades Aida to learn Radames's plans for the coming battle, the opera surges forward.
As for the sets (by Michael Yeargan) and costumes (by Anita Yavich), one can applaud the decision to ask Los Angeles artist Retna (Marquis Duriel Lewis)--who's known for using hieroglyphics, graffiti, and calligraphy to "evoke a mythic past with a contemporary edge"--to create an original look for the opera; but his black-on-gray pseudo hieroglyphic backgrounds, even when wonderfully lit in red or gold by lighting designer Mark McCullough, are more confusing than anything else. The priests who condemn Radames are dressed something like Russian monks, while the Egyptian soldiers wear a combination of European-style military uniforms and Aida's father looks like a World War II enlisted man. The women's flowing robes are from another century altogether. Sets and costumes don't need to knock your socks off, but they shouldn't be so puzzling they're distracting.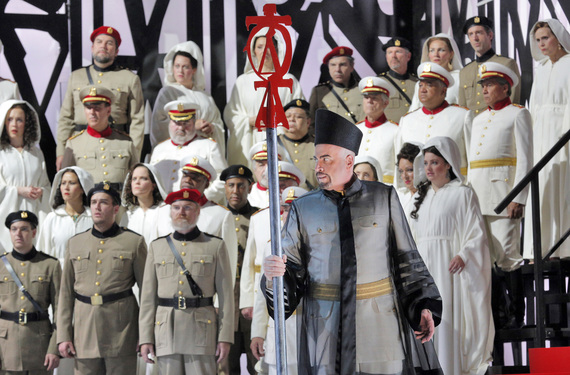 In terms of concept, the best parts of this production have to do with the constant war readiness and brutalization of this society. Young boys entertain Amneris in white uniforms and red berets; their martial arts-style movements, here and during the Triumphal March, make clear what their future holds. Lacking elephants and giant statues, with only 20 supernumeraries (not one with a spear), this may be the least grandiose Triumphal March on record. Instead, as the prisoners are brought before the Pharaoh, Jessica Lang's choreography, and fine dancers Rachel Little and Jekyns Peláez, make unmistakably clear what happens to captured women.
And the decision to focus on the complex emotions of the three individuals at the heart of this opera is the right one. In the final scene, Radames and his Aida are walled up in a tomb under the temple, there to die together. The walls are completely bare. The singing and emotion are gripping. Afterward, I turned to my friend and said, "That's why we come to the opera."
Nov. 23, 27, 30, Dec. 3 and 6, War Memorial Opera House, 301 Van Ness Ave., S.F., 415.864.3330, sfopera.com.
Photographs c Cory Weaver. From top: Act II finale; Leah Crocetto and Brian Jagde; Raymond Aceto as the high priest Ramfis.
Calling all HuffPost superfans!
Sign up for membership to become a founding member and help shape HuffPost's next chapter