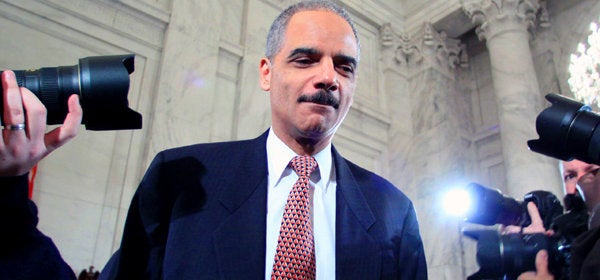 An aide to Eric Holder rejected a report Wednesday suggesting that the Attorney General nominee had pledged not to prosecute members of the Bush administration officials who were complicit in illegal harsh interrogations or torture.
"Eric Holder has not made any commitments about who would or would not be prosecuted," said the aide. "He explained his position to Senator Bond as he did in the public hearing and in responses to written questions."
The statement came hours after the Washington Times quoted Senate Judiciary Committee member Kit Bond saying Holder had privately insisted that he would not conduct such prosecutions. That report caused a stir on the Hill, where Democrats were left wondering whether Holder had privately placated Republican concerns that he would investigate Bush administration officials involved in interrogations.
Publicly, Holder has tried his best to be non-committal on what he would do in regard to torture investigations saying "nobody is above the law," but that he didn't "want to criminalize policy differences that may exist" between administrations. Because he defined waterboarding as torture during his confirmation hearings, it was assumed that he would have a responsibility to investigate the Bush administration admission that they have used waterboarding on a select few detainees. But in a question form offered to Republican Senators on Judiciary he was much more vague (indeed, cold to the idea) when asked if he would prosecute the matter.
Kyl: ...in your view, if a government agent has reasonably and in good faith relied on Justice Department assurances that his actions are lawful, do you believe that it would be inappropriate for the Justice Department to commence a criminal investigation of that individual? Or do you instead believe that it is appropriate to investigate such an individual and force him to incur legal fees, but that the Justice Department is unlikely to bring a prosecution because obtaining a conviction would be "exceedingly difficult?"

Holder: Prosecutorial and investigative judgments must depend on the facts, and no one is above the law. But where it is clear that a government agent has acted in 'reasonable and good-faith reliance on Justice Department legal opinions' authoritatively permitting his conduct, I would find it difficult to justify commencing a full-blown criminal investigation, let alone a prosecution.
Popular in the Community