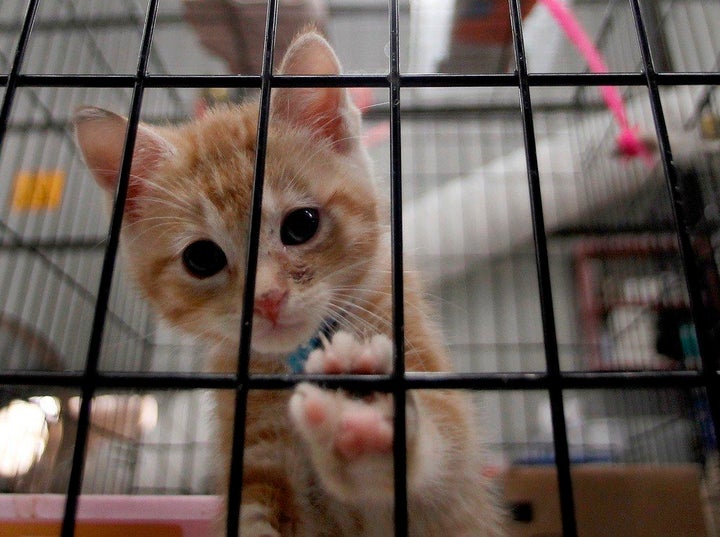 May 22, 2011 is a date that the residents of Joplin, Mo. will never forget. It was that day that a lethal EF5 tornado struck, eventually claiming over 150 lives and destroying nearly 8,000 structures. Not spared from this disaster were the animals of the community, many of whom were left homeless by the tornado and in need of shelter. The magnitude of the disaster prompted the Joplin Humane Society to invite the ASPCA to assist with the recovery effort, and together, they worked quickly to locate many endangered dogs and cats, provide shelter and help many of them return home.
In total, the ASPCA and the Joplin Humane Society provided emergency shelter for approximately 1,300 animals. Of that number, nearly 500 lost pets were reunited with their families and 740 were adopted during this past weekend's adoption event. (The remaining animals, including newborns and injured animals not yet ready for adoption, will be available in the coming weeks.) We spread the word through local advertising, press, and flyers as well as through social media. This outcome was truly inspiring: More than 5,700 people representing 24 states came to Joplin to adopt nearly 750 cats and dogs! A supporter following our live tweets from the adoption event summarized it best: "The results of this day says volumes about the hearts of America in the heart of America. Praises to all!"

The ASPCA's Field Investigations and Response team, led by Joplin native Tim Rickey, arrived in Joplin on May 23 to lead the emergency sheltering effort and aid local agencies in establishing temporary housing for the displaced pets. Through its shelter response partnership network, the ASPCA also coordinated the transport of nearly 150 animals from the Joplin Humane Society to other shelters in Missouri and surrounding states, which enabled the Joplin shelter to continue to accept incoming animals.
In addition to providing temporary housing for displaced animals and coordinating the transfer of Joplin's shelter pets, both the ASPCA and the Joplin Humane Society made every attempt to reunite lost pets with their families. This effort was executed through various strategic communications, including a joint press conference urging owners who were missing their pets to visit the emergency shelter. Ten days after the ASPCA team arrived in Joplin, we were sheltering nearly 850 animals and had reunited more than 200 pets with their families. Our team also rescued 155 pets in field trapping operations.
In conjunction with our work on the ground, on June 2, the ASPCA made a $100,000 grant to the Joplin Humane Society to support ongoing disaster relief and recovery efforts. The grant will be used by the organization for resources needed to support its operation and repair infrastructural damages to its facility. Additional funding will be used for future disaster response and preparedness efforts in the community.
Disasters like the Joplin tornado illustrate how collaboration between local and national agencies can make all the difference and positively impact the quality of life for animals and people alike. The ASPCA's month-long effort in Joplin was an unprecedented undertaking for our Field Investigations and Response team, of whom I've never been more proud. It also required the resources of staff from various groups throughout our organization (ranging from our Mobile Spay/Neuter Clinic to our Animal Behavior Center), as well as volunteers and members from 89 other national and local animal welfare agencies from across the country. Those groups include the Asheville Humane Society, American Humane Association, Bay Area Disaster Animal Response Team, Berkeley East Bay Humane Society, Charleston Animal Society, Humane Society of the United States, Lee County Domestic Animal Services, Louisiana SPCA, MSPCA, Oregon Humane Society, Spay/Neuter Kansas City, SPCA Serving Erie County, Washington Animal Rescue League and United Animal Nations. There was even international support from the British Columbia SPCA.
In the wake of the devastation in Joplin and other natural disasters across the United States, the ASPCA has established the ASPCA Disaster Fund, an emergency $500,000 grant fund for animal welfare organizations in states affected by or responding to severe weather incidents. As part of this effort, Rachael Ray and her philanthropic initiative, Rachael's Rescue, partnered with the fund to pledge support with a generous contribution of both financial assistance and food for the animals in need. The ASPCA realizes that local animal shelters and rescue groups are feeling the effects of these unexpected disasters; this additional aid, along with the support of generous people like Rachael Ray, will provide needed resources and the capacity to help these organizations protect and care for animals in their communities.
This effort illustrates our collective compassion for our animals, but it also underscores what we can all do when we come together as a community of shared values and commitment. Through the support of national organizations like the ASPCA that offer unique expertise and capability, local know-how of neighborhood shelters and tried-and-true volunteerism from everyday people, we can heal ourselves and protect our animals through the toughest of times.
Calling all HuffPost superfans!
Sign up for membership to become a founding member and help shape HuffPost's next chapter