In the last year, AIDS activists have criticized President Obama and his former senior healthcare advisor Ezekiel J. Emanuel MD, PhD. AIDS advocates claimed that the Obama administration was de-emphasizing international AIDS treatment initiatives in favor of other global health priorities. In a commentary published in The Journal of the American Medical Association, Dr. Emanuel advocated funding maternal and child health initiatives at the expense of future funding increases for The President's Emergency Plan for AIDS Relief (PEPFAR).

There is evidence corroborating AIDS activists' claims:
"In 2008, the United States Congress authorized the Tom Lantos and Henry J. Hyde United States Global Leadership Against HIV/AIDS, Tuberculosis, and Malaria Reauthorization Act providing $48 billion over 5 years ($9.6 billion/year) to PEPFAR. However, President Obama's $63 billion Global Health Initiative allocated $51 billion over 6 years ($8.5 billion/year) resulting in an overall decrease in PEPFAR funding while allocating $12 billion towards other global health initiatives including maternal and child health."
By not providing "new" money towards maternal and child health, President Obama had in de facto pitted HIV/AIDS against other global health objectives. In fact, several articles in the scientific literature argued policies that weakened HIV/AIDS treatment programs threatened to undermine, rather than support, maternal and child health in countries with high HIV/AIDS prevalence (AIDS and Science). Ultimately, as Sarah Leeper and I argued:
"Confronting illness in isolation -- whether by funding PEPFAR at the expense of programs that target maternal or child health or vice versa -- cannot be our way forward. We should be advocating for funding both PEPFAR and maternal and child health together instead of favoring one program over another."
As a result of the collaborative efforts of the AIDS advocacy community, the Obama administration directed additional funding towards PEPFAR's antiretroviral treatment scale-up in Uganda. Additionally, in October 2010 the Obama administration increased the U.S. contribution towards The Global Fund to Fight HIV/AIDS, Tuberculosis, and Malaria to $4 billion (an increase of 38%). These results demonstrated that pragmatic advocacy by AIDS activists was a powerful instrument towards yielding accountability on HIV/AIDS funding.
Yet, despite focusing on global health policy issues, some AIDS activists have myopically lambasted Dr. Emanuel with personal attacks even after he left the Obama administration. AIDS activists in Los Angeles, castigated Dr. Emanuel. Their posters decreed: "Zeke, To People with AIDS 'Drop Dead'," and [Emanuel] "Not a friend of people with AIDS."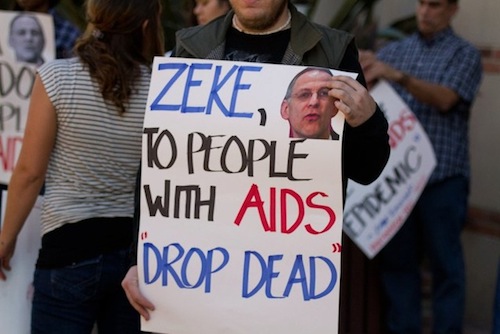 Surprisingly, the protesters chastised Dr. Emanuel despite the fact that he had left the Obama administration one week earlier. Since Dr. Emanuel was no longer in a position to influence U.S. global health policy, the protest was simply theatrical.
As an AIDS activist, I am distressed at these tactics. Do we actually believe that Dr. Emanuel wants "People with AIDS to drop dead" as some protesters declared? What happened to rational and civil discourse? Is engaging in libel attack an effective advocacy tool? Perhaps it garners headlines and press, but does it actually result in policy change? There is a clear distinction between issues based advocacy and vitriolic attacks against individuals. The disparaging polemics against Dr. Emanuel, by these rogue AIDS activists, endangers the credibility and legitimacy of our advocacy movement.
A constituency of nearly 40 million HIV-infected persons throughout the world deserves a pragmatic approach to advocacy. Global health policies and funding allocations require serious, thoughtful, and collegial debate. AIDS activists must aspire for responsible advocacy. We must demand accountability on issues, not personal attacks against individuals.
I hope as a community, AIDS activists will demand accountability while avoiding ad hominem attacks.
---
Anand Reddi is an AIDS activist and researcher. In 2005, Reddi was a Fulbright Scholar assisting the Sinikithemba HIV/AIDS clinic at McCord Hospital in Durban, South Africa. Currently, Mr. Reddi is a medical student at the University of Colorado, School of Medicine.

Calling all HuffPost superfans!
Sign up for membership to become a founding member and help shape HuffPost's next chapter