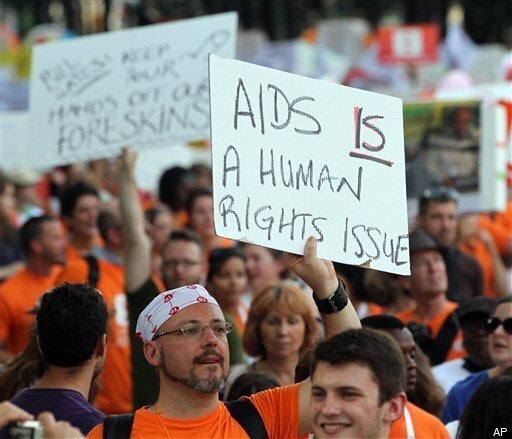 A poster juxtaposes the faces of Presidents George W. Bush and Barack Obama, the caption asking "Who is better for AIDS?" And, a sticker worn by a man standing nearby has a deli number distributor, its caption saying "Obama's AIDS plan. Take a Number, Wait to Die."
These are a sample of messages from HIV/AIDS activists gathered at the 18th biennial International AIDS Society (IAS) conference in Vienna, Austria. For more than a year, the HIV/AIDS community has been criticizing the Obama administration for decreasing or flat lining the global HIV/AIDS budget, claiming we are literally killing millions of people by not funding ARV drugs to treat HIV infection. To accentuate this point, the IAS conference began with activists staging a "Die In." Just today, Archbishop Desmond Tutu published an op-ed in the New York Times, echoing these criticisms, and in Huffington Post, Anand Reddi repeats these claims. As the conference comes to a close in Vienna and the baton is passed to Washington, D.C. to host the 2012 gathering, it is time to change the tenor of this global debate.
First, we need to get the facts straight.
A few days ago UNAIDS in conjunction with the Kaiser Family Foundation released a report showing that in 2009, the United States provided 58 percent of all funds worldwide to fight HIV/AIDS in developing countries. Furthermore, while numerous developed countries were actually reducing their support for HIV/AIDS between 2008 and 2009, the United States actually increased its funding by more than 10 percent.
The president recognizes that funding global health is good for national security, domestic health and global diplomacy. Consequently, President Obama has steadily increased funding for the President's Emergency Plan for AIDS Relief, or PEPFAR, which was created by President Bush and has strong bipartisan support. The President's 2011 budget proposed an 8 percent increase in global health funding. This included a historic $7 billion request for PEPFAR the largest-ever request for PEPFAR, accounting for 73 percent of the total proposed global health budget.
At the IAS conference, many activists chanted that the "U.S. government counts pennies, Africa counts lives." But it is precisely the activists who have been measuring success in the global fight against HIV/AIDS in terms of dollars and pennies. Their focus seems to be only on the budget. But what counts are not dollars spent or drugs bought, but lives saved.
That's why as part of the President's $63 billion Global Health Initiative, the Obama Administration is emphasizing the need to shift the focus from funding levels to substantive health outcomes -- reductions in AIDS-related deaths, improvements in morbidity and quality of life, and the prevention of new HIV cases. These results -- not dollars budgeted or spent -- are what we ultimately care about, and what the activists should care about as well.
Part of the reason to shift the focus is that there is not a one-to-one relationship between the input of dollars spent and the output of improved health or lives saved. Recent studies have shown that the costs of HIV screening, counseling and testing, medical male circumcisions, and ARV treatment and monitoring vary tremendously both within countries and in regions. Some programs are efficient; other programs are ineffective. We need to figure out which programs and approaches are failing, end them, and shift funds to those programs that are working. And, even within programs that are working, we need to do things more effectively.
Contrary to what Dr. Reddi argues, neither I nor the Obama Administration sees an "either-or" trade-off between PEPFAR and other global health priorities such as improving maternal-child health. What it takes to save lives of those with HIV and those most at risk to contract it is a comprehensive approach that recognizes the roles of other diseases (many inexpensively preventable), child and maternal health, and strong health systems play in saving lives and solidifying health gains in developing nations.
This comprehensive and integrated approach is what the President's Global Health Initiative is all about. It recognizes that we can't treat our way out of the HIV-AIDS epidemic. The key to ending it is to reduce the number of those who become HIV-positive in the long-term - and that takes improving their overall health and the health systems around them. After all, patients don't come to doctors with one disease or condition, and our response shouldn't focus on one as well.
Indeed, in addressing the International AIDS Society conference Kgalema Motlanthe, South Africa's Deputy President, discussed the country's plan for mass screening and care, noting that rather than focusing just on HIV, South Africa will include screening and care for TB, hypertension, high cholesterol, diabetes, as well as other diseases. The integrated care that is the heart of the GHI is the wave of the future.
Over the years, activists have exhibited tremendous creativity, passion, and energy in the global fight against HIV/AIDS. Let's re-direct that energy into making programs work better and pinpointing effective interventions that serve all the population -- persons living with HIV as well as mothers, children, people with malaria, TB, neglected tropical diseases. Working together to improve the health of the bottom billion should be our legacy.
Related
Popular in the Community