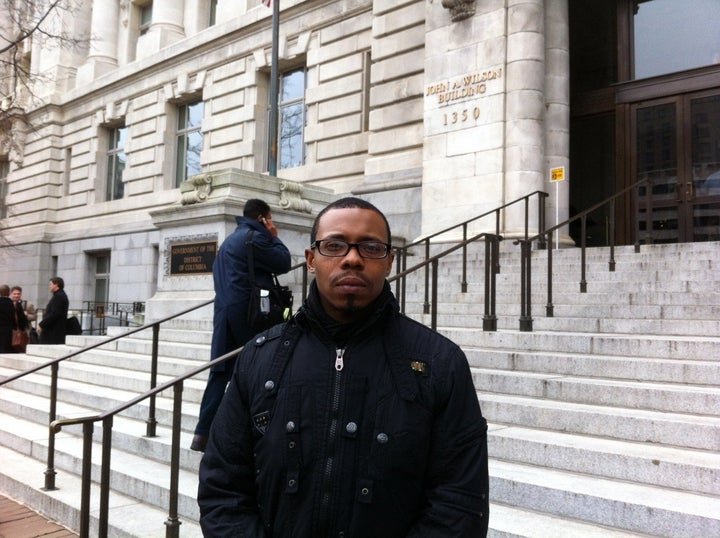 WASHINGTON -- Last April, a dozen HIV/AIDS activists chained themselves together inside the office of House Majority Leader Eric Cantor (R-Va.) and were arrested on federal charges. They were protesting cuts to HIV/AIDS programs and a proposal that would have prevented the District of Columbia from spending its own money for needle exchange programs. (The needle exchange restriction was ultimately dropped in the final budget deal.)
The same day, 41 D.C. voting rights activists, including Mayor Vincent Gray, also were arrested on Capitol Hill. They were charged with misdemeanors by the D.C. attorney general. Most, including the mayor, paid a $50 fine.
Some of the HIV/AIDS protestors, along with their supporters, gathered Wednesday on the steps of the D.C. government's Wilson Building in an effort to get the charges against them dropped by the U.S. Attorney's Office. They complained that compared with the voting rights activists, the HIV/AIDS protestors have been treated harshly.
One of the HIV/AIDS activists is Antonio Davis, a paralegal from Philadelphia who said he's been subjected to especially punitive treatment by prosecutors. Davis was diagnosed with HIV/AIDS in 2002. He was also recently diagnosed with a painful joint disease. His doctor recommends that he use medical marijuana to manage his pain and to increase his appetite, Davis said.
The first prosecutor handling the activists' case ordered each person who had been arrested to pass three drug tests as a condition for having charges dropped. Davis' tests showed the presence of marijuana. There have been three prosecutors on the case by now, and the activists complained that each has set new conditions and failed to fulfill promises made by previous prosecutors. The other activists have been offered community service in exchange for the charges being dropped -- though they complain that prosecutors have twice refused to recognize the service.
Matthew Kavanagh said he completed 64 hours of service, twice the amount prosecutors said he had to do, and is now being required to do another 32 hours.
Because of his failed drug tests, Davis doesn't have that option. His trial is scheduled to begin May 7. He faces up to six months in jail if convicted.
Meantime, Davis said he has stopped using marijuana, causing mental and physical pain.
"I've been off of my medical marijuana for the last few months," he told The Huffington Post. "It has put me in great jeopardy with my health as well as my mental health."
"We think [marijuana] is a medicinal thing, and doctors are ordering people to do it. We think the U.S. attorneys should relax their views on it," said lawyer Ann Wilcox, who attended the press conference on behalf of the National Lawyers Guild. "But, you know, it's the federal government."
The activists' attorney, Mark Goldstone, told HuffPost he is "looking into a motion to dismiss," but hopes the U.S. Attorney's Office will decide to simply drop the case instead. Calls to the U.S. Attorney's Office were not returned Wednesday afternoon.
"The guy's got AIDS," Goldstone said. "He has a doctor's letter indicating that she's keeping track of him. It's inexplicable why they're treating him harshly."
RELATED VIDEO: HIV/AIDS activists protest Eric Cantor at Harvard in February 2011.

Support HuffPost
The Stakes Have Never Been Higher
Related
Popular in the Community