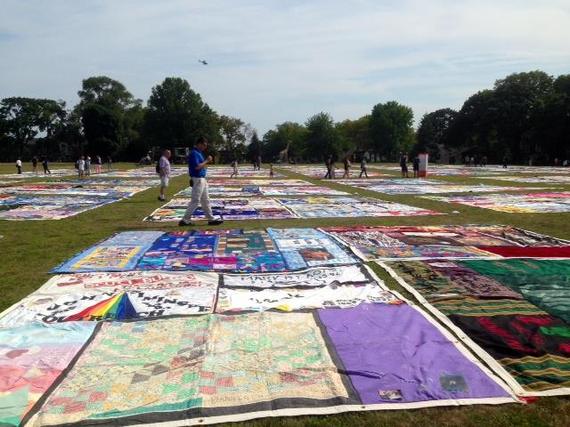 It's been more than 10 years since the AIDS quilt has been unfurled in New York, but thanks to Kiehl's LifeRide 5 it was back for two days. A 12-day motorcycle ride to raise money for HIV/AIDS research for amfAR, this ride from Milwaukee to New York has grown in scope each year thanks to celebrities who make a point to bring attention to its purpose.
The quilt contains more than 94,000 names of those that have lost their lives to this dreaded disease. There are over 47,000 panels that weight more than 54 tons. Pieces of the quilt are on display across the country and that's exactly what we had here in New York. A small fraction of that large quilt, but still powerful in its message and meaning.
When I walked over the hill on Governor's Island towards the open football sized field where the quilt was displayed, I was quickly saddened. Not from the sheer magnitude of what it implies, but because there were such few people present. It was as if the world has moved on forgetting that HIV/AIDS still exists. Sure, we have come so far since the '80s -- but there are new panels being added to that quilt as people are still dying. My initial pain quickly diminished as I witnessed younger generations looking at the quilt and discussing what they saw. I walked with my friend, reading names of those whose lives had been snubbed out while many were still in their 30s. I thought back to when I first moved to NYC in the late 80s and all of the friends I have lost. Then the motorcyclist arrived and more people came walking over the hill to join the ceremonies. We were approached and asked if we could be a part of the ceremony and unfold five of the panels during the reading of the names.
What an honor and a privilege. I felt as if were holding something so sacred as we opened each of the panels and placed them on the ground. Having never seen the quilt in person (as I didn't go to D.C. in '96), I had only witnessed this ritual on TV. The way each panel is opened, lifted and the eight people all pivot before placing it down. A beautiful moment to experience.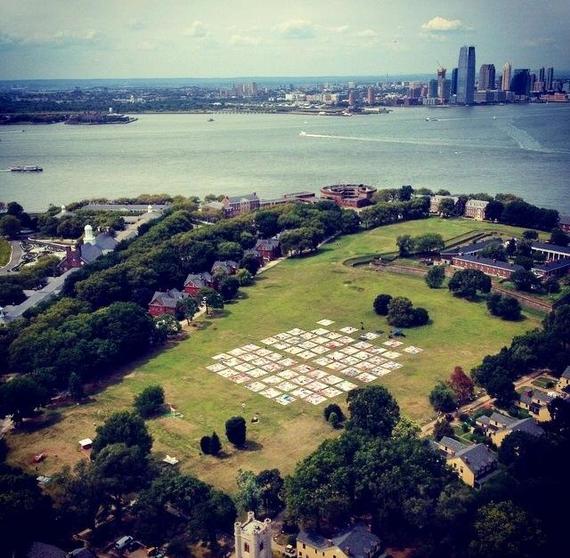 The speakers all had wonderful stories to share. None more powerful than the man from amfAR saying he hopes they are out of business by 2020 because a cure is found.
But one of the most profound moments was meeting a woman who drove from Detroit after having asked to make sure her brother's panel was displayed. That brother who was born only 9 months before me passed in 1996 and she and her family created his panel in time for the huge rally in D.C. I stood next to her thinking of my own family. Of all of the families that have lost loved ones. Wishing for her that her brother could have made it a few more years when the cocktail medicines would have been available.
A very emotional and beautiful day of remembrance. A day that I hope in my lifetime will take on a different meaning when all of those precious lives lost will be in our history books and not part of our every day. But it is still a part. It is still our present. And thank you to Kiehl's and amfAR for making this day possible for some to remember and others to witness for the first time.
REAL LIFE. REAL NEWS. REAL VOICES.
Help us tell more of the stories that matter from voices that too often remain unheard.