AIDS researchers, activists and advocates en route to the 20th International AIDS conference in Melbourne, Australia are among those believed to have perished on Malaysia Airlines Flight 17, which was shot down over Ukraine on Thursday.
The exact number of people who were headed to the conference is still unknown, but various AIDS organizations from around the globe began to eulogize the lives that were lost shortly after the crash was confirmed.
Scientist Joep Lange of the Netherlands, who has researched the AIDS virus almost since its discovery, was among the first identified as a passenger on the flight, as was his colleague and partner Jacqueline van Tongeren, who was head of communications at Amsterdam Institute for Global Health and Development, reports the Associated Press.
World Health Organization spokesman Glenn Thomas is also among the dead, confirmed WHO, as well as three Dutch AIDS activists and advocates, reports the Washington Post. They are Lucie van Mens, Martine de Schutter of Bridging the Gaps, and Pim de Kuijer of Stop AIDS Now.
An estimated 35.3 million people around the world are living with HIV/AIDS. The deaths of these AIDS researchers and activists is a huge loss to the international AIDS community and the world at large, as they broke new ground in terms of medical treatment for patients, led public health and policy efforts and worked to de-stigmatize the disease.
Dr. Peter Singer, CEO of the global health organization Grand Challenges Canada, put it best in this tweet:
Joep Lange, a leader in the field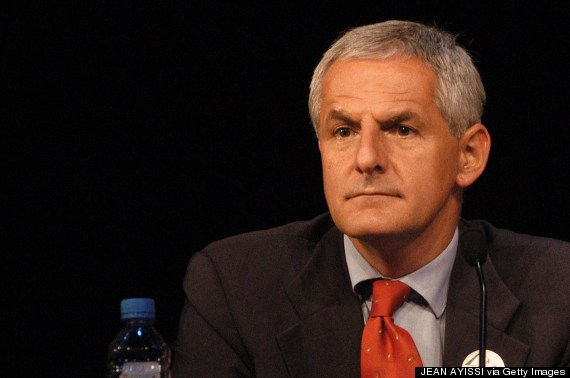 "Joep Lange was intimately involved in the design and implementation of several studies of anti-HIV drugs," Dr. Bruce Walker of the Ragon Institute told HuffPost. "Those studies have created the knowledge we have today that's keeping patients alive." At the time of his death, Lange had published over 350 studies.
Lange refused to give up on HIV/AIDS patients.
When expensive antiretroviral drugs first came on the market, it became clear that not all HIV/AIDS patients would be able to afford the life-improving drugs. Lange fought for global drug access, especially for the world's poorest patients. His actions raised the bar in terms of what could be done for the millions who were acquiring AIDS around the world, and they set off a wave of global initiatives that turned out to vindicate his stance on access for all.
He safeguarded the next generation.
Without intervention, HIV/AIDS can be transmitted from mother to baby in utero or via breastmilk. Lange pioneered research on simple and affordable treatments to prevent mom-to-baby transmission, especially crucial in countries where formula milk is too expensive for most families. Here's just one example of his research: In 2003 he came up with a method for dosing babies with anti-retroviral drugs for the first few months of their lives so that they could continue to breastfeed.
He recognized HIV/AIDS as a global problem
Lange was passionate about confronting the disease head-on, and he knew that it would require an international effort. During his career, he served as chief of clinical research and drug development at the Global Programme on AIDS at the World Health Organization in Geneva, presided over the International AIDS Society and founded PharmAccess Foundation, a health care access organization in Africa.
Another of his many global campaigns was HIVNAT, an HIV research center in Bangkok that involved researchers from Netherlands, Australia and Thailand was among the first of its kind in a developing nation. Its aim was to prevent HIV/AIDS from gaining a stronghold in Asia. Professor David A. Cooper of UNSW Australia co-founded HIVNAT with Lange, and he released this statement through his university:
"Joep had an absolute commitment to HIV treatment and care in Asia and Africa," Professor Cooper said. "The joy in collaborating with Joep was that he would always bring a fresh view, a unique take on things, and he never accepted that something was impossible to achieve. Our joint work in Bangkok, the HIVNAT centre, will stand as his legacy."
At the time of his death, Pim de Kuijer was a lobbyist at STOP AIDS NOW!, a Dutch organization aimed at stopping the spread of AIDS in developing countries. According to the organization's website, de Kuijer's department lobbies Dutch and European governments to develop an international, comprehensive and sustainable response to AIDS.
"He was an outspoken advocate on human rights, especially the position of women in society and position of gays in society," his brother added.
Lucie van Mens, a champion for the female condom
In a field that prioritized male condoms for the prevention of HIV/AIDS transmission, Lucie van Mens championed the female condom. At the time of her death, she was a Director of Program Development and Support for the Female Health Company, a female condom manufacturer based in Chicago.
She started researching HIV/AIDS and STIs back in 1995, according to a press release. Van Mens also worked as a coordinator for Universal Access to Female Condoms, a partnership that included Oxfam Novib, Rutgers WPF and the Dutch Ministry of Foreign Affairs, as well as the organization STOP AIDS NOW!.
Martine de Schutter, a voice for the marginalized
Martine de Schutter was a program manager for the coalition Bridging the Gaps, an organization that focused on treatment access and services for LGBT, sex workers and people who use drugs. During her career, de Schutter had successfully lobbied to get important but marginalized populations included in the current EU HIV policy, Buzzfeed reported.
Throughout my (professional) life I hope to contribute to making the world a better place to live, work and love. My long-term experience abroad (working and living for 10 years in Argentina, Bolivia & the United States) and shorter-term missions to many countries in Latin America and (Eastern) Europe has added much value to my professional and personal life. As a cultural anthroplogist specialised in gender and sexual and reproductive health, including HIV/AIDS, pro-active defence of human rights and the right to good health is at the core of my work.