By Susan Blumenthal, M.D., M.P.A. and Shaina Vinayek, M.S., M.P.H.
The 25th anniversary of World AIDS Day on Dec. 1 was a fitting occasion to mark the progress that has been made towards ending this disease globally and to identify the challenges and opportunities that lie ahead. In 2012, an estimated 35.3 million people were living with HIV, a 33 percent decline since 2001, but only 9.7 million (27.5 percent) of them were receiving lifesaving antiretroviral therapy (ART). Even with 1.6 million more individuals on ART in 2012 compared to the previous year, and with a 30 percent decline in AIDS-related mortality from a peak of 2.3 million deaths worldwide in 2005 to 1.7 million in 2011, there is still much to do to get to zero new infections, to ensure that all HIV-positive persons globally receive effective treatment, and to prevent and cure the disease.
As a result of globalization, the spread of infectious diseases including HIV/AIDS, tuberculosis and malaria does not respect state or national borders. The good news is that solutions to these epidemics cross communities and countries as well. The Global Fund to Fight AIDS, Tuberculosis and Malaria is one of the most effective solutions the world has known to address these deadly diseases saving an estimated 100,000 lives per month. It is the world's largest multilateral funder of programs to prevent, treat and care for people with HIV/AIDS, TB and malaria providing more than 20 percent of international funding for HIV/AIDS, the majority of global financing for tuberculosis, and more than 50 percent of global funding for malaria. Since its establishment in January 2002, the Global Fund, a landmark public-private partnership among developed and developing countries, the private sector, civil society and affected communities, has provided $22.9 billion for over 1,000 grants in 151 countries to eliminate these three leading infectious disease killers. The Fund receives support for its initiatives through a triennial replenishment cycle in which countries and stakeholders pledge funding commitments as a critical component of their foreign assistance and economic development missions to save lives and alleviate suffering around the world.
As of December 2013, the Global Fund has supported programs that:
-- Placed 6.1 million people living with HIV/AIDS on antiretroviral therapy
-- Distributed 360 million insecticide-treated nets to prevent malaria; and
-- Supported the detection and treatment of 11.2 million cases of TB
At the Fourth Replenishment Conference in Washington, D.C., Dec. 2-3, 2013, donors from around the world pledged $12 billion over the next three years (2014-2016), the largest amount ever committed to the fight against these illnesses. This amount represents a 30 percent increase from the Global Fund's last Replenishment Conference in 2010.
President Obama pledged $1 for every $2 contributed by other countries and organizations, up to $5 billion, as the U.S. commitment to the Global Fund. As the largest contributor to the Fund from its establishment and as a reflection of America's continuing leadership, this amount represents one-third of the $15 billion (over three years) needed to further the mission of the Global Fund to achieve "a world free of the burden of HIV/AIDS, tuberculosis and malaria with better health for all," and was a $1 billion increase from the 2010-2013 replenishment cycle.
This highly effective program has spanned two Administrations and enjoys wide bipartisan support. At the conference, Secretary John Kerry underscored his significant support for the Fund, noting that:
It's really a stunning story that speaks to the extraordinary progress that we've been able to make together in our global health efforts. It's also a story about how the world came together to support a 40-fold increase in people receiving lifesaving antiretroviral treatment during the past decade alone. It's a story about how the global target of a 50 percent reduction in TB-related deaths by 2015 is now actually within reach. It's a story about cutting malaria so dramatically in some regions that infant mortality has dropped by a third.
The goals described by the U.S. Department of State for America's contributions to the Global Fund include:
-- Saving more lives by driving through smart, effective investments for maximum impact: The U.S., as the largest contributor to the Fund, supports the organization's new funding model established in 2011 that includes an independent review process for grants as well as an emphasis on transparency and accountability while fully mobilizing and disbursing resources. Further, the Fund's Country Coordinating Mechanisms now set clear timelines with tools to measure progress so that all parties can be held accountable for action steps.
-- Continuing to demonstrate U.S. leadership in the ultimate measurement of success - increasing the number of lives saved: The U.S. has contributed $8.5 billion over the past decade and renewed its contribution to the fund with a $5 billion dollar matching pledge for 2014-2016. Significant changes in the Fund's business model, management team, evaluation procedures, and financial systems should result in a more efficient, effective system to save more lives and promote better health.
-- Leveraging other donor nations' contributions in order to save more lives, increase life expectancies, and alleviate suffering: The U.S. funding strategy serves as a challenge to other donors. If other nations and private sector contributors scale up their commitments, the Global Fund can proceed with new rounds of grants while continuing to support existing programs during 2014-2016.
Given the economic constraints being experienced by many nations worldwide, the goal of achieving an AIDS-free generation must now, more than ever, be a shared responsibility. This means that other donor nations and private sector organizations will need to contribute $3.35 billion annually or approximately $10 billion over the next three years to unlock the full $5 billion U.S. pledge to the Fund. Thus far, many donor nations have risen to the challenge with the U.K., France, Japan, the Netherlands, Norway, Sweden and Finland either maintaining or increasing the size of their pledges to the Fund (see graphic below). Additionally, there have been important contributions from the European Commission, corporations, individuals, faith-based organizations, NGOs and foundations including the Bill & Melinda Gates Foundation and (RED). At the Replenishment Conference, Bill Gates emphasized that "the private sector is not only an important funder but contributes knowledge and tools that help enhance the Global Fund's impact."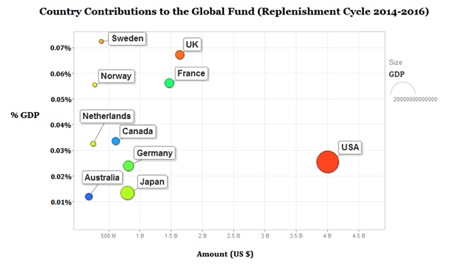 Figure 1: This graph depicts the contribution by major donor countries during the Global Fund Replenishment Summit in December 2013, as a percentage of their 2012 GDPs. The United States has been able to unlock only 80 percent of what it pledged to the Global Fund because contributions from some other countries have fallen short so far.
An exciting and important development has been the leadership of countries that received Global Fund support including Namibia, Rwanda, Zambia, Botswana and Tanzania, and are now taking ownership of their nations' response to HIV/AIDS. These countries are not only providing financing for some of their in-country programs but also, in several cases, proudly contributing back to the Global Fund, which has provided vital resources to fight these nations' epidemics over the past decade. This means that the Global Fund has already, after only a decade of operation, begun to recoup financial returns on its investments.
However, despite this progress and the generous contributions of many nations, the total amount donated so far is not sufficient to enable the United States to unlock all of the funds it pledged in the 2-to-1 challenge. At the close of the Replenishment Conference on Dec. 3, $8 billion had been pledged by other donor countries and private sector groups, enabling only $4 billion of the $5 billion U.S. contribution to be released.
Consider this: the $3 billion dollars needed from other nations and organizations to fully support the Global Fund's replenishment is roughly equivalent to one-fourth the cost of a single aircraft carrier ($13 billion) or 15 percent of the bonuses given to Wall Street bankers this year ($20 billion).
So in this year of the 25th anniversary of World AIDS's Day with its theme of "Shared Responsibility: Strengthening Results for an AIDS-Free Generation," what better time to reaffirm every nation's support for the lifesaving work of the Global Fund. There is still time for donor countries, private sector organizations, and individuals to contribute and it is vital that they do so for at least two important reasons: building a healthier future for people worldwide, and fostering critical partnerships and collaborations that connect communities and countries in a shared mission and responsibility. Just think: If all high income countries were to contribute just $4 per person annually over the next 3 years of this replenishment cycle (approximately 0.03 percent of their 2012 GDPs) -- and several have made this commitment already -- an AIDS-free generation might be achievable in our lifetimes. And what a victory that would be for humanity!
Rear Admiral Susan Blumenthal, M.D., M.P.A. (ret.) is the Public Health Editor of The Huffington Post. She is the Senior Policy and Medical Advisor at amfAR, The Foundation for AIDS Research in Washington, D.C. and also a Clinical Professor at Tufts and Georgetown University Schools of Medicine. Dr. Blumenthal served for more than 20 years in senior health leadership positions in the federal government in the Administrations of four U.S. presidents including as Assistant Surgeon General of the United States, the first Deputy Assistant Secretary of Women's Health, and as Senior Global Health Advisor in the U.S. Department of Health and Human Services. She also served as a White House advisor on health. Prior to these positions, Dr. Blumenthal was Chief of the Behavioral Medicine and Basic Prevention Research Branch and Chair of the Health and Behavior Coordinating Committee at the National Institutes of Health. She has chaired numerous national and global commissions and conferences and is the author of many scientific publications. Admiral Blumenthal has received numerous awards including honorary doctorates and has been decorated with the highest medals of the U.S. Public Health Service for her pioneering leadership and significant contributions to advancing health in the United States and worldwide. Named by the New York Times, the National Library of Medicine and the Medical Herald as one of the most influential women in medicine, Dr. Blumenthal was named the 2009 Health Leader of the Year by the Commissioned Officers Association and as a Rock Star of Science by the Geoffrey Beene Foundation. She is the recipient of the Rosalind Franklin Centennial Life in Discovery Award. Her work has included a focus on HIV/AIDS since the beginning of the epidemic in the early 1980s.
Shaina Vinayek, M.S., M.P.H. served as an Allan Rosenfield Public Policy Fellow with amfAR, The Foundation for AIDS Research in Washington, D.C. Shaina earned her Master of Public Health degree from Columbia University Mailman School of Public Health and her Master of Science degree from Georgetown University.