 AIG won't join ex-CEO Maurice "Hank" Greenberg's lawsuit against the U.S. government over the insurance giant's financial crisis bailout, the Wall Street Journal is reporting.
AIG's board met Wednesday to hear a pitch from Greenberg, asking the company to join his $25 billion lawsuit accusing the government of violating shareholders' rights by bailing out the company.
Greenberg filed the suit in 2011, and it claims that the terms of the bailout -- including giving billions to AIG's clients, the government taking a more than 90 percent stake in the company and the deal's steep interest rates, stripped shareholders of tens of billions of dollars -- according to The New York Times. Despite the complaints, the government weakened the terms of the deal shortly after the bailout, perhaps to the benefit of shareholders, according to a separate NYT report.
After the NYT reported Monday night that the insurance giant was considering joining Greenberg's suit, Washington policymakers lashed out at AIG. Treasury Secretary Timothy Geithner and Federal Reserve Chairman Ben Bernanke were "furious" about the possibility of an AIG lawsuit, according to Politico. Sen. Elizabeth Warren (D-Mass.) said in a statement on Tuesday that "it would be outrageous for this company [AIG] to turn around and sue the federal government because they think the deal wasn't generous enough."
And Austan Goolsbee, a former top economic adviser to President Barack Obama, lashed out on Twitter. "Dear AIG, Hi, I'm one of the 300m Americans whose $ saved you. I think I speak for all of us (incl your moms) when I say GO SCREW YOURSELVES," he wrote.
The U.S. Treasury Department sold its last stake in AIG in December, ending the bailout. Earlier this month, the company launched an ad campaign thanking America for its help.
Support HuffPost
The Stakes Have Never Been Higher
Related
Before You Go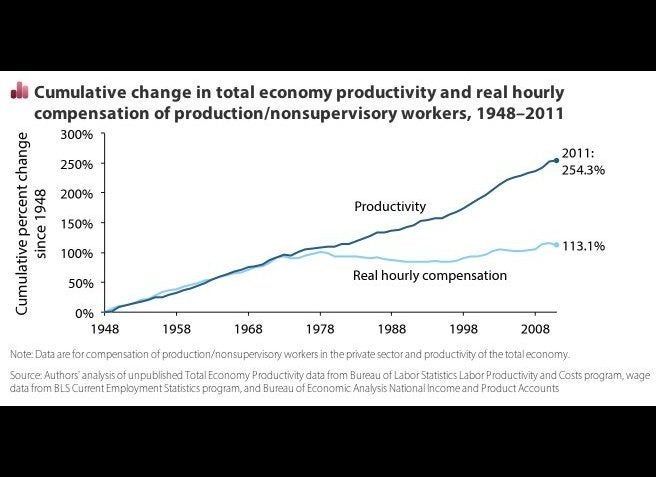 10 Ways The U.S. Is Getting Worse For Most Americans
Popular in the Community