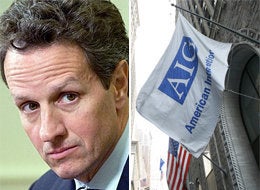 AIG's former derivatives chief said Wednesday that taxpayers overpaid Wall Street for their AIG-related holdings, telling a federal investigative panel that he could have gotten "a much better deal" than the Federal Reserve Bank of New York.
Joseph Cassano, the chief executive of AIG Financial Products from 2002 to 2008, told the Financial Crisis Inquiry Commission that the New York Fed's rapid move to settle claims by counterparties to AIG's derivatives deals at 100 cents on the dollar "made me scratch my head."
"We had contractual rights," Cassano said, explaining that the once AAA-rated insurer could have fought Wall Street counterparties like Goldman Sachs, which were using their contracts to exact concessions.
"I don't understand why people didn't look at the contracts," Cassano said. "I don't think taxpayers would have had to accelerate a $40 billion payment" to settle those claims.
The New York Fed, then led by current Treasury Secretary Timothy Geithner, quickly moved to pay AIG's counterparties full value for the securities underlying the insurance-like contracts AIG had underwritten, paying out more than $40 billion. Wall Street and foreign firms ended up receiving and keeping more than $62 billion in what many in Congress have called a "backdoor bailout."
"I would have been able to negotiate substantial discounts," Cassano said, noting his own experience in exacting concessions from AIG's counterparties during his time atop the firm's derivatives unit.
Asked if he would have been able to settle those contracts without any taxpayer cash -- had he not left in early 2008 -- Cassano said, "I don't want to say any money, but I think I would have been able to negotiate a much better deal than what the taxpayer got."
Andrew Williams, a Treasury Department spokesman for Geithner who also served him during his time atop the New York Fed, dismissed Cassano's claims.
"Two years after the financial conflagration began, every amateur firefighter has a theory about how it might have been done differently, but ideas from those who lit the kindling aren't particularly disinterested or useful," Williams wrote in an e-mail.
"Cassano did acknowledge that Treasury and the taxpayers (and not AIG) now stand to benefit from the significant upside in the ML III portfolios -- even if he disagreed with the decision to take those assets out of AIG's hands," Williams added, referencing the New York Fed-created investment vehicle that purchased the underlying securities from AIG's counterparties at full value and continues to manage those investments today. Officials from Treasury and the New York Fed claim taxpayers will be made whole on the AIG bailout, and may even turn a profit.
Market participants and independent analysts strongly dispute that claim. Cassano, though, said Wednesday that he believes those assets "will perform over the test of time."
"If I was able to stay as chief negotiator of the collateral calls of these transactions, I would have used all of the rights and remedies available to us," Cassano told the investigative panel. "And in that process I think we would not have had to forward the $40 billion the government did at that time, and I would have been able to negotiate deep discounts from counterparties."
READ the FCIC's timeline of Goldman Sachs's calls for more collateral from AIG:
Popular in the Community