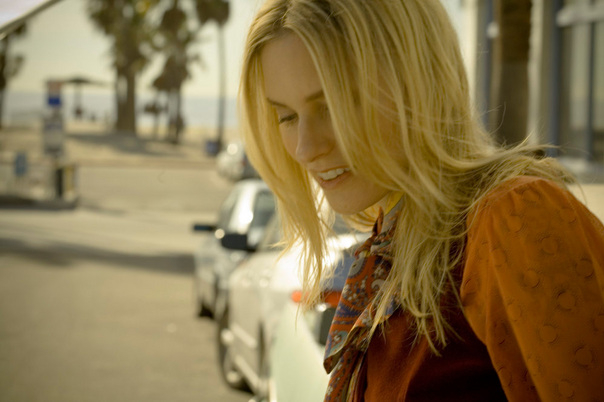 Photo credit: Sheryl Nields.
Talking with Aimee Mann is a little like listening to her music. In the rhythm of her speech, her pursuit for the right word or the answer to the question at hand, you can hear traces of her songs. It's in the pacing, thoughtfulness and timing as she builds on what she has to say. We spoke recently as she was taking a bit of a break from the studio while completing her next album, Charmer.
We covered a lot of ground in talking about the new album, her writing process, laziness, narcissism, super pop music and Twitter. Charmer will be Mann's eighth or ninth album depending on how you count. From her work with Til Tuesday in the '80s to the award-winning Magnolia soundtrack, to acting appearances in The Big Lebowski and Portlandia, it's hard to believe that Mann considers herself sort of lazy.
She's still at work on Charmer, but far enough along to talk about the new songs and the sketches of people she's created with her music.
I found myself writing a lot of songs that kind of explored different... ideas of charm and people who are charming and what that is and how that can be sometimes really fun, ... but sometimes it's very manipulative and there's a darker side. That's a bit of a theme on the record.

If you think about the most charming people, I mean narcissists are really charming. And they're charming because if you're a person who's concerned about appearances, your talent is knowing how to create a great appearance. So they're really good at it for a while. It takes a while to realize that there's not much going on underneath or it's a fairly selfish pursuit.
I was surprised to hear that her musical influence for this album came from listening to a lot of what Mann called "super pop" from the '70s and '80s. She listed artists and groups like ABBA, The Ozark Mountain Daredevils and The Cars. "Jackie Blue" by The Ozark Mountain Daredevils was a touchstone for the album. I hadn't heard this song in a long time, but listening to it and thinking about Mann's music, I could hear an open, relaxed groove that matches Mann's sensibility. It'll be interesting to hear Charmer and listen for this. Like most artists, Mann wonders about how this all translates for her audience:
I think the hardest thing for me is to try to describe what my music sounds like. You can have a certain thing as an influence and you can try to do a certain thing and it never really sounds like that to other people. Even saying pop music, what does that mean to people? Is that Justin Beiber? Or is that Neil Diamond?

I think you have to be really in tune with what you're interested in... , but when I was about to make this record I thought -- well, what should I do? And then I started thinking about what stuff I've been listening to that I got a kick out of. I realized it was this really pop, ABBA, Jimmy Webb kind of stuff.

In the studio my goal is to get him [keyboardist Jamie Edwards] to play stuff that is so ridiculous it makes me laugh and then I feel like that's the sound I want on the record because it's almost too much... And it's goofy and I don't know how that translates to anybody else, but to me that's part of making a good sound. Something with enough contrast so that it's almost a little too much. I sort of told everybody that there should be one ridiculous thing on each song.
Aside from the new album, Mann has an upcoming concert on Jan. 13 at the Two River Theater in Redbank, N.J. through Music Works Entertainment. This led us to talking about performing and how that's changed over the years since her days with Til Tuesday.
I haven't thought about it in terms of stage presence, but I feel totally different. I was wildly uncomfortable with everything when I was 25... We played a lot of club gigs in New England but our first tour we got on this arena tour with Hall and Oates and I just felt like I didn't know what to do with that. I felt like there was this pressure to be really commercial and a performer and that's just not my thing at all. I certainly didn't know what to say on stage, but I didn't know what to say off stage either. Most of my memory of being with Til Tuesday was just wildly scrambling to figure out how to deal with the stuff that was coming my way and I didn't feel equipped for it at all.

It's easier now to have an attitude of you get up and do your best and you can't really worry about the effect you have on people. Some people will like it, some people won't. A lot of that isn't really up to you. If there's a situation in which you're going to be really uncomfortable, then just don't do it.
REAL LIFE. REAL NEWS. REAL VOICES.
Help us tell more of the stories that matter from voices that too often remain unheard.