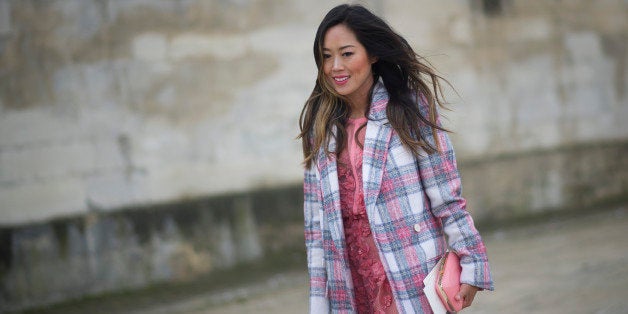 If there are two things we love in this world it's comfortable footwear and stylish people. So when we found out that Havaianas was partnering with fashion blogger Aimee Song of Song Of Style in celebration of their redesigned New York City pop-up shop, we were delighted.
The event was filled with bright flip-flops, delicious snacks and of course, fashionable editors, but Song still managed to stand out from the crowd in a pink leather jacket and flirty white skirt. Lucky for us, we got the chance to chat with the über successful blogger (the girl's got over 1 million Instagram followers) and grill her about her drool-worthy style, least favorite trends and how she makes flip-flops look so damn good.
Since this is an event all about flip-flops and you wear them all the time on your blog, what's your secret to making such casual footwear suitable for day-to-day life?
I think the key is, instead of wearing plain flip-flops [go for ones with] patterns on the bottom. I feel like putting your personality into them is really good. [And] keeping the rest of the outfit clean because flip-flops are so casual, if you go with a casual outfit you're going to look like a beach bum -- pay attention to your jacket or jewelry.
Is there one place you would absolutely never wear flip-flops?
Honestly, it used to be the airport. I had never worn flip-flops to an airport until recently, and I didn't realize how comfortable it was. I guess I wouldn't go to a concert in flip-flops because I wouldn't want to get stepped on.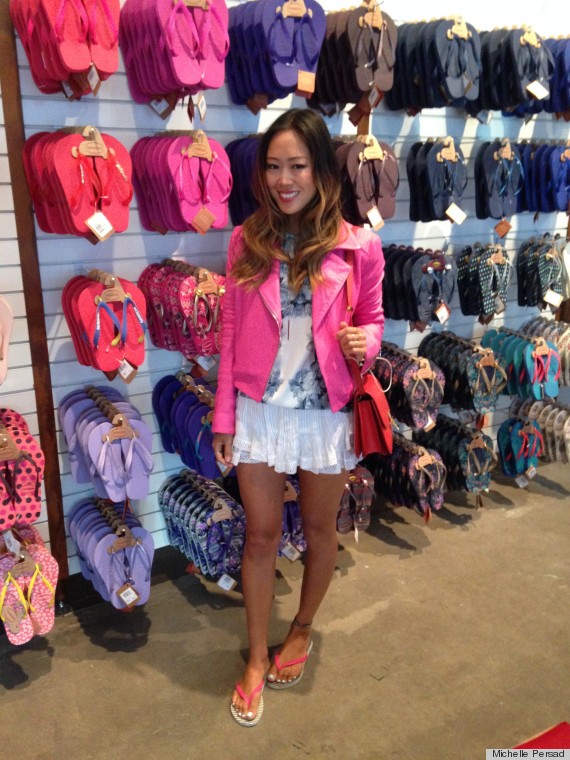 Speaking of flip-flops and warm weather, you were born and bred in L.A. -- do you notice any big style difference between L.A. and New York?
Well, the biggest difference is in L.A., we wear more color than NY. The other thing is, in L.A. I feel like we're a lot more casual and L.A. [style] can be a little bit redundant because we only have one season, basically. I feel it's more seasons, but it's really not -- it's only because I was born and raised in L.A., I feel like winter is cold, but it's really not. We only have one season so I don't get to play around that much, as opposed to New York where you have four seasons so people get to experiment more and layer.
You have made a name for yourself in the fashion world through your blog, and today, there are thousands of fashion blogs out there -- why do you think yours has remained so popular?
I think it's because I still have a full-time job [as an interior designer] and readers can probably relate to me more than other bloggers in that sense. And I also mix a lot of high and low. You know on my off-days, I'm wearing flip-flops or I'm wearing jeans, I'm not wearing high heels all the time. If I'm splurging on a pair of shoes or a handbag, then I'll go the budget route and shop at high street. So I feel like I'm able to mix and match price points.
Fashion bloggers get a lot of free clothing. Do you ever turn things down because they are not your style?
I think I say no all the time. When [designers] ask for my address, I always ask them if I can choose what I want to wear, because obviously everyone has a different style and they might not know exactly what I want. So I always ask if I can choose. If not, I don't give out my address.
Do you have any favorite stores or brands?
For affordability and trendier pieces, I always like Zara and H&M. I also love J.Crew and Madewell for mixing pieces. And recently, I found a new love for Ann Taylor because they make low high heels that are so comfortable. As an interior designer, I still want to look dressy but I don't want to wear my five inch high heels so I'll wear the Ann Taylor heels that are only two inches tall. For designer piece,s I really love Isabel Marant, Alexander Wang, Chloe and Balenciaga.
Is there any trend you're sick of right now?
I'm kind of sick of seeing Isabel Marant sneaker wedges, and I don't know if it's a trend, but I'm really tired of seeing people with their Balenciaga boots -- you know, the combat Dr.Marten boots with the cut-outs? I just feel like, whenever one thing is popular, everyone jumps on it and everybody wears it.
Are there any new fashion bloggers you're really excited about?
My sister just started a blog, so I'm really excited for her. She's a horrible blogger though, she doesn't update much [laughs]. But then again, I feel like it kind of works for her because she is doing it for the right reasons. A lot of new fashion bloggers always ask me the same questions: How do you get popular? How do you start making money? And I feel like those are just the wrong questions to ask if you're going into blogging. Like I started six years ago because I genuinely really liked taking pictures of myself and sharing it with the world and it just happened to take off. So I just feel like if you have the right motive, it will take off.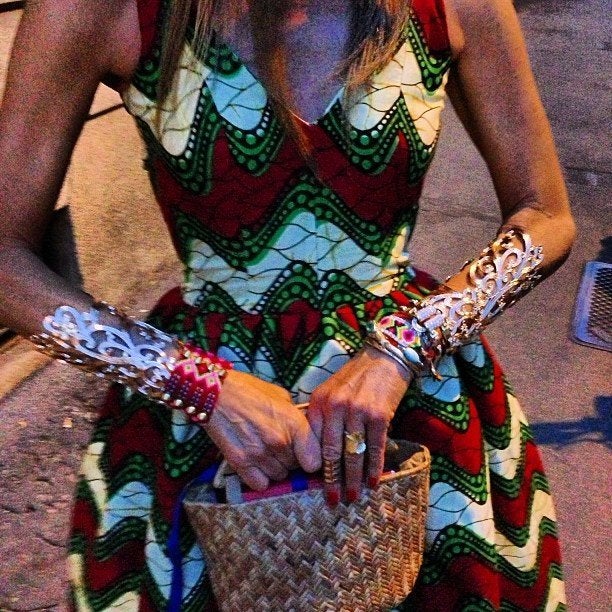 Instagrams We Love