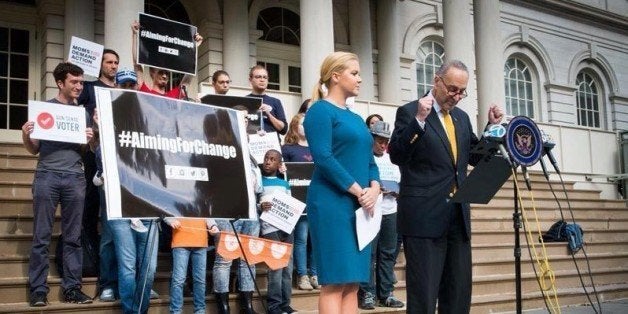 The day after the shooting in the Lafayette movie theater at a showing of Amy Schumer's film Trainwreck, I pulled up a blank Google Doc and began writing my thoughts. I do this often after incidents of gun violence, because I am always brought back to the day my mother survived Sandy Hook. Writing helps me pick up the pieces each time.
This document became an "Open Letter to Amy Schumer," which I self-published. After the piece was tweeted to her many times, it went viral, and Schumer responded. She tweeted to "not worry," that she was "on it." I didn't expect her to see it or to respond. And to see that she was already planning on taking action? Beyond amazing.
But what made me most grateful in her tweet to me was when she corrected my spelling of Mayci Breaux's name. As the daughter of a survivor of a mass shooting, I have experienced so many instances of journalists spelling my name, my mother's name, or even Newtown wrong. It hurts. I hate it every time. I couldn't believe that I made the same mistake myself. Amy correcting me proved that not only did she read my letter, but that she cares enough about Mayci and Jillian to reach out and say something.
I would have done the same thing. I have done the same thing. I just knew that she got it.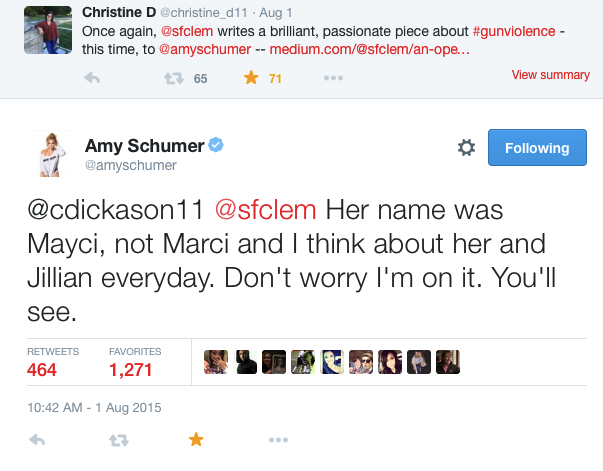 In addition to her response to my letter, Amy Schumer's birth control sketch on her show last year bravely highlighted America's hypocrisy when it comes to what we deem as "rights" and regulations of those rights. She has spoken in support of gun reform legislation, and produced a parody commercial on Saturday Night Live which addressed the myth that we are safer with more guns everywhere. She has even championed her cousin Sen. Chuck Schumer's common sense gun reform legislation.
This Sunday at a press conference held by the Schumers, her voice cracked as she talked about living with the memory of Jillian and Mayci every single day. She told the stories of a young boy accidentally killed by his brother because the gun wasn't stored properly; a little girl in Long Island who was killed by a stray bullet that flew into her living room; dozens more mass shootings; countless homicides on the streets and in homes.
Amy showed that the personal is political. Jillian Johnson and Mayci Breaux make this personal for her. By using her position and social capital to help us focus on policy solutions and advocacy efforts with #AimingForChange, she is helping to remind a politically-cynical America that this fight is about them.
Celebrities often champion issues that are safe.
Amy Schumer is not doing that.
Gun reform has never been a popular issue to speak out on. Between the power of the gun lobby and the frighteningly visceral opposition of gun extremists, standing up for gun reform is hardly an exercise of self-interest.
The Amy Schumer who I saw on Sunday was a woman deeply impacted by gun violence, and a person who likely sees her service as an act on behalf of something greater than herself.
By listening to excluded voices, such as those of women, people of color, and young people, Amy Schumer and the more than 80 celebrities with the Everytown Creative Council -- and their millions of followers -- can use their immense talent and platform to share the stories of victims and stand in solidarity. Celebrity activism is a complicated and disputed tactic for social and political change, but why shouldn't artists and entertainers be allowed to use their prominence to inspire cultural and political change?
For far too long, guns have been a third-rail issue not only for politicians, but for celebrities, too. It is time we consider that artists are people, too, and they often share a common sense of personal responsibility through their work to inspire others. Let's stand behind cultural icons to do just that.
Last weekend, I found out Amy Schumer and Sen. Chuck Schumer were holding another press conference about the need for new and stronger gun laws. As a student in Georgetown with no job and no car, it's not easy to get to New York City, but I was determined. I managed to get there for the event, and I was admittedly starstruck when Amy Schumer walked out to the steps of city hall where activists were standing.
After speaking to the cameras, Amy came to the group and spoke with the mother and brother of Akeal Christopher, who was shot and killed on his 15th birthday in Brooklyn three years ago. She held his picture and renewed her commitment to this issue.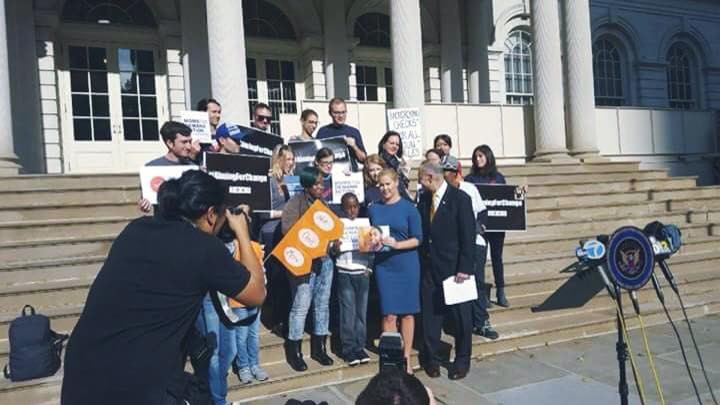 Amy Schumer holds a picture of Akeal Christopher after speaking with his mother and brother.
As she started to head back to her car, I realized that this was my chance to truly thank her for all that she has done, for being a fearless voice for change, and for responding to my letter beyond what I ever imagined. I ran off the steps of City Hall and caught up to her.
A bit out of breath, I thanked her again and reminded her to, "Please keep going." Inexplicably, I took off my Sandy Hook bracelet which I have worn every day since my mother survived the shooting. In that moment, I needed her to have it.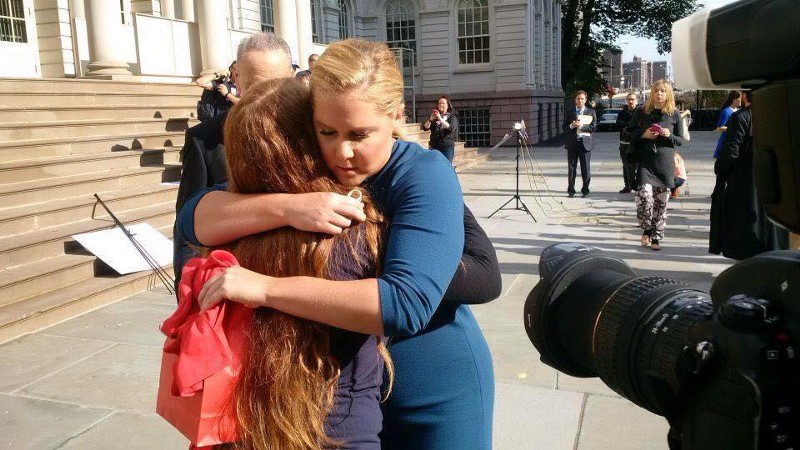 Amy Schumer graciously took the bracelet, looked me in the eyes, and said, "We will win this."
Now when I remember where my bracelet is, a sense of motivation and perspective wash over me. Amy, I hope it gives you strength to keep going. Stay dedicated, because I believe you: We will win this.
This post originally appeared on Medium.
Calling all HuffPost superfans!
Sign up for membership to become a founding member and help shape HuffPost's next chapter