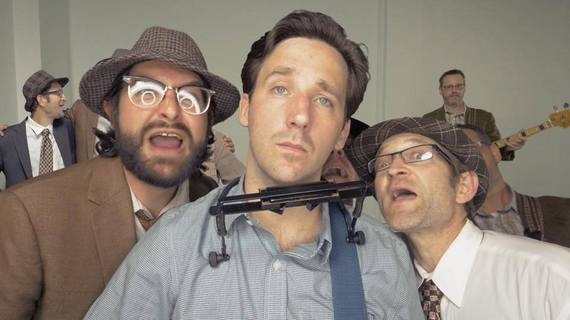 On a beer-drenched stage, a microphone once electrocuted him, but he kept singing.
Bart Cameron, the lead singer of Seattle indie band The Foghorns, once played four concerts in one day at the Seattle Weekly Reverb Festival. Cameron enjoys performing so much that he used to climb on stage armed with just his guitar and harmonica, accompanied by some dude banging on a bucket.
"I like playing live. I love connecting with a new audience," Cameron said, explaining why he agreed to play so many sets at the Reverb Festival.
"It was painful; I guess because my right hand started bleeding, and we were playing raucous songs, but I had to take the gig. I felt a connection to the Reverb Festival because it was a Ballard-based festival, it was our neighborhood, gigs at bars where our friends bartend and bus tables."
He hesitated, perhaps realizing that four shows in one day is a helluva lot, especially when you work a day job for the Department of Veterans Affairs, and have a toddler son.
"Yeah, we play a lot of gigs, but we usually don't get any attention for it."
The band has a record label -- Knick Knack Records. And while their music routinely plays on the Seattle airwaves, streams on podcasts, and The Seattle Weekly has written extensively about The Foghorns -- one music critic declared that their music is what you listen to after the party ends -- the band deserves more attention.
The Big F EP, the latest release by The Foghorns, might wake up those who haven't yet experienced the band's rebellious music, often described as folk with a blend of country twang and bluegrass.
Self-released, The Big F EP is a brutally honest collection of songs, including the newly released single, "Ain't I a Man," which Cameron describes as music that is not dishonest.
"I know people are saying it's a folk song, and I'm cool with that, but the reference really is Bo Diddley. He always sang about being a man, or what it was to be a man. Because it was relevant. Because in his time, for people like him, to say you were a man, someone who could earn a living, be sexual, be bold -- that was an act of rebellion. As it would be today," Cameron said.
Cameron sings about an America where economic inequality is the new normal, where citizens are in trouble -- socially and spiritually. An America where cities like Detroit go bankrupt and small towns (like Racine, Wis., his old stomping grounds) have become dreadfully insular.
It's an America where the 2012 median wage was only $27,519, the lowest it's been since 1998. Yet, coffee costs 6 bucks and comes with caramel and whipped cream; Miley Cyrus is in the news because she wears her underwear on the outside of her clothes; and journalism is now delivered shrink-wrapped in 140 characters or less.
"I went to write songs on this album that I could sing without being dishonest," Cameron said.
"If you live in the same America I do, everyone's in bad shape. Let's not kid anyone anymore. It doesn't mean these are End of Times. It doesn't mean we can't have fun, but I'm not going to sing a love song."
(I hope he continues singing love songs. His somber, melodic, melancholy songs about the distance that so often develops between lovers have, over the years, helped fill the silence that surrounds me after yet another one of my relationships crumbles. Songs from the CD "A Diamond as Big as the Motel 6," like "Old Bachelors in Cleveland," where Cameron pangs a slide guitar and sings with a twang, "Wasn't I happy before you / Didn't I know how to breathe / When you go someplace beautiful / Don't you gotta know that someday you gotta leave.")
On The Big F EP, Cameron seems to be warning that humanity is an endangered species. In "Ain't I a Man," he laments:
"So I'm stuck in the city where geeks are all kings / they got all the morals of Louis the 14 / they don't pay no taxes send their kids overseas / so they don't have to see the poor sleepin' on the street / makes it hard to be a man / but ain't I a man."
Cameron takes on the "look at me" America where our most precious, intimate moments are rendered irrelevant, unless photos are posted on Facebook, Twitter or Instagram.
Thankfully, his music has the humility to make it seem like everything's going to be okay. Listen to The Foghorns and momentarily believe that a decent job is at hand, sexual intimacy lingers just around the corner and movies starring a brooding, indifferent teenager portraying a vampire will cease to exist.
Cameron's songs are honest and his lyrics hurt. And he and his Foghorns plan to continue performing even if his hands bleed from strumming his guitar.
"I'd play 12 shows tomorrow if anyone would listen," he said.
Popular in the Community