AIN'T NO MOUNTAIN HIGH ENOUGH FOR COLIN O'BRADY
Will he become the fastest athlete to compete in the Explorer's Grand Slam that takes place in extreme outdoor environments across seven continents? Will his mission to raise $1 million to promote childhood health succeed? Will his nine expeditions around the globe to climb the tallest peak on each continent become the stuff of mountain climbing legends? Here's a chat with athlete Colin O'Brady, who is attempting all of the above--well, just the first and second parts, though he probably wouldn't mind the third as well...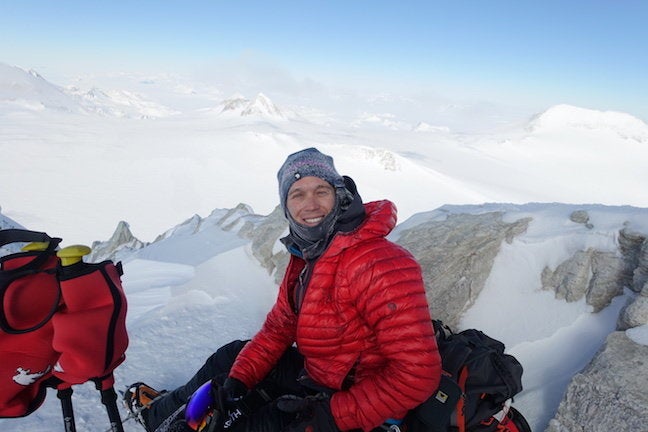 A Conversation with Colin O'Brady
Mike Ragogna: Tell me about the world record attempt you have embarked on this year?
Colin O'Brady: I am attempting to break the Explorer's Grand Slam world record. The Explores Grand Slam is a mountaineering challenge to climb the Seven Summits--the tallest mountain on each continent--and ski to both the North and South Pole. Less than fifty people have ever completed this feat. I am attempting to be the fastest person to complete the Grand Slam in less than 6 months. Currently, I am about halfway through the challenge having summited three of the peaks and completed the South Pole expedition.
MR: What inspired you to take on this challenge?
CO: I have raced as a professional triathlete representing the USA in international competition in 25 countries on six different continents over the past six years. It has been a wonderful experience to live my dream of being a professional athlete. However last year I felt that something was missing. The world record ambition and BEYOND 7/2 project was born from my desire to use my athleticism to create a platform to give back to the community. I have been a passionate advocate for children's health after being raised by parents with deep roots in the health food industry. Our goal with BEYOND 7/2 is to raise $1 million to inspire active, healthy kids in partnership with The Alliance for a Healthier Generation, a leading nonprofit working to combat childhood obesity.
MR: It's my understanding that you have faced some serious setbacks in your own life. Can you tell me about the accident that occurred, and how you battled back to overcome your injuries?
CO: In 2008, I was severely burned in a fire while traveling in Thailand. The injuries covered nearly 25% of my body, primarily on my legs and feet. I was on a remote island when the accident occurred, and the health care options were very limited the first week until I was life-flighted to Bangkok. To give you an idea of the situation, my "ambulance" ride consisted of a moped ride down a dirt path. I underwent eight surgeries in the first week, and there was a cat running around my bed in the ICU. The doctors warned I might never walk again normally. I was determined to beat the odds and focused all my energy on one day completing a triathlon to prove to myself I could make a full recovery. After more than a year of rehab, I realized my goal when I completed the Chicago triathlon and to my great surprise won the overall amateur division in 2009. That started me on the path to becoming a professional and led to where I am today, using my endurance background to tackle this world record.
MR: What is your favorite moment so far on this journey?
CO: There have been many memorable moments so far, but two specifically come to mind. Summiting Aconcagua—South America's highest mountain—was a particularly memorable moment. At 22,841ft, it was the tallest mountain I had ever climbed in my life. I was ahead of my planned arrival date so my climbing partner was not scheduled to meet me until a week later. I decided to take on the extra challenge of climbing alone. Reaching the summit completely solo on a perfect blue-sky day was a very emotional moment for me. I wept tears of joy as I reflected not only on that summit, but all of the hard work and determination is had taken me to get there.
The second moment that comes to mind is the first time the BEYOND 7/2 team sent me videos of encouragement from the local schools back home in Portland, Oregon. I had the opportunity to speak with some classrooms to share with them my story and goals prior to embarking on this journey. It was amazing to hear from the school kids and know they are inspired to stay active and healthy with goals of their own, and they are following along and cheering me on!
MR: You've accomplished five expeditions already and are about to embark on the second half of this journey. What lies ahead? What obstacles will you face on the final two expeditions, Mt. Everest and Denali?
DO: Starting again March 1st, I'm back out on expedition. I leave Sydney, Australia and head to Indonesia to climb Carstensz Pyramid, a remote mountain deep in the jungle. From there I fly over to Europe to attempt a winter ascent of Mt. Elbrus. The final three expeditions of this project are arguably the most challenging individually and given they are stacked back to back with no breaks in between. April 1st I embark on an expedition to the North Pole, then fly over to Nepal to climb Mt. Everest and I hope to finish up the world record mid-June back in North America on Denali. Each mountain presents a different challenge but the cumulative fatigue I anticipate on the second half of this project will make it more difficult. Not to mention from the North Pole which lies at sea level, I head straight to Mt. Everest, the tallest mountain in the world. This adds an additional degree of difficulty as it reduces the time I have to acclimatize my body to extreme altitude on Everest.
MR: Just the organization and logistics alone required to plan this project seem daunting, how do you manage all of that while climbing on the far corners of the world?
CO: I have a wonderful team behind me. Jenna Besaw, our Executive Director and my fiancée, dreamed up this project with me. She really is the backbone of all the work we do from logistics to fundraising, community outreach, media and PR; she is the driving force behind our mission. Marianna Brady, our Media Director, is crucial to our ability to tell this story in real-time.
We have an incredible core group of sponsors that have made this project possible. The Nike Foundation and Brian Gelber of Gelber Group are our primary sponsors, with additional support from Columbia Sportswear, Mountain Hardwear, Providence Sports Medicine, Sorel, Prana and Moosejaw.
MR: How can people follow along this journey, engage and support BEYOND 7/2?
CO: We share content daily from these expeditions and love interacting with the school kids and our following. Through satellite phone technology, I am able to blog and post on social media. Follow along on our website www.BEYOND72.com, on Facebook BEYOND 7/2, or on our Instagram and Twitter @beyond_72
The BEYOND 7/2 is an inspirational campaign and aims to raise awareness and charitable funds. Donations large and small are welcome through the donate button on our website to help support the cause. Every dollar goes directly to the Alliance for a Healthier Generation to support their programs for children's health.
Popular in the Community