Summertime in the South of Spain.
During summertime in the South of Spain, the number one priority on everyone's mind is finding the nearest body of water. Although brilliant and beautiful, the Spanish sun can also be harshly unforgiving. The radiant rays will either cause you to seek refuge in an AC alcove or send you on a mission to find the closest beach. Luckily, these beach-bound cravings can be satisfied with some of the most stunning seaside sanctuaries Europe has to offer.
After a long week spent melting in the heat of landlocked Sevilla, I was desperate to escape to the ocean. I took a peak at We Love Spain's "Portugal Paradise Weekend" tour itinerary and knew immediately that it would be the perfect way to beat the summer heat. The itinerary detailed very clearly what our weekend would have in store: fiestas and siestas in several of Portugal's beautiful and beloved beaches. Sounds like an accurate description of "Paradise" to me, sign me up!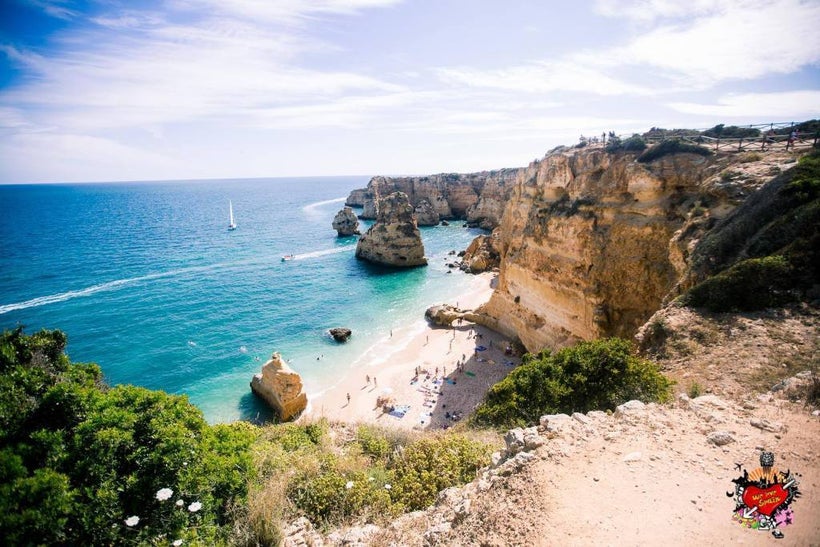 We loaded up our bus and departed early on a Friday morning from the Plaza of Cuba. Already, charged electricity seemed to intensify the air. Our group of international students and travelers filled the bus with loud music and infectious laughter, reminiscent of childhood school days. If you know We Love Spain, you know you can expect to find yourself on some bizarre and wild adventures that you never envisioned before. In this sense, I had a feeling that Portugal Paradise Weekend would definitely not disappoint.
Shortly after arriving to Portugal we immediately set for the shore and crossed beach after beach off of our beautiful beach destinations hit list. What began as a sun soaked, ocean side, fiesta manifested itself into an exploratory coastal excursion. We embarked on two different boats to explore more of what Portugal has to offer.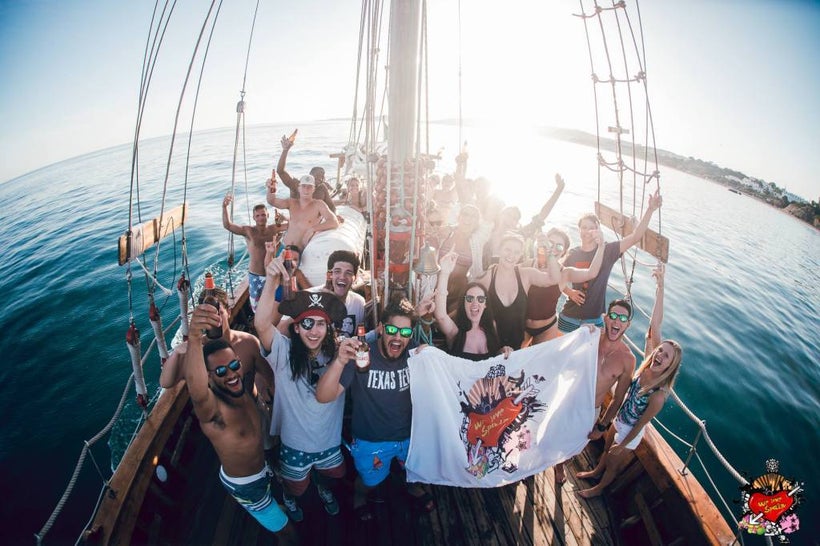 Boat number 1 offered a thrill inducing speedboat adventure. We rocketed parallel to the Portuguese cliffs that fall dramatically into the blue waters. As if discovering the nooks and crannies of the crafted coast by speedboat wasn't enough, we found ourselves in for a unique treat. A family of Orca whales had been spotted in the area and we were gifted front row tickets to see them. According to our boat driver, it is an extremely rare sighting to encounter Orcas playing in Portuguese waters. Talk about being in the right place at the right time! Even better, our boat was almost entirely alone as we stood witness to some of the most beautiful and powerful animals cruising along in their natural habitat.
In contrast to the awe-inspiring, whale watching and natural beauty outing of boat #1, the second boat supplied a very different perspective. With the stereo system in full blast we set sail on a Portuguese Pirate Party ship, a massive wooden structure fully equipped with billowing black sails which dawning a large skull and bones emblem. It didn't take long before we found ourselves cruising the high waters dressed entirely in pirate attire and performing backflips off of the starboard. As a certified shellback, I felt right at home.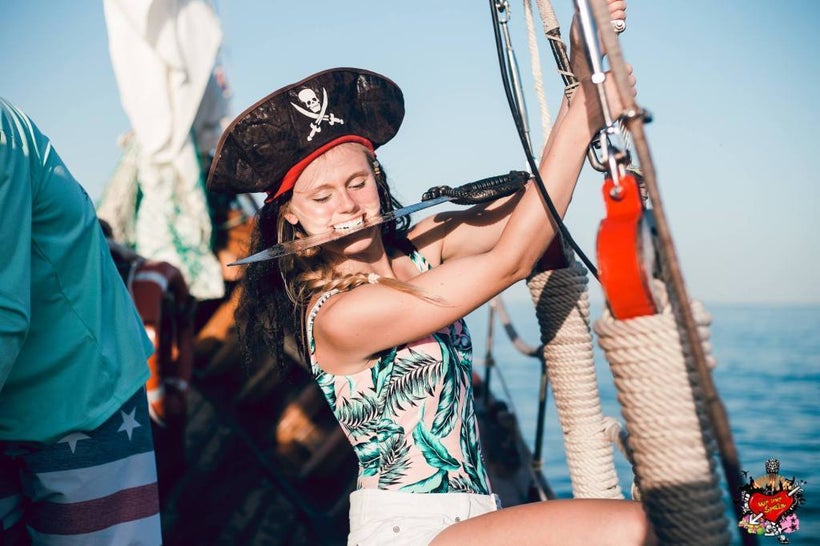 In order to adequately compete with the fun that was had during the day, the bar was set high for our big night out. We left as a large group from our hotel to discover the renown Portugal party scene. Just moments into our party parade, I realized that the bar would easily be met if not exceeded.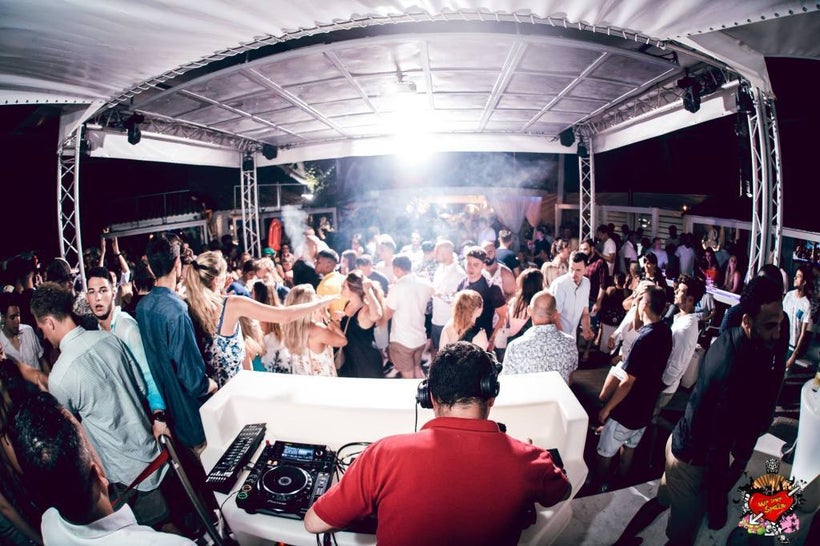 The liveliness of Albufeira's nightlife absolutely astonished me. Absorbing all of the sights and sounds, I had to do a double-take, as the Albufeira strip is shockingly similar to that of Las Vegas. Bright, flashing lights and radiant signs illuminate the crowded street of partygoers. A different rhythm and tune overflows from each bar and club that you walk by, coaxing you to come inside. Every type of party under the sun can be found on the strip, whether your looking for hip-hop, salsa, reggaeton, or club hits, Albufeira offers it all.
Actually, Albufeira nightlife is missing one thing… proper air conditioning! I would have believed that the clubs were weeding out the weak in order to find the last night clubber standing with how high the room temperature was. At one point, even the DJ began throwing out ice cubes to the crowd! Don't worry, a little heat didn't keep our group from staying out all night.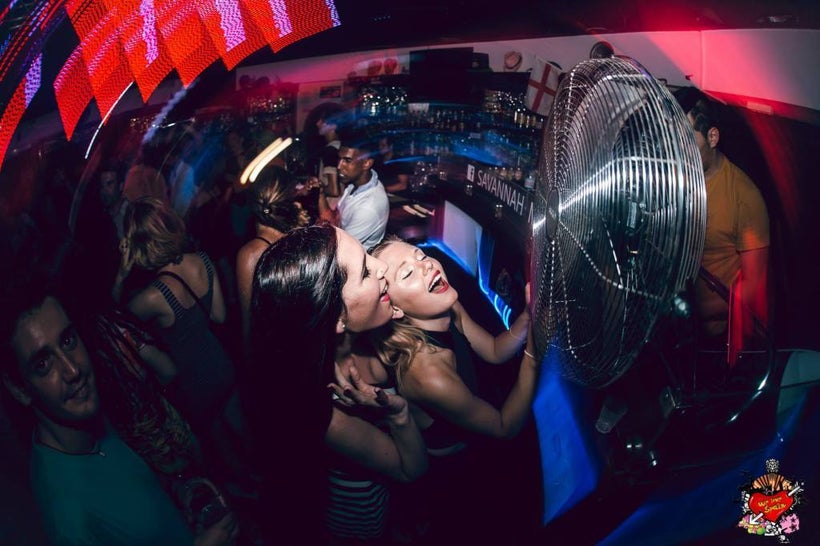 Getting up the next morning was certainly not the easiest thing I've ever done, but knowing we had a day of adventure before us made the chore a little easier. After many, many glasses of water, we set off to the explore a vantage point known as "The End of The World." When you arrive to "The End of The World" you will understand how appropriate the name is. With your tip-toes bordering the edges of cliffs that stand more than one-hundred feet high, you gaze out to the horizon only to see endless waves in all directions. "The End of The World" is the type of unique location that gives you goose bumps to think of the tiny space one occupies in such a vast, mysterious, and beautiful world.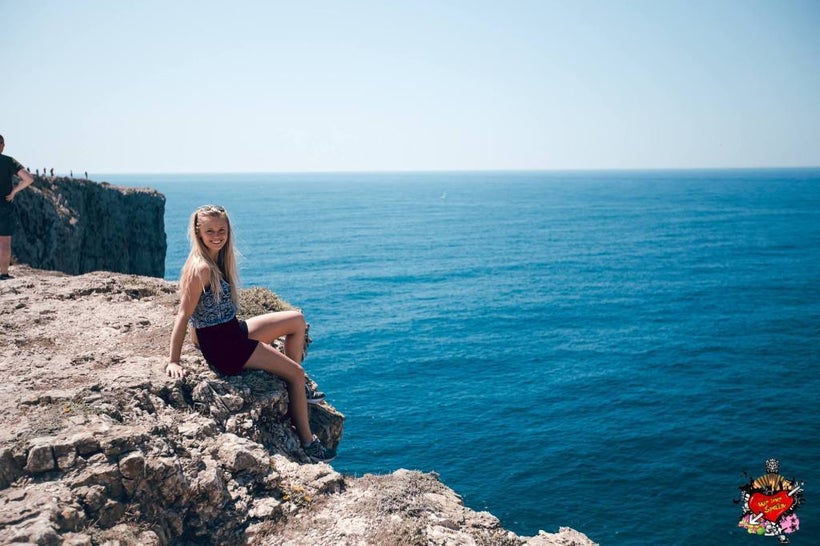 We continued the weekend beach hopping from one sandy shore to the next. All beaches were similar in the sense that they were extraordinarily picturesque, yet each beach individualized this beauty in a unique and distinct way. Some of our destinations had white, bleached sand that stretched for miles, while others presented rock-laden tide pools hidden in grottoes perfect for exploring.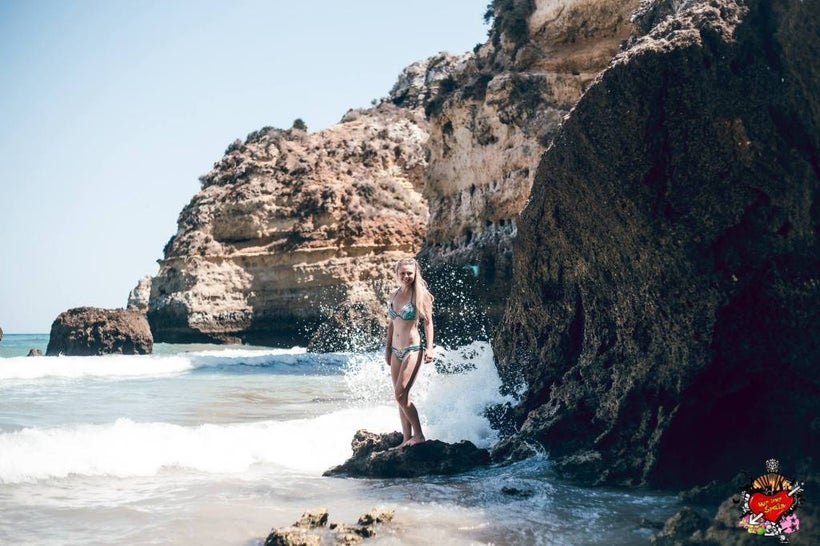 On our last adventure before the weekend came to a close, we decided to gain a new perspective of Portugal. We loaded into kayaks and paddle boards and drifted out into the refreshing costal waters. Our new modes of transportation granted us an entirely new perspective. We spent an hour or so navigating through caves and hidden alcoves along the coast and eventually ended up at a secret beach.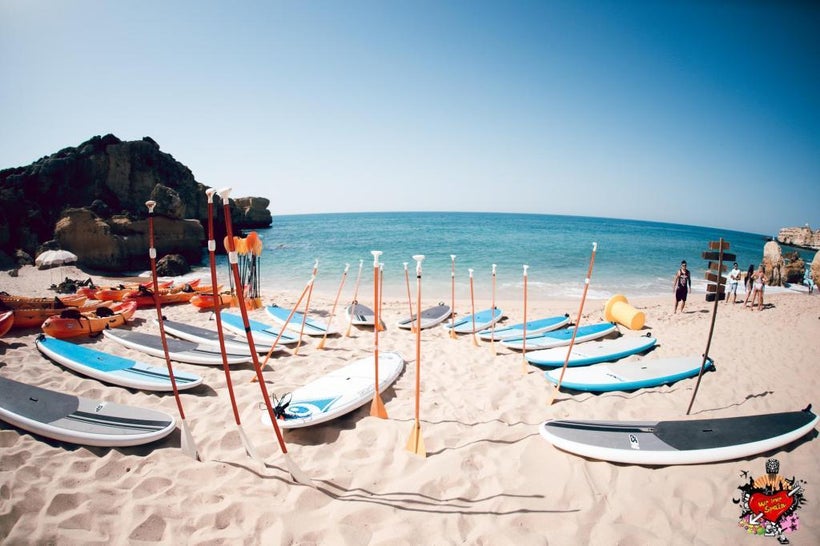 There is no question about it; Portugal Paradise Weekend is definitely a marathon. You will head home completely exhausted, probably sunburned, and undoubtedly dehydrated. But just like a marathon (at least what I imagine it to feel like) you will be left with a tingling satisfaction of exerting all of your energy in exchange for one of your best weekends abroad. Who knew having fun was so tiring?
REAL LIFE. REAL NEWS. REAL VOICES.
Help us tell more of the stories that matter from voices that too often remain unheard.
This post was published on the now-closed HuffPost Contributor platform. Contributors control their own work and posted freely to our site. If you need to flag this entry as abusive,
send us an email
.