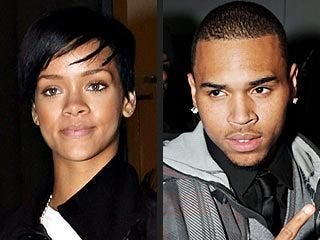 I was driving back from a weekend visit to my infant twin grand-daughters yesterday when I played a CD of one of my favorite old Bessie Smith standards, "Ain't nobody's business if I do." The blues usually warms me with its sad-joyful rendering of the human condition; its appeal to love and sexuality and sorrow; its awareness of our frailties and its shout out against loss. This time as I listened to the lyrics carefully I was chilled to the bone. I quote Bessie singing:

"There, I'd rather my man was hittin' me

Then to jump right up and quittin' me...

"Ain't nobody's business if I do"

"I swear I won't call no copper

If I'm beat up by my poppa

Ain't nobody's business if I do"
Poor Bessie's lyrics stand historically behind today's pop star Rihanna and her reluctance to press charges against her violent abuser, part of a long culture of abuse - one which protects the abuser with the abused person's delusional belief that he's really a good guy, "things just got out of hand, and I must have provoked him with something I said or did." And yes, "He really loves me and if only I learn to behave nicer it won't happen again." Our shelters are full of such women who barely escaped with their lives. Our morgues are filled with those who didn't. And some of our old blues songs provide the anthems for their lives.
The African American community knows about that culture of abuse (see Alice Walker's The Color Purple) - a tradition that had it's roots in the brutality of slavery - but as a Caucasian (whatever the hell that means) I too have seen it among friends and family. It is easy to look at the horribly battered photograph of the beaten Rihanna and cluck our tongues in sympathy because for all her wealth, talent, and beauty, the woman doesn't get it. At this moment Rihanna may feel that it is not our business and it's her choice to forgive her assailant. Perhaps she came to feel like Bessie, that "I'd rather my man was hittin' me than to jump up and quittin' me...Ain't nobody's business if I do.' Not so. Rihanna, it is our business if you do.
Society has the right; yes, the obligation to prosecute and punish a violent person who has inflicted harm upon another, not only for the woman or man brutalized - but because society cannot survive with such behavior going unpunished. It shakes the foundation of our social contract which is to offer protection to all of us whether or not we want such protection. Once he or she has been criminally abused it is no longer the victim's choice to forgive and walk away. Bessie Smith, much as I love you, and I do, you got it all wrong in that song.

The remarkable nature of abuse is that it often escapes the personal and can so easily metastasize and become the political affecting the fortunes of a nation, indeed the fortunes of the world. For the past eight years Americans were abused by George Walker Bush, his malign Vice President, his obliging staff, the Republican Congress, and the tag along Dems. While this was happening the country lived in a state of denial. One might find W's abusive origins in that haughty, superior mother of his with her wasp-like sting and that chilly, CIA remote, presidentially ambitious father. Enough said. I'm not one of those who wallow in psychological causes which too easily become excuses for bad behavior. I'm for focusing on the effects. The effect for all of us was the ruin that W brought down upon our country and a civilization after eight years in office.
Like Rihanna's boyfriend, Bush smiled, chortled, beguiling the press and the people behind a mask of amiability. By compulsively lying, getting us into an unprovoked war, and abusing our trust after 9/11, Bush trampled our constitution by introducing torture into our culture, and the abuse escalated, as abuse, unchecked often does. Along the way Bush aided in abusing the average man and woman by deregulating our banks and markets and thereby grievously redistributing the wealth of the country to the top few, okay forgive me if this laundry list of crimes is too familiar but lest we forget he politicized a justice department meant to protect us, he allowed his religious beliefs to limit scientific research, his ignorance of science helped to trash the fragile environment, and yet he was forgiven by an abused country which gave him a second chance - another four years to finish the job. After all, he's such a nice guy; underneath it all he really loves us, right? Well, he finished the job. Now this country is reeling in pain; battered, bruised, scared, and finally facing the facts of the abusive Bush/America relationship. His actions during his eight years in office were acts of violence against the very people he had sworn to protect. Part of the cover-up was the refusal of his administration to let us see the photographs of the coffins of the young men and women who had died in his misbegotten war.
Our denial has brought some terrible consequences. Rising unemployment; crushing financial crises, home foreclosures, and a loss of confidence in the everyday values we have lived by for so long: that hard work would be rewarded, that our financial institutions were honest and sound, and that the good stuff would trickle down to us if we were only patient and respectful - all of which came along with forgiving that abuser.
Here's some good news. We can all learn from yesterday. Rihanna can recover and figure it out. And more important, so can the country. Very soon we will stop chattering about the Octomom and we won't give a damn about the next winner of American Idol, we will be so concerned about our own endangered economic lives, and well we should be. With any luck we will give President Obama the chance to start us towards recovery by ridding the Congress of some of the serial enablers who helped W bring us so low, those who hope, along with Rush Limbaugh, for Obama and thus America to fail.
Me? I've stopped listening to the evening news as often as I once did. There's just so much doom and gloom that I can take in a week. And I've also stopped looking at those ridiculous ads in the New York Times - some of which appeared this very week as unemployment figures escalated; the thousand dollar shirts and multi-million dollar mansions, a stick in the eye to a world of hardship and growing despair. Give us a break. The surprising financial success of the movies in these hard times shows that we need entertainment more than ever - but there's a difference between entertainment and a world of excess. Yes, we will recover but the good news can only begin with accountability for those in the Bush administration who helped to bring us so low. Sorry, President Obama, we can't look ahead or move ahead without looking back. Like the abuser of Rihanna there must be accountability for public as well as private crimes. Public crimes become private ones trickling down to our everyday lives, just as private crimes are the public's business if such crimes are ever to be stopped, and if our daughters and grand-daughters are to be made safe.
Like a lot of people I'm taking my bad news in smaller doses these days, hoping for the best, knowing we will survive the worst, and living a Monday-Friday pundit free life, rereading some treasured books, and trying to take a long view of today. As the magnificent but lyrically challenged Bessie Smith said, "Ain't nobody's business if I do."
Popular in the Community